Chatting with DVF
Q
When did you begin designing clothing and what motivated you to start?
A
I didn't always know what I wanted to do, but I knew the kind of woman I wanted to be. I knew that I wanted to be an independent woman and to have a career. Suddenly I was married and pregnant and moving to America at the age of 22. So I made a few dresses in a factory in Italy to sell in America. I was always motivated by a desire to pay my own bills and to be independent.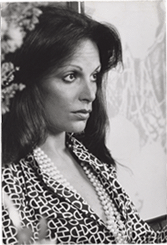 "I didn't always know what I wanted to do, but I knew the kind of woman I wanted to be."
---
Q
What was your inspiration for your Fall 2012 collection? What do you think the theme of this season will be?
A
I am always inspired by women—strong, independent, fearless women. It becomes about where she is going… what she's doing. For fall, she has a "Rendezvous" and it's all about mystery and the suspense leading up to a meeting. There are some Surrealist undertones, like the work of Dali, Magritte, Miro… I think this season is very mysterious, fall is always a little darker, and this season is particularly sexy.
---
Q
When planning our fall wardrobe this season, what colors, shapes, and cuts should we be looking out for?
A
Fall is all about billowing coats over sleek, body conscious silhouettes. We opened our show with the Bentley dress, which is the new wrap. It really accentuates the body and looks great under the season's oversized coats. It falls off the shoulder a little bit. Colors are rich burgundy, cherry red, and deep turquoise. And there is always black and white.
---
Q
And looking ahead, what was your inspiration for Spring 2013?
A
For Spring, "Palazzo." I was really inspired by my own life as a young, jet set princess, so it is about the places she travels—Rome, Marrakesh, Jaipur…there is a lot of embellishment and silver balls and flowing kaftans over silk pants. Mini dresses with color-blocking inspired by oriental architecture, arabesque shapes, and beautiful, body flattering lines.
---
Q
What are the 5- 10 key pieces every woman should have in her wardrobe?
A
a day coat
an evening coat
a pair of really high heels
a black cocktail dress that travels well (love our lightweight Meena dress that you wore to my studio this summer)
hiking boots
a cozy sweater and leggings
a sophisticated handbag
a wrap dress
a clutch for evening…
---
Q
What are the pieces you've most loved designing and why?
A
I am really focusing on accessories now…the Connect bags excite me…to have a handbag where you can use your iPad without removing it, that was really exciting for me, because it answered a practical need in my own life. I thought, I want to have my iPad with me all the time, but I want it to look chic, and now I have this amazing bag that looks fabulous and it has a custom pocket that fits my iPad, so I can pull a zipper and the screen is at my finger tips. So accessories have been a lot of fun.
---
Q
What are the three top qualities you look for in a female friend and why?
A
Confidence, because insecurity is a waste of time…honesty because there is no point in being told everything is great all the time. A woman needs friends who will tell her the truth. And a sense of humor is so important.
---
Q
I know your children and they are both good people. How do you balance being a good mother with such a big career?
A
I was always honest with my children. I always listened to their opinions. And I know you know this, but I think an important part of being a good mother is being true to yourself, because it makes you happier. I think that every mother should have a life outside of the home. It is so rewarding now to see my children with their children and to realize that maybe they did listen along the way.
"I was always honest with my children. I always listened to their opinions"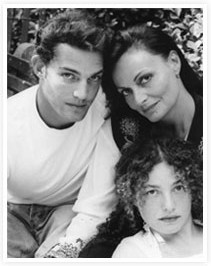 ---
Q
You have incredible skin, I'm sure many goop readers would love to know what your beauty essentials are.
A
I get weekly facials at Tracie Martyn and I love her firming serum. Also, smile! That is a beauty essential…
---
Q
You and your husband, Barry Diller, are a well-known pair and look to have a successful, happy marriage. What would you say are the key elements of its success?
A
I think success in any relationship—the one you have with your husband, your friends, your children—they all start with you. The most important relationship is the one you have with yourself and if that thrives, so will the others.
---
Q
You are known to be one of the major early supporters of the High Line in NYC (and also happen to have a beautiful workspace/apartment overlooking it in the Meatpacking district). What drew you to the project and what did you envision it becoming? What's next for the High Line?
A
I always had a dream that the High Line would become a park in the sky and it has been such an amazing project to work on. I have always believed in the Meatpacking district and it has been incredible to watch it become what it is today. The High Line has been an important part of that, and now we have The Whitney Museum on its way and the neighborhood just keeps getting better and better.
---
The Reverse
---
To see the reverse interview, where Diane asks me about work, kids, clothes, and goop, check out InStyle's October issue which hits stands tomorrow. A couple of behind the scenes photos from the shoot…