Max Greenfield's Emmy Experience
This week, we need something to cheer us up. So, I have the distinct pleasure of bringing you a piece by sometimes guest editor, Max Greenfield, probably my favorite actor on television.
Also, I just donated to the red cross for flood relief, you may want to think about it if you haven't already.
Love, gp
A Man of Great Tom Ford-itude
In case you don't know who I am, my name is Max Greenfield and I play the role of Schmidt on the television show, New Girl. Two years ago, I was unemployed, my wife and I had just welcomed our daughter Lilly into our lives, and I was convinced that my dreams of being an actor were quickly becoming a fading fantasy. This year, I was nominated for an Emmy Award.
Upon hearing the news of the nomination I was hit by a tidal wave of both love and gratitude. It was an overwhelming feeling. But before that wave overtook my entire being, before it flooded my body and filled my heart, I rushed to the phone, emailed my publicist, and told them to immediately contact Tom Ford.
The artist Michelangelo once said, "My only regret in life is not dressing the statue of David in a Tom Ford suit." Poor Michelangelo took that one to his grave and left us all to ponder, what if?
On the evening of the Emmys I did not have the honor of wearing Tom Ford, however I was thinking about him. I was outfitted with a custom tux from Brooks Brothers Black Fleece Label.
Black Fleece is a collaboration between Brooks Brothers and one of my all time favorites, the great Thom Browne. Thom Browne is a men's fashion King and the tuxedo was magnificent. Big ups to Brooks Brothers, King Thom, and as always, Brooklyn!
For as long as I can remember, being a working actor has been a dream of mine. Pursuing one's dreams is never easy and is a journey often met with hardship and disappointment. My Emmy night was a celebration of that journey. My diagonal striped suspenders a celebration of those who held me up when I needed it most. My pearl cufflinks, a celebration of my wife's shining grace, which, at times, just like the cufflinks, bonded us together. And as the evening drew to a close and I unbuttoned the top two buttons of my shirt and let my untied grosgrain bowtie hang loose, it was a celebration and tribute to the many moments over the past several years of Tom Ford-itude.
It was truly an incredible evening.
-MG
Emmy Timeline
6:30am
My daughter wakes me up. She has no clue what the Emmys are. She wants a waffle.
7:30am
I receive a loving text message from my mother: "No matter what happens today you've already won." I text back, "So you think I'm going to lose?" My mother texts back, "Eric Stonestreet is the full package."
9am
I go to a spin class. I'm happy they play a Florence and the Machine song on the first climb. I work harder on the hills when I'm emotional.
10:15am
11:30am
As my wife gets ready she asks me to zip up the back of her dress. I wonder how she would ever do this without me. I start jotting down notes for a ROM COM in which the "forever-unlucky-in-love" Reese Witherspoon turns to her best friend played by Mark Ruffalo in a moment of vulnerability and says, "I just want to find somebody who will zip up the back of my dress." Mark's character is not ready to admit it but he wishes that guy was him. This movie will make millions of dollars.
12:15pm
Before we get into the limo I watch a YouTube video of Gwyneth Paltrow winning the Oscar for her performance in Shakespeare in Love to remind me what grace looks like. 🙂
12:18pm
Protein Bar.
1:30pm
My limo driver, Danny, tells me that he's never seen the show before but thinks that I will win. It's nice to know that Danny has more faith in me than my mother.
3pm:
After 45 minutes on the red carpet, I am finally asked who I am wearing (Brooks Brothers Black Fleece). Men's fashion takes a real back seat to women's at these events. I think to myself that if I win tonight I will shine a light on this injustice while on stage. I don't want people to think of me as a hero, though.
---
I am sitting between the lovely Lena Dunham and Zooey Deschanel. They won't stop talking about Clive Owen…
4:30pm
I arrive at my seat only to find that I am sitting between the lovely Lena Dunham and Zooey Deschanel. They won't stop talking about Clive Owen who's sitting in the next section over. I'm all like, I get it I guess whatever.
5pm
The show starts.
5:08pm
I lose to Eric Stonestreet in the category of "Best Supporting Actor in a Comedy." My mother was right, sigh.
5:09pm-8pm
Blah, Blah, Homeland, Blah, Blah, I MEET BILL HADER! Blah, Blah, Blah the show ends.
8:45pm
I am shuffled off to the Governors Ball, the first after party of the evening. I am told that the pretzel rolls are free and that I can have as many as I want. It's at this moment that I think to myself that I may have actually won tonight.
10:05pm
At the FOX party I run into Ryan Murphy and tell him about the Reese Witherspoon movie. He suggests that it be a musical. Mind blown.
11pm
It really isn't TV! They have a cupcake tower at the HBO party!
11:49pm
I am getting sleepy. My wife and I decide to call it a night. Outside, Bryan Cranston hands me his valet ticket and says, "It's the Jag."
12:20am
We return home. My wife and I reflect on what was an incredible evening and how lucky we were to have been a part of it.
12:30am
My daughter wakes up and insists that she wants a waffle. I get syrup on my tuxedo. This concludes my 2012 Emmy experience.
10 Musts for the Big Celebrity Event
Tie the Knot
Jesse Tyler Ferguson (Modern Family) has started a great organization called Tie the Knot. Every man should own a bow tie and they should buy it online from Tietheknot.org. They are available in November but I am special and already own three. All proceeds go to supporting marriage equality.
---
Oliver Peoples Sunglasses
Oliver Peoples is my peoples.
---
Black Fleece
The entire collection is a shade of perfection. A great alternative to the classic staples that Brooks Brothers are known for. Oh, and the cardigans are so fly they should have their own airline.
---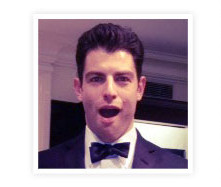 Miracle Worker anti-aging moisturizer by Philosophy.
Miracle Worked.
---
Baz Luhrmann
If there is any chance at all that Baz Luhrmann is attending the same event as you, find him and talk to him. He will teach you to look at life through a kaleidoscope.
---
Bumble and Bumble & Shelly Brien
As you can see, my hair was a mix of Mad Men and Awesome on the night of the Emmys, a far cry from my natural Jewish. This was accomplished with the help of Bumble and Bumble and my dearest hair stylist, Shelly Brien. Shelly is a flat iron wizard.
---
Paul Smith Socks
Paul Smith socks are the perfect way to rebel against the black tie ensemble. They let people know that you've come to do business but your ankles are always down to party.
A Timeless Timepiece
Q
What time is it?
A
It's vintage Rolex o'clock, you're welcome.
---
Clooney's Lake House in Como
There's always an after party. Still haven't been yet.
---
Remind your parents that it's not Prom.