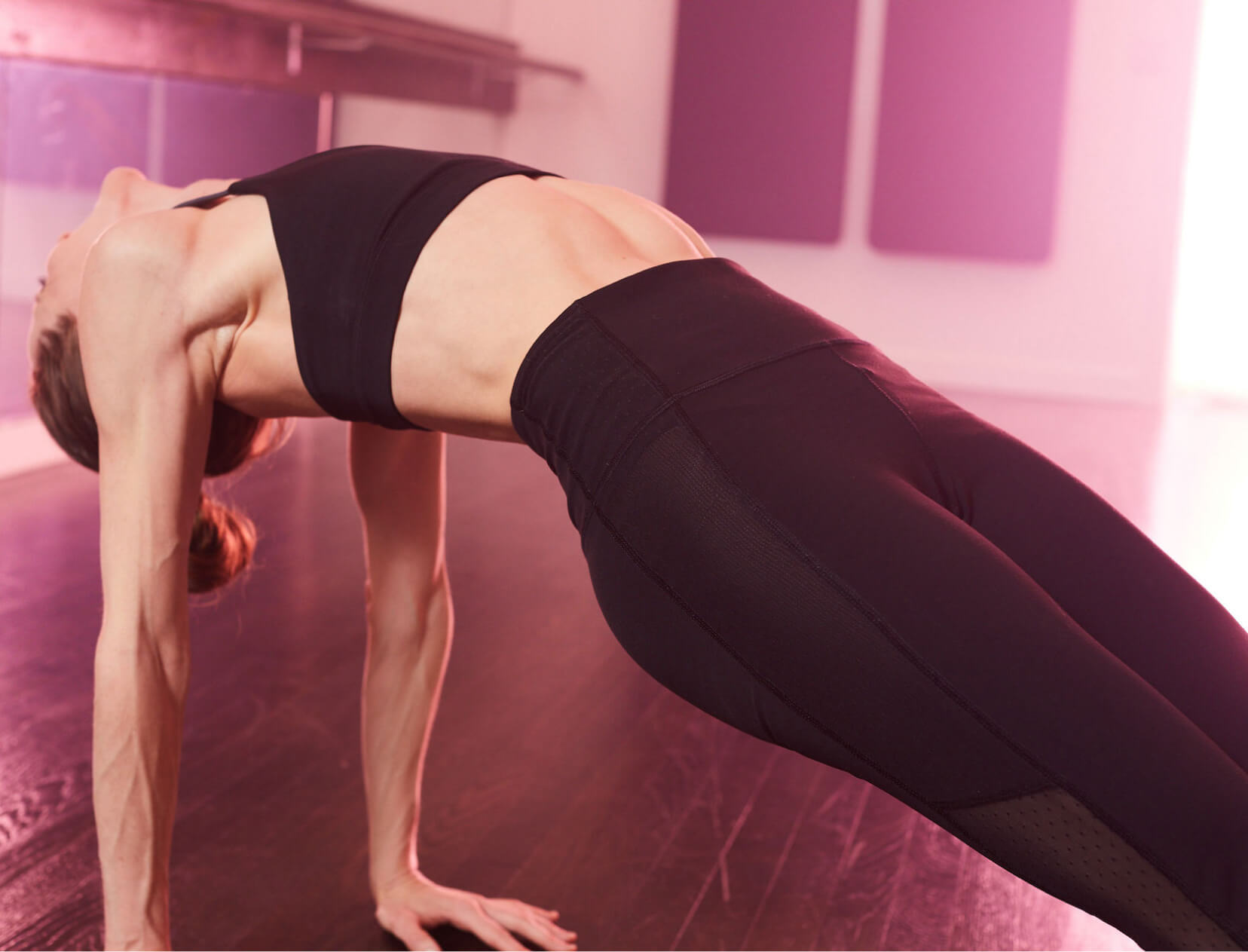 Photo courtesy of Body Dada
4 Low-Impact Workouts
(and What to Wear for Each)
Whether you're beginning new movement habits or looking to supplement your HIIT with slower, more restorative practices, a good low-impact workout is a valuable thing. Below, the studios and sessions we can't stop talking about, plus everything you'll need to tote to class.
THE BARRE CODE

The Vibe: With a focus on strength-building and radical self-love, this body-positive collective has a motto: "Nothing to lose, everything to gain." The signature class combines barre work and isometric movements, with tons of routines so you never get bored.
The Fit and Props: In a black-legging rut? A baby-pink matching set—plus a pair of grippy socks inspired by ballet slippers—looks so cute under colorful neon lights.
The Location: Choose one of Barre Code's forty studios in the US, or go online for over 350 digital workouts.
MYODETOX
The Vibe: Myodetox was founded by a physical therapist to fill a hole in the workout market for corrective exercises designed to reduce pain, improve the way you move, and prevent future injuries. Each one-on-one session starts with a full-body assessment and hands-on myofascial treatment. Then your therapist will guide you through a personalized set of exercises.
The Fit and Props: While you must wear shorts for treatment, a sporty one-and-done layered on top will keep you from freezing on your way there and back. Follow your progress between sessions with a tracker that fits on your finger.
The Location: LA, Toronto, and Vancouver.
BODY DADA

The Vibe: The bright, aesthetically pleasing spaces of Body Dada motivate movement and feel-good energy. The signature full-body barre workout is a master class in precision, but we're particularly fond of the Stretch + Chill class. It's a mix of kinetic and static stretches that target tight muscles to help them relax and release tension. It also includes self-massage (you'll be thankful for these techniques at home, too) and hot eucalyptus towels.
The Fit and Props: Something sleek and stretchy, like this breathable unitard, is best. Other nice-to-haves: a wellness-gauging smart watch, a self-cleaning water bottle, and a good pair of socks.
The Location: Highland Park in LA (for IRL classes) or Zoom (for scheduled livestreams).
OLIVIA OTTEN

The Vibe: Olivia Otten has an extensive background in Ashtanga and vinyasa, but today she teaches restorative and yin yoga, with an emphasis on yoga nidra, sound meditation, and breathwork. Where your other training modalities may focus primarily on strength-building, Otten's approach is about slowing down and cultivating softness and holistic healing. Skeptics be warned: Her soothing voice and skillful guidance just might win you over.
The Fit and Props: Pile on the layers beforehand (long-sleeve, pullover, sweats), then peel them off as you warm up. A leather strap makes hauling your yoga mat to and from class much, much chicer.
The Location: Find her classes at Open, a mindfulness studio in LA.
POSTWORKOUT RECOVERY
The Vibe: Wind down with wellness heroes that will restore and recharge you between sessions. Start with a soothing bath soak, then make use of a skin-treatment candle that melts into luxurious massage oil. Slip into something soft, pour yourself a warming mug of herbal chai, and relax.
The Fit and Props: Sweats, slippers, and an armful of spalike indulgences.
The Location: Home.
---
We hope you enjoy the products recommended here. Our goal is to suggest only things we love and think you might, as well. We also like transparency, so, full disclosure: We may collect a share of sales or other compensation if you purchase through the external links on this page.