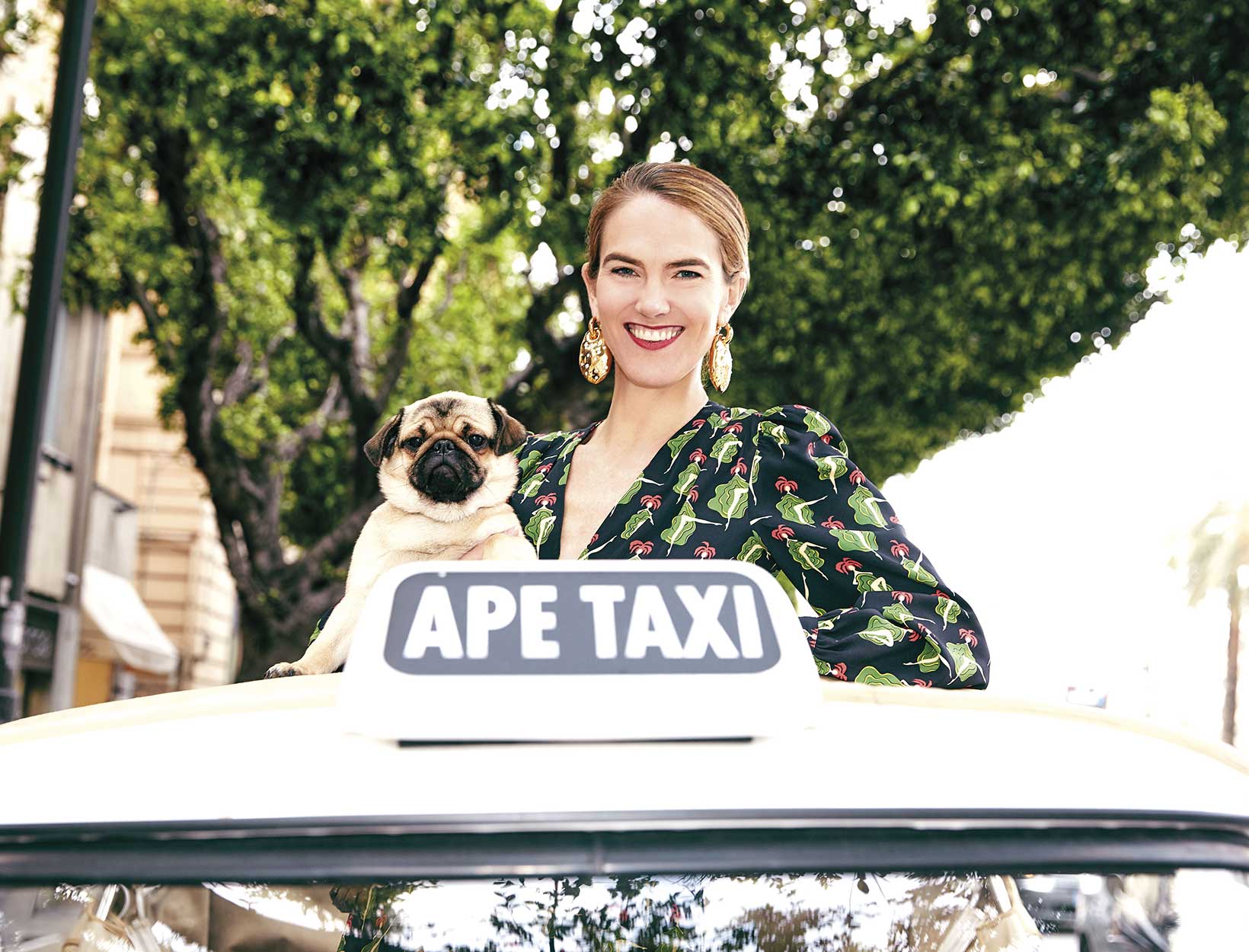 The Woman Bringing Wild, Witty Style to Italian Fashion
Female Founders
The Woman Bringing Wild,
Witty Style to Italian Fashion
Perhaps the only upside to workplace inequality is it has driven a lot of amazing women out of corporate America—and straight to the helm of their own companies. We decided we didn't want to just cheer them on anymore. We wanted to meet them and interview them and write about them. With that, we give you: Female Founders, a column featuring women who create, design, and inspire.
After fifteen years of working as a fashion and design journalist in Milan for publications like Harper's Bazaar, Wallpaper, and The Wall Street Journal, JJ Martin wasn't expecting to make a career pivot. But all those years of writing about Milanese woman—where they shopped, what they liked, what they did—led to profound understanding of Italy, its women, and its ineffable style. That's what paved the way for La DoubleJ, Martin's "multitasking Milanese brand that edits the very best of Italy."
Initially, Martin sold only vintage clothing—albeit an impressive and extensive collection of vintage clothing—that she juxtaposed with narratives in her uniquely charming editorial voice. "I didn't want it to be just straight e-commerce," says Martin. "I really wanted it to be an editorial website." She launched the digital "shoppable magazine" in 2015. That's when the world was introduced to La DoubleJ, and it took off faster than anyone—Martin included—could have expected. Ever since, Martin has been going full-speed—and she's never slowed down or looked back.
Today, La DoubleJ is a complete lifestyle brand with a stunning fashion and homeware line, and it continues to expand. This month marks the launch of goop x La DoubleJ, a capsule of seven incredible pieces that embody Martin's statement-making and playfully nostalgic aesthetic. At the heart of her company is spirit, joy, and a deep sense of bringing people together. "What I want to do at La DoubleJ is grow an incredible community of women," she says.
A Q&A with JJ Martin
Q
You were a successful journalist before you launched your own company. Where did you get the idea for La DoubleJ?
A
I loved the editorial side of things, telling stories, processing information, organizing it. I loved all of that, and those jobs opened up my world to the Italians, to the Milanese. I was shown behind the scenes in so many ways. At the same time, I was a vintage collector, kind of obsessive about it actually, and at a certain point, my husband, who has an e-commerce company, said, "Why don't you start selling some of this vintage?"
So I launched La DoubleJ, and it was basically an online magazine in which I profiled all of these creative women in Milan. Architects, furniture designers, fashion designers, stylists, photographers—and they were all wearing and modeling our vintage clothes, and we were mixing them with modern clothes as well, showing these women at home, in their ateliers. It was a fresh approach, and really quickly we started getting a lot of attention, and a lot of brands came to me to do online content for them, digital content. I didn't want to be just a creative agency, but then again, selling vintage online was proving challenging.
---
Q
How did you go from selling vintage to designing your own line?
A
It was my husband who gave me the idea to make new clothes with vintage prints. We have friends whose family has a historic silk archive, and I started by partnering with them. I jumped into their archive. I picked out eight prints that I loved. I did one dress, and we launched it on Matchesfashion.com. Ruth Chapman [one of the cofounders of Matchesfashion] was an early follower. But that first year, I wasn't taking it very seriously. I thought this was a hobby. I still had my journalism job, and I had only four products. There was a skirt, there was a shirt, and there were two dresses.
Then the second year, we kind of got traction. We were paying a lot of attention to better wholesalers, and I really sped things up. And now we have an entire collection of ready-to-wear, swimwear, outerwear, homeware. It's blossomed into this whole world, and I have this fashion company. It happened serendipitously, and I didn't plan for it, but now, of course, we're getting more organized and more planned.
---
Q
When you were a journalist, did you think you'd want to start your own business?
A
Never, never, never in a million years. It was never on my mind. But I realized that things were changing, so I think I was open to other avenues. At the same time, when you're doing something for fifteen years and you're married to it, you don't necessarily think that anything else is possible. I know a lot of people who work in journalism and love it, and I understand that so well. There's this impulse to stay with what you know. It's scary to try something new. It's scary to have your own company. It's scary to be responsible for the well-being of the people who work for you.
In my mind, I never thought about doing this. This happened step by step by step. It happened very slowly. And I held on. I was doing journalism and having my own company at the same time for two years.
---
Q
What roadblocks did you run into while getting La DoubleJ off the ground?
A
First, try to start your own business in Italy. Try to hire people in Italy. The labor laws are so complicated and very expensive. I did not have an investor. All of this was self-funded. We were super scrappy. Everything was done with friends, with collaborators, and there's why I started getting creative about who I worked with. It's almost like an exchange of talent: Who needs me, and who do I need?
There was a lot of creative thinking about how to do things that make a really big bang with very little buck. Not having financing was a major roadblock. Working in Italy was a major roadblock. Trying to sell vintage was super challenging. I had spent twenty years amassing this collection, but once you start selling it, you realize it's so difficult to source the good stuff, and it's a full-time job.
Having your own company is a supreme exercise in things not working and what to do to solve them. You're in constant solution mode because it's never going to go smoothly. It never goes according to plan. It never happens when it should happen. That was a good exercise for me of not being a perfectionist and realizing that it doesn't always have to go exactly as you want and exactly as you think it needs to go for things to work out.
---
Q
Where in Milan do you go for inspiration?
A
Renaissance churches. I'm obsessed with them. I like the ones that have extremely high, painted ceilings. I'm not religious. I grew up Catholic, but I'm not a practicing Catholic. I don't like religion at all, but I go into the churches, and I meditate, and I pray, and sometimes I write.
The other thing is I like to be close to creativity. Back in the sixteenth century, these churches were the ultimate expression of artistic ability. Every creative person in the world, the top creative people, that's all they were doing. They weren't having an art show. This is what they did. I honestly feel the creative vibes in churches of this kind. I don't feel a creative vibe going into a 1970s church in Los Angeles. I feel nothing going into a church like that. My favorite churches are the Baroque ones in Sicily.
---
Q
What are some of your favorite pieces from the collection right now?
A
One of our classic styles is the Pellicano Dinner Dress. I love it because my friend Marie-Louise Sciò owns the Pellicano hotel in Italy, and we always do pop-up shops there. It's the most elegant place in Italy, and I thought: What's the ideal dress to wear there? So we designed that dress, and then we did this really special print for goop. That print was taken from a piece of 1960s artwork. It was watercolor by a German artist named Suzanne Kientz. It has all of these magical birds and beautiful colors, and it's just so happy. It's my favorite dress.
I also love the Midi Visconti in the blue Lisboa print, which is a bold, impactful print. All of these dresses are conversation pieces. You're definitely going to be noticed when you wear them, and generally appreciated, I would say. I mean, that's what people always tell me. When they wear La DoubleJ, they get a million comments. We dress women who are confident and want to feel joyful and playful with what they're wearing.
---
Q
What is your number one rule of vintage shopping?
A
It's important to understand what kind of vintage shopper you are. Do you have the patience to sort through a bin of a hundred bad things to find one good thing? Because then you can go to huge markets where you will probably find amazing deals, but it requires getting dirty, having the patience, and staying all day. Or do you want the select vintage that's already been pristinely restored, edited, and picked out for you? Because then you should go shop at Decades or Resurrection. I personally am the former. I love the hunt. I also love meeting all the dealers. When I started La DoubleJ, I had a lot of collaborations with dealers who became friends because you're all so obsessed with finding stuff. It's really fun.
---
Q
What else have you learned about starting your own business?
A
I do a lot of studying of masculine and feminine energy as part of my spiritual practice, and it is very helpful because so many of us—people, companies—are out of balance, and you have to work on it. It's really intriguing. And it's important to note that it has nothing to do with gender. It has nothing to do with being a male or a female. It has everything to do with the yin and yang principles. Without the balance, it's not going to work.
This company became an extension of myself and one of my creations. I couldn't get pregnant, and I started working with energy healers. That's why I know all about this masculine/feminine energy stuff. After working with a lot of alternative healers doing holistic treatments, I honestly believe as a founder of a company this kind of holistic work was a tremendous help to me in terms of birthing the company. There are a lot of mothering skills that are required at both. It's also a process of trust—trusting the universe that things are going to work, and if they don't work, trusting that that's also part of the plan.
---
Q
What's next for La DoubleJ?
A
We're expanding the home line. We are getting a bedding collection off the ground. It's going to be launching online this summer, and so are our vases. We have a big collaboration with another historic Italian brand that will happen next year. I can't say the name yet. Then we're going to be launching jewelry and handbags for resort in November. Then I think we need to settle down and grow the team. I need to find a CEO. I need to find a personal assistant. We're growing at a breakneck speed, which is a great place to be. I'm thrilled. I'm honored. But you know, it's a lot.