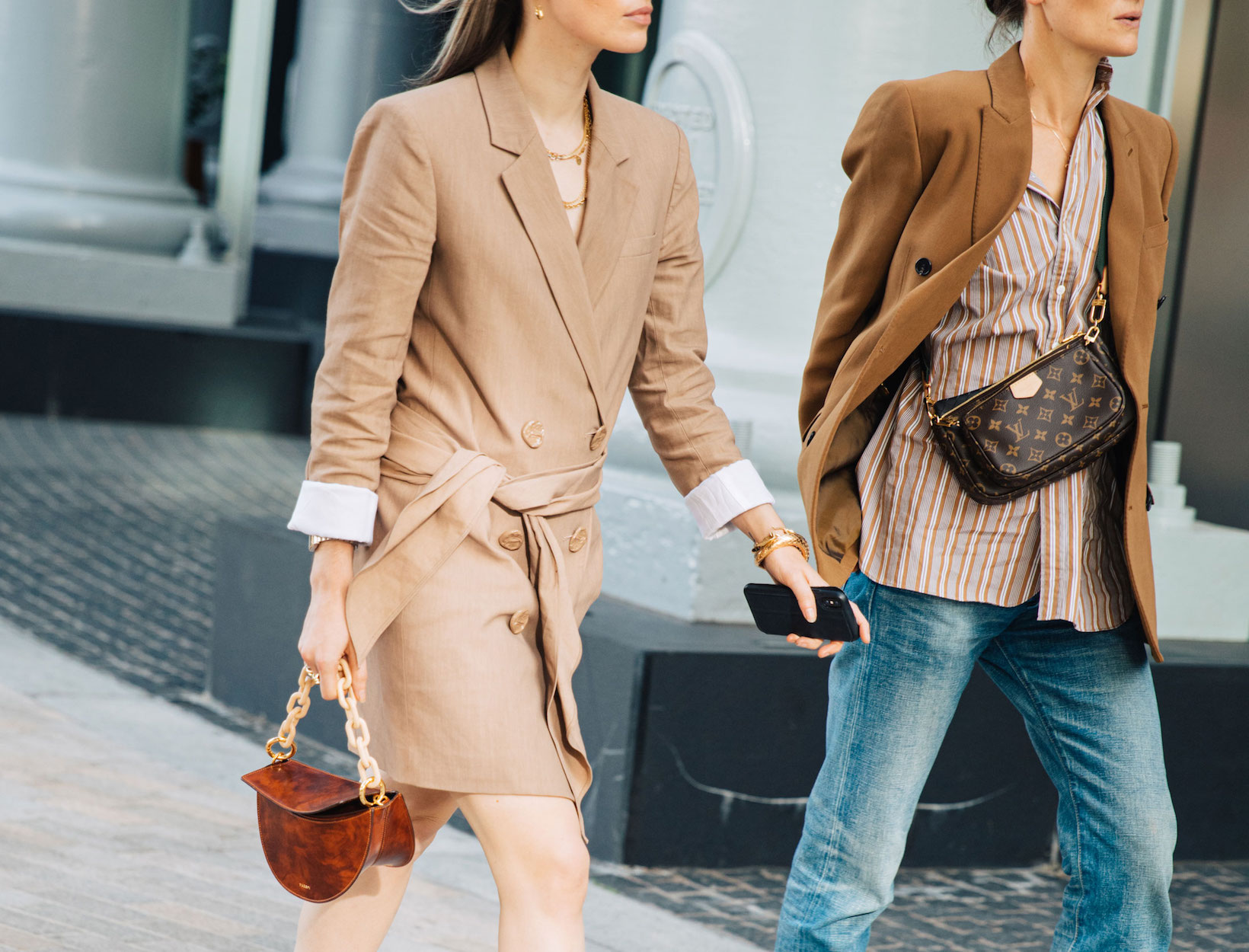 Work to Weekend:
3 Pieces That Can Do Both
In partnership with our friends at The Outnet
Emails with "urgent" in the subject line. Childcare that charges by the minute after 5 p.m. Commuter traffic. These are trademarks of the workweek that should absolutely stay there. But what about the supporting characters that make the Monday-through-Friday hustle bearable? You know: your work wife, that one oat milk that results in a proper foam, the shirtdress/skirt/blouse that streamlines your morning routine and looks immaculate doing it. These are the crossover artists invited to the weekend.
Look 1
the tailored shirtdress
Work
The minimal mock neck and drop shoulder make a fitting backdrop for a light-grey trench (while dodging the double-collar conundrum). Tie it all together with a streamlined bag in a color that sings without going off-key—plus a hint of highlighter on your cheekbones.
Weekend
A shirtdress means business only in the office. Take it off the clock with an oversize cardigan in season-spanning charcoal and white kicks with pops of a primary color. Add retro Ray-Bans and a deep-berry lip stain, then head to a matinee.
Look 2
the silk skirt
Work
Use the deep-walnut hue as the jumping-off point for a tonal look: The luxe, feminine silk balances a utility top—epaulets, patch pockets, and all.
Weekend
A fall trio to put on repeat: The creamy sweater is classic, the Birkenstocks are synonymous with cozy, and the silk wrap skirt reads elevated. Finish with a gleaming Chanel chain bracelet and a statement bag and you're (literally) golden.
Look 3
the structured top
Work
Lend dimension to an all-black work uniform by way of a structured top that plays with proportion but maintains a flattering cut (note how the carved waistline grounds the voluminous sleeves). Keep things streamlined with slim trousers.
Weekend
Cropped denim plays off the hip-grazing hem and elbow-length sleeves—and lets your favorite high-tops shine (for walking to brunch, hopping on a beach cruiser, or taking a shopping detour). A tan leather crossbody with graphic stripes echoes the laid-back vibes.