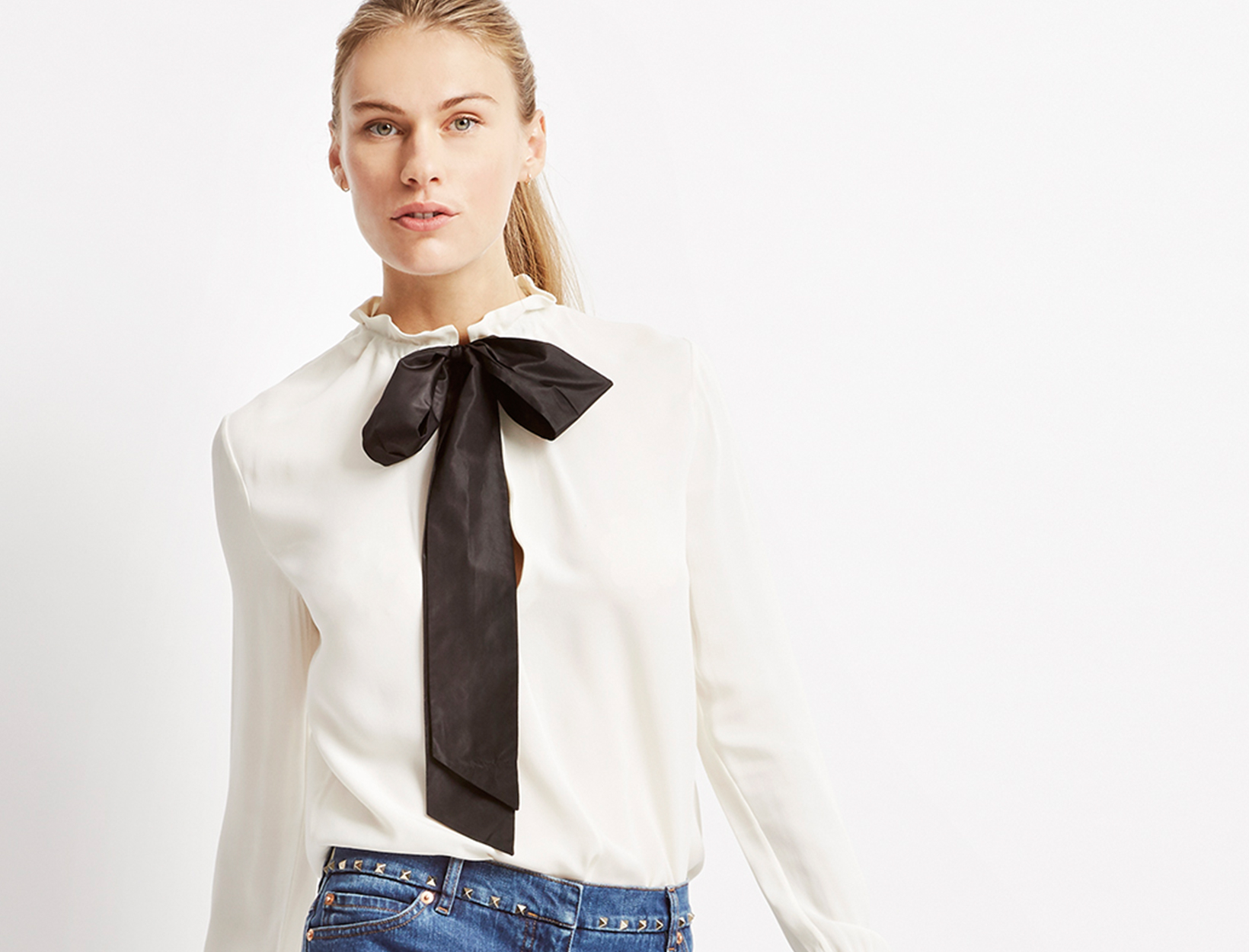 How to Up Your Workwear Game
Tempting as it may be to ditch last year's 9-to-5 gear and start from scratch, introducing just a few new elements can be just as powerful (and much more economical) than a top-to-bottom refresh.  Here, five outfit-making pieces that are a step up from the basics—but just as easy to integrate into your current office uniform.
Beyond the Basic: Blouse
What separates this pussy-bow blouse from the basic silk button-down is the gathered neck and contrast bow–both special details which, while pretty, also pull their weight in the styling department (particularly with harder to figure out pieces like culottes, suiting shorts, or high-waisted trousers).
Beyond the Basic: Bootie
There's no reason why you can't have a little fun with office footwear. The tonal star print on this classic Chelsea silhouette is the ideal blend of playful and function; proportion-wise, the chunky, block heel compliments shorter hemlines especially well.
Beyond the Basic: Skirt
While the thigh-grazing slit is not for the faint of heart, teamed with a demure blouse and not-too-high heel, the tailored silhouette makes for a great alternative to the expected pencil skirt. For more traditional work environments, a pair of opaque tights will go a long way.  
Beyond the Basic: Trouser
Hovering somewhere between shorts and trousers, these bellow-the-knee tweed pants are a good way to gradually phase out warm-weather wear. Just about anything works up top, but stick to heels on bottom to keep legs looking long and lean. 
Beyond the Basic: Blazer
Think of this as a sleeker, edgier variation on the day-to-night blazer + jean + tee formula: The double breasted jacket and slinky white t-shirt are 100% classic, meaning they tone down the rock-n-roll factor of the leather pants for the office.