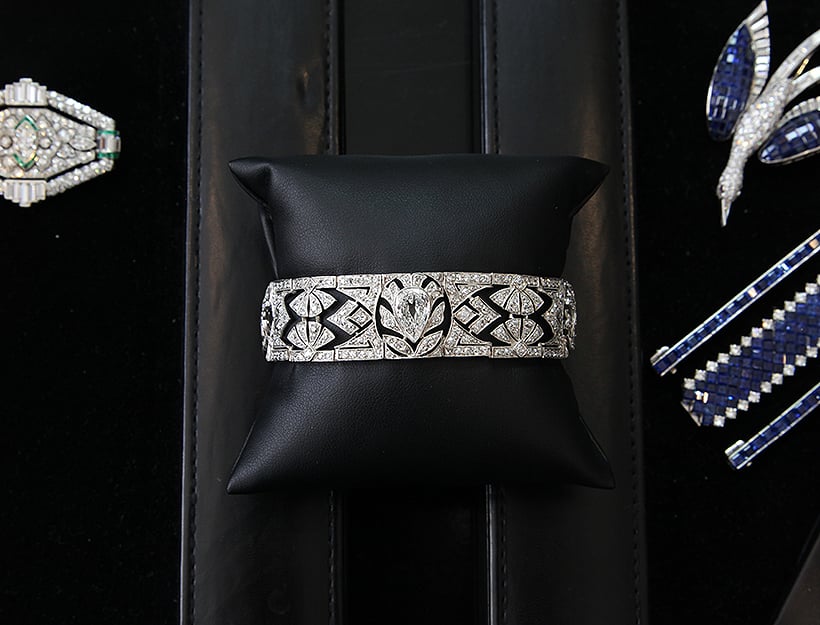 How to Shop for Estate Jewelry
As soon as the topic of estate jewelry came up at goop HQ, it became obvious that in spite of our intense appreciation for pretty, sparkly things, our collective knowledge of the topic was skimpy at best (not one of us was able to pinpoint what passes as estate jewelry, for example). So in the interest of self-education, we tracked down industry veteran Russell Fogarty to shed some light. After falling in love with jewelry and gemology in college, he joined Christie's first U.S. outpost as an appraiser in 1979 and grew to head up the entire jewelry department before striking out on his own. Perhaps most impressive of all is that he's perfected the art of selling estate jewelry online by way of Beladora, an offshoot of his 25-year-old buying firm, Kazanjian & Fogarty, Inc. in Beverly Hills. Over the years, he's mastered the secret sauce to making clients far and wide trust his and his team's expertise enough to take the fear and mystery out of making such important purchases online. A few of the ingredients? Painstakingly researching and verifying the authenticity of each piece and a brilliant use of video to demonstrate what pieces look like on the body for anyone who can't try them on in person.
A Q&A with Russell Fogarty
Q
What qualifies a piece as "estate jewelry" and what's the difference between vintage and antique jewelry?
A
Estate jewelry is simply any piece that is pre-owned, whether the prior owner is living or not. In most cases, estate jewelry comes from the collection of someone who has passed away—witness the great sales that have taken place over the past 30 years of pieces from the collections of Elizabeth Taylor and the Duchess of Windsor. But estate jewelry also includes, just to name a few, the fabulous collections of Lily Safra, Ellen Barkin, and the Princess Salimah Aga Khan, all sold during their lifetimes.
The terminology is a little confusing in that antique jewelry refers to the age of a piece: It must be at least 100 years old—so as of right now, anything pre-1916 would qualify as antique. Whereas the term vintage really refers to the era the piece is from. For instance, vintage jewelry can be from any one of many eras in jewelry design, from the Edwardian to Art Deco to Retro, or even the modern period (more on these later). The main things to remember are that antique pieces must be more than 100 years old, vintage pieces are associated with a particular era, and most importantly, that they are all estate pieces!
Q
What are the basics of estate jewelry shopping? How can you tell whether the item in question is real, important, etc.?
A
This is really the essential question, because of course unless you have a degree in gemology, or work in the field, or collect very seriously and see a lot of pieces to develop your eye, it is difficult for buyers to determine authenticity. For us, it's easy because we know what to look for: the subtle quality of the workmanship, the look and feel of a piece, the quality of the material, whether precious stones/metals—gold, platinum, onyx, jade, lapis, etc.—have a signature that's correct, because unfortunately, there are many signed pieces out there that are not authentic. As in so many things in life, you really have to deal with someone you trust, someone who has a reputation for integrity and expertise, and who stands behind your purchase with an unequivocal guarantee so that no matter what, you know you are buying exactly what you think you are buying, and for a fair price.
How to tell whether a piece is important or not is another question that is really dictated by the quality of the materials used, the importance of the maker, the specialness of the design or workmanship, and the rarity factor. There are many sources in the market place to find incredible, even one-of-a-kind estate jewels, be it from a private dealer you know and trust, a major auction house, a retail operation that specializes in estate jewelry, or online sources such as Beladora and 1stdibs. Whatever and wherever you buy, the seller must provide detailed information and stand behind authenticity and price.
There's a common misconception that buying jewelry is an investment, but I'm of the belief that it should be something you actively wear and love forever. One day, should you decide to sell it, you might do very well. Because the diamond and gold markets fluctuate cycles, it's most important to make sure the piece is something you love—if you happen to make a profit, that's just the icing on the cake.
Q
Is there a way to immediately assess whether a jewel is fake or real?
A
In truth, the only way to really know is to show it to a professional with gemological training. They can spot, in an instant, using a jeweler's loupe, whether a diamond is real or fake, whether a signature is original and correct (or fake and added later), and whether the workmanship is up to the maker's standard. In short, they know what to look for and where. There may be certain factors that can only be determined by GIA (Gemological Institute of America) lab testing, such as a diamond's color and clarity grade, whether the stone has been treated with heat or oil, and there are other labs that determine a stone's country of origin, which affects quality and price, be it Burma or Colombia, or even the mine itself, like Golconda. Any reputable dealer will want those things done on your behalf and will provide the relevant gemological testing. It does takes years of training, and looking, and handling thousands of pieces to really be able to say, "This is right and this is the reason why." You really do need that trained eye.
Q
How do you know if a seller is trustworthy and how do you generally make sure you're not getting ripped off?
A
That's the $64,000 question. Of course the reputations of the great jewelry houses of Cartier, Van Cleef & Arpels, Tiffany & Co., Harry Winston, Bulgari, and David Webb speak for themselves, but in the secondary market, you really do need to do your homework regarding the seller's reputation. There is so much information on the Internet these days that it's pretty easy to see what people's experiences have been with various auction houses, dealers, and beyond. Referrals from friends and family are very valuable and it's super easy to price shop between auction houses, retailers, Beladora, 1stdibs, and even eBay in the case of smaller pieces.
Q
Can you still discover a great antique piece at a flea market somewhere in Paris or NYC, or is it safe to say that all the good stuff is already in the possession of professional/authorized dealers?
A
Can you? Yes. Are you likely to? No. That said, you'll have so much fun on the chase, even though most likely there are no more sleepers out there. My best advice is to always buy within your budget and to not get carried away. Fun, costume jewelry is in abundance and that is likely to be your best find!
Q
Does a piece have to have a well known name behind it to be truly valuable?
A
Famous makers and well-known names are very important and definitely affect value, because there is an assumption of quality, craftsmanship, and excellence, but we see gorgeous pieces all the time that are not always signed because back in the day, great jewelry houses often had small specialty shops manufacture for them and, for whatever reason, pieces went into inventory and the retailer's signature was never applied. We can often recognize a piece that is obviously the work of a particular maker due to the special stones used, the quality and style of the manufacture, and the design, but without the signature, price can be affected. On the other hand, many pieces have no more than their aesthetic and gemological value to rely on—they can still be enormously valuable.
Q
How is estate jewelry priced and how do you know you're getting a fair price?
A
A number of factors are taken into consideration when pricing estate jewelry as it really is an art and a science. Among the most important to know is material. First and foremost, is it fine or costume? If fine, what is the quality of the material and/or the stones? What is the workmanship like? What about the design and the manufacture? We look at condition, understand rarity, and determine provenance. We then rely on our expertise to put it all together, which means we have to know how a piece compares to other similar pieces and what prices they have achieved at auction or as priced by competitors. We subscribe to Christie's and Sotheby's auction catalogues to monitor sales results and we watch 1stdibs, which is a great resource since it is a platform for many dealers, all to be sure our offers to buy and our prices when selling are as fair and competitive as possible. If all these factors are taken into consideration and you are dealing with known and reputable people, you should be able to buy or sell for a fair price.
Q
How do you make buying estate jewelry online both safe and effective?
A
Essentially, we wanted to "remove the glass showcase," to make jewelry buying less intimidating and more—what's that buzz word?—transparent. It should feel infinitely more comfortable than entering a store with ardent salespeople in white gloves taking one piece out at a time with hidden prices and details. An online source should want an informed consumer, and should do everything they can to provide all the information a prospective buyer might want or need to make a comfortable purchase. To that end, when shopping online make sure all the descriptive and gemological details are front and center, along with any relevant GIA certificates, carat weights, dates of manufacture, condition, and so on. Obviously, clear, detailed photos of every piece are incredibly helpful—we even go as far as to post videos of the pieces being worn to make it as easy as possible for our clients to visualize scale, sparkle, look, and fit. We also guarantee the authenticity of everything we sell, we insure, ship, and accept returns at no charge. If you think about it, if ever there is any dissatisfaction or issue, you want your seller to stand behind the piece and gladly take it back. As far as shipping goes, knock on wood, in more than 25 years in the business, we have never had a shipping loss, but if we were to, all pieces are insured by us under our umbrella policy so odd as it may sound, that's not a concern.
Q
Do you need to clean and somehow safeguard your jewelry before you start wearing it?
A
You shouldn't have to. Any estate pieces you buy from at auction or from a reputable dealer should already be cleaned and polished and ready to wear. From time to time it is a good idea to check safeties and clasps in case you see any loose connections, and even to shake your rings gently by your ear to hear if a stone is loose in its setting. Otherwise, jewelry is made to be worn and it's sturdier and longer lasting than just about anything else. That's the beauty of estate pieces—they get better with age.
Q
Any general rules for long-term care?
A
Absolutely. We all know how hard a diamond is, which means diamonds can scratch other diamonds so always keep them bagged separately from each other and from other pieces, even if in plastic baggies! In general it's best to keep your jewelry either in soft pouches, or individual compartments, or as we do, in clear bags so they are protected from rubbing against each other but are still easy to see to wear. Pearls are porous and easily absorb perfume and scent so be careful not to spray them when you spritz your cologne. Emeralds are the softest of all the precious stones and can crack or chip if banged about. Over time, gold will scratch, but thankfully can be polished like new by a professional. And don't forget to clean your diamond jewelry with a solution of warm, soapy water, a drop of ammonia, and a toothbrush, or a ready-made solution from the grocery store, but never clean pearls or other porous stones like turquoise. Speaking of pearls, check the knots from time to time, as restringing is a lot cheaper and easier than scrambling around a dance floor at your cousin's wedding looking for your loose pearls!
Q
Any tips for buying estate jewelry as a gift since we always assumed returning estate jewelry is a no-no?
A
Actually returning is not a no-no. In fact, it is easier to return estate jewelry than new because there is no "used car" syndrome in effect, by which I mean the minute a new piece walks out of the store, its value declines by half. Estate jewelry is worth as much the day after you buy it as the day before and in most cases, we hope it is worth more over time. Although, we never recommend buying jewelry for investment purposes—estate jewelry, when purchased wisely and at a fair price should hold its value over time as the discount in price from brand new has already been factored in. We are happy to take our pieces back because they have real, tangible gemological value and are not just the jewel du jour. Buying jewelry as a gift is no more fraught than anything else…but it does help to know your recipient's taste.