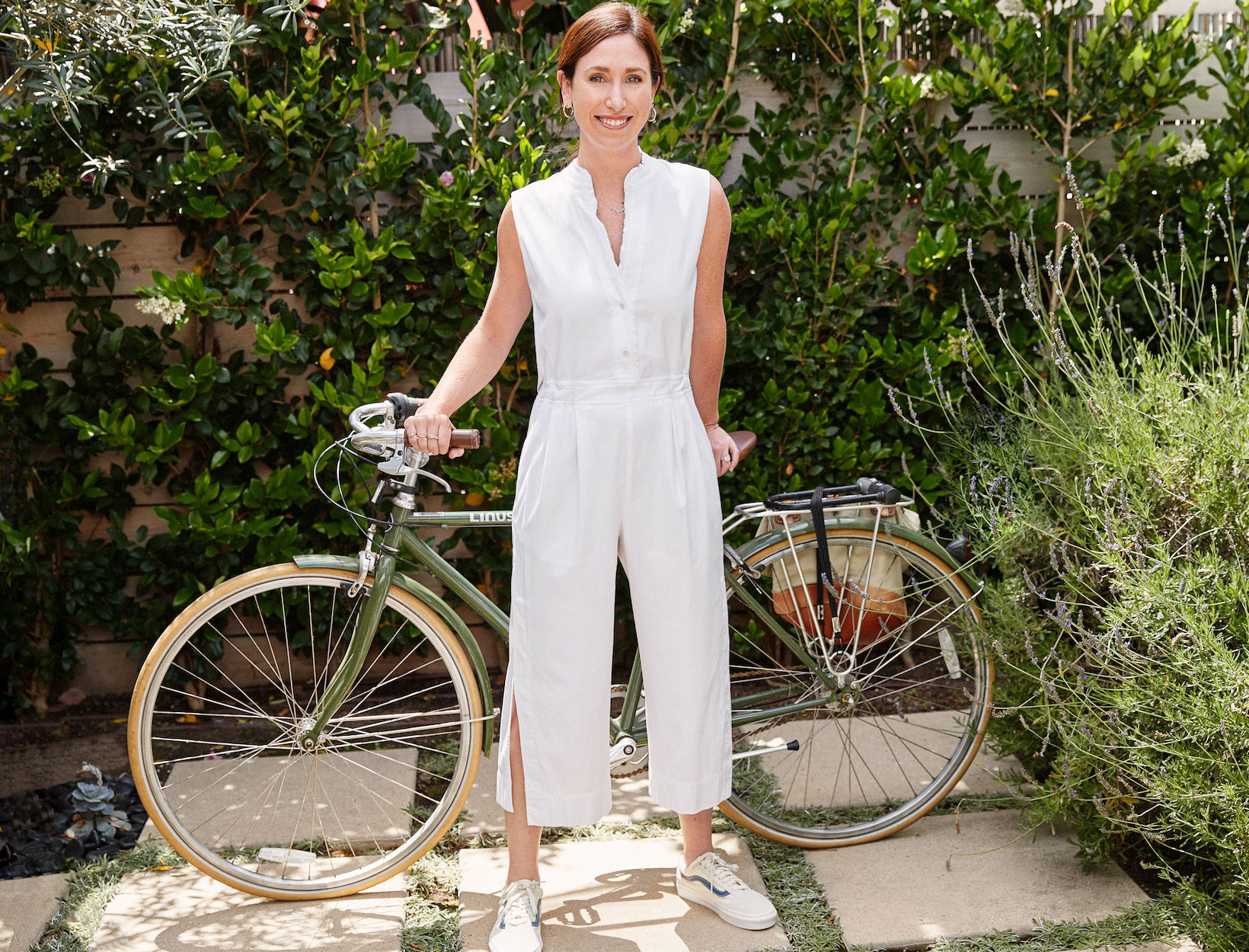 VINCE JUMPSUIT, Rent The Runway, Included with Unlimited Membership; VANS Sneakers, goop, similar styles available
How one goop Staffer
Hit Her Closet Refresh Button
In partnership with our friends at

"My closet is all over the place—it's hard to find anything, and it's full of pieces that don't fit or I've only worn once," admits goop's senior director of wellness, Ashley Lewis. Which, frankly, is hard to believe, considering Lewis is one of those people that consistently shows up to work with a fresh face, blown-out hair, polished nails, and an effortless outfit that looks like it just walked off a goop Shop shoot.
What is believable: the woman barely has time to blink, let alone devote significant time to shopping for pieces that can keep up with her demanding schedule. "My days are spent running from meeting to meeting, lunchtime calls to vendors in New York, visits to goop Lab, and swinging by the occasional post-work event. And weirdly, even though my closet is bursting at the seams, I always feel like I have nothing to wear."
In the interest of simplifying (and avoiding morning meltdowns along the way) Lewis found her saving grace: "Rent the Runway's Unlimited membership is a total no-brainer," she says of the easy-to-use service that's essentially a rotating designer closet. I love the convenience factor—everything arrives straight to my doorstep—plus, it's fun to try out different styles from all of my favorite brands, and there's something for every occasion." The best part? "It makes getting ready in the morning feel totally effortless."
We dropped by Lewis's airy Venice bungalow to peek inside her newly de-cluttered closet, and, well, to take notes.
RTR means unlimited options delivered straight to your doorstep.

"There's not a huge difference between what I wear in my work life and in my personal life. On days that I'm meeting with partners, I try to step up my typical jeans-and-silk-blouse combination—which is why I was so excited to discover this adorable Derek Lam skirt."

"I usually meet friends for dinner during the week, so it's nice to be able to find classic pieces that feel suitable for the office and equally dressed-up for night."
"My husband and I are slowly coming off the wedding circuit. We still have a few left this year and my wardrobe is spent. It doesn't make sense to buy more dresses, so it's awesome to have RTR as an easy one-time-wear option."

"I certainly fall prey to of-the-moment trends more often than I'd like to admit, but love investing in big-ticket items that I'll have forever. With RTR Unlimited, I can find something statement-making that I don't have to splurge on, like this Vince jumpsuit, that works with the bags and sandals I wear every day."
SHOP THE STORY