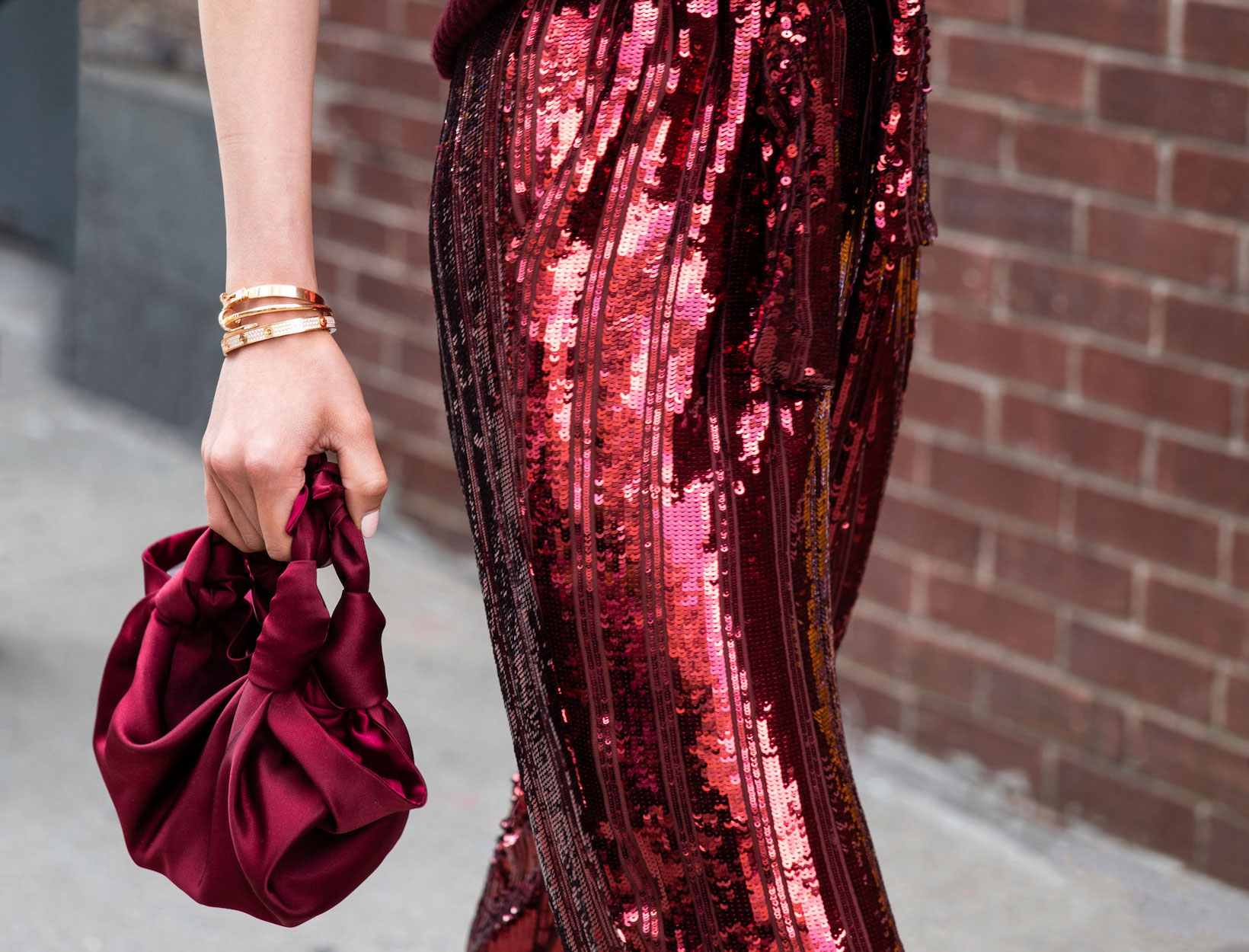 The Guide to Getting Holiday Accessories Right
Whether you're working with twinkly lights, sea salt, or jewel tones, getting the finishing touches right requires equal parts flair and restraint. And when it comes to decking yourself for the holidays, the goal is to complement the tree rather than mimic it. Rather than adding accessories as an afterthought, start with a piece you wholeheartedly adore—a colorful bag, shiny shoes, an oversize chain—and support it with a simple, elegant, monochromatic canvas.
HEY BABY (BAG)
A little bag goes a long way. When all you need is a lipstick, a card, and keys, a gold-leather laced-chain crossbody, a mini bucket in a vibrant color, or anything embellished do the honors.

SHOE SHINE
There's more than one way to rock a silver stud (or crystals or glitter). Whether you're drawn to allover sparkle or understated details, balance a shiny heel with delicate tulle and shades of grey, slate, and cobalt blue.
Wear It With
MIGHTY FINE
Cocktail attire does for fine jewelry what the open road does for a vintage ride: makes it look even more slick. Break out your best pieces—mixed-metal watches, sparkly stones—and let them shine.

VELVET CRUSH
Yes, you can pull off that headband. Same goes for the scrunchie. Keep dipping your toes into the texture pool in a pair of jewel-tone mules—or go for full-on brocade.
GOLDEN AGE
Jumpsuit + gold: There is no audience this combo can't impress. Pair an exaggerated-link lariat or a sculptural pendant with a plunging neckline and complement a mock-neck, bare-shoulder look with a low bun, '80s-inspired earrings, and a bangle.
Wear It With