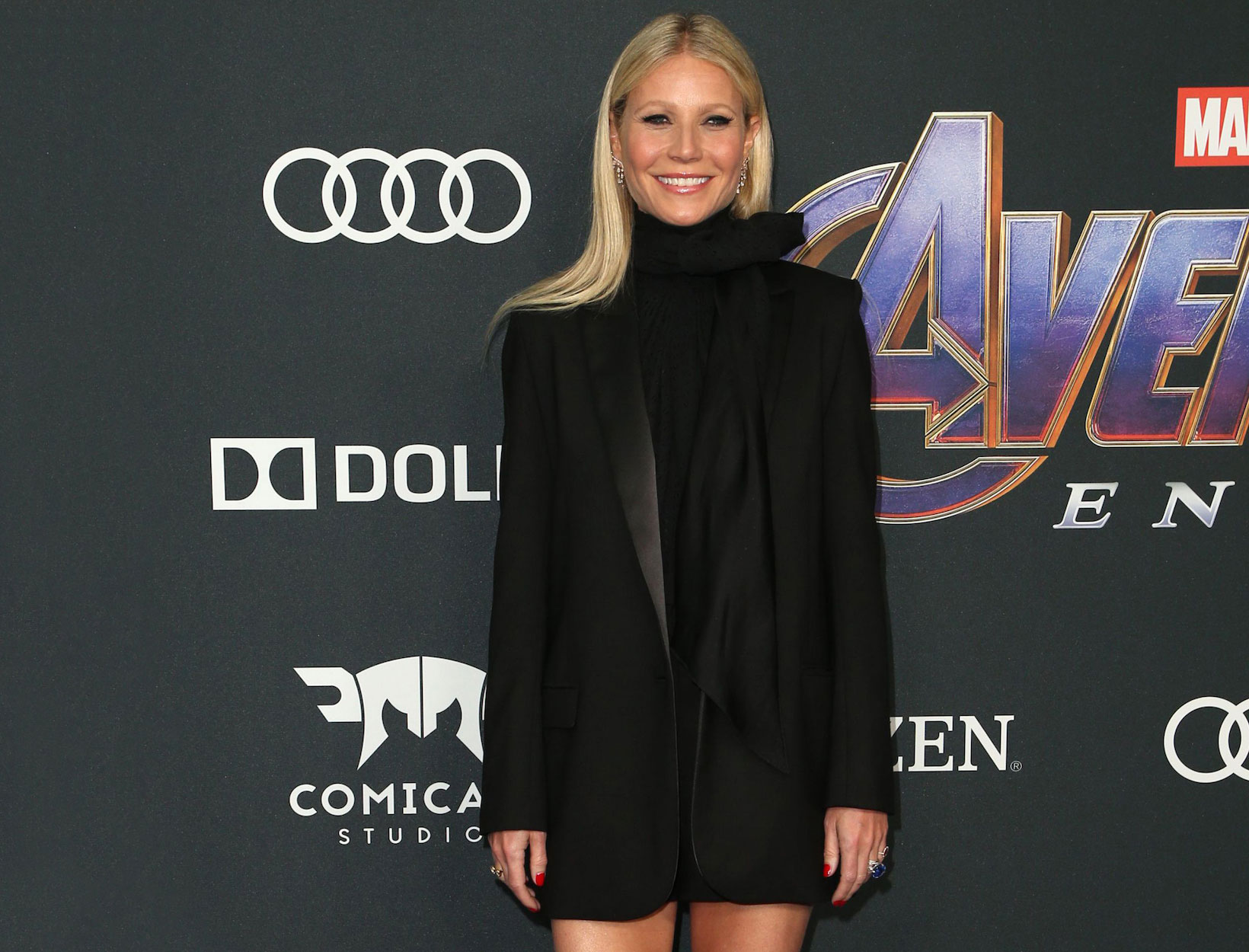 Pepper Potts Wears G. Label
to the Avengers Premiere
"It's kind of a dream come true." When an Oscar winner, wellness trailblazer, female founder, and CEO says this, you have to wonder what dreams can possibly be left. "I've always loved the art of fashion so much, and to be part of a design team that's made something I can wear on the red carpet is a dream," says GP. A first in G. Label history, GP wore G. Label to last night's premiere of Avengers: Endgame (which hits theaters Friday). Inspired by a vintage Yves Saint Laurent Le Smoking, the three-piece look consists of a hyperfeminine Swiss-dot chiffon blouse, high-waisted trousers cut into shorts, and an artfully tailored jacket (strong shoulders, straight cut, classic GP). And here's the best part: The whole look is G. Label, which means the whole look is shoppable. "I want women to feel the way I hope they always feel when they wear G. Label: like they're wearing something beautiful that will never go out of style." On or off the red carpet.
"With this modern take on a tux, I wanted something playful, chic, and dressed up, but also comfortable—it's a three-hour movie."

"With this modern take on a tux, I wanted something playful, chic, and dressed up, but also comfortable—it's a three-hour movie."
MR. & MRS. TUXEDO JACKET

GP's tuxedo jacket is one of a kind, sure, but we've created a version of it just for the goop shop. Strong shoulders? Razor-sharp satin lapels? Impeccable fit? Yes, yes, and oh yes. Fine wool blend on the outside, supple charmeuse lining on the inside. You'll also love the single satin-covered button punctuating the center.

$850

"This playful interpretation of a vintage Yves Saint Laurent Le Smoking jacket was tweaked and tailored to become one half of the perfect modern tuxedo suit." —GP

ANTHONY TAILORED SHORTS

Cut long and lean, these high-waisted shorts are inspired by the ones GP wore and serve as a playful proxy for traditional tuxedo pants. They're tailored, as a proper pair of trousers ought to be, and extra chic, thanks to that sexy, mid-thigh-skimming length.

$375

Please allow ten weeks for shipping.

"The sexiest tuxedo shorts…ever." —GP
VIRGINIA TIE-NECK TOP

At first, you'll fall for the dramatic, chiffon-backed bow (the chiffon, which is slightly different fabric from what GP wore to the premiere, gives it the voluminous shape), which plays up the elegant tie-neck detail beautifully. Then you'll notice the Swiss dots scattered all over.

$425

Please allow ten weeks for shipping.

"The Swiss dots are sweet, but the true scene-stealer is that bow." —GP
GP got ready at her hair colorist Justin Anderson's salon before the premiere.

"I love this particular outfit because after you wear it to an event, you can style all three pieces separately and keep it going."

MAKEUP: Georgie Eisdell
HAIR: Lorenzo Martin
STYLIST: TeamSaltzman
NAILS: Ashlie Johnson