Gwyneth and Brad Pitt: On Bruce Paltrow and the Cashmere Shirt That Inspired a Business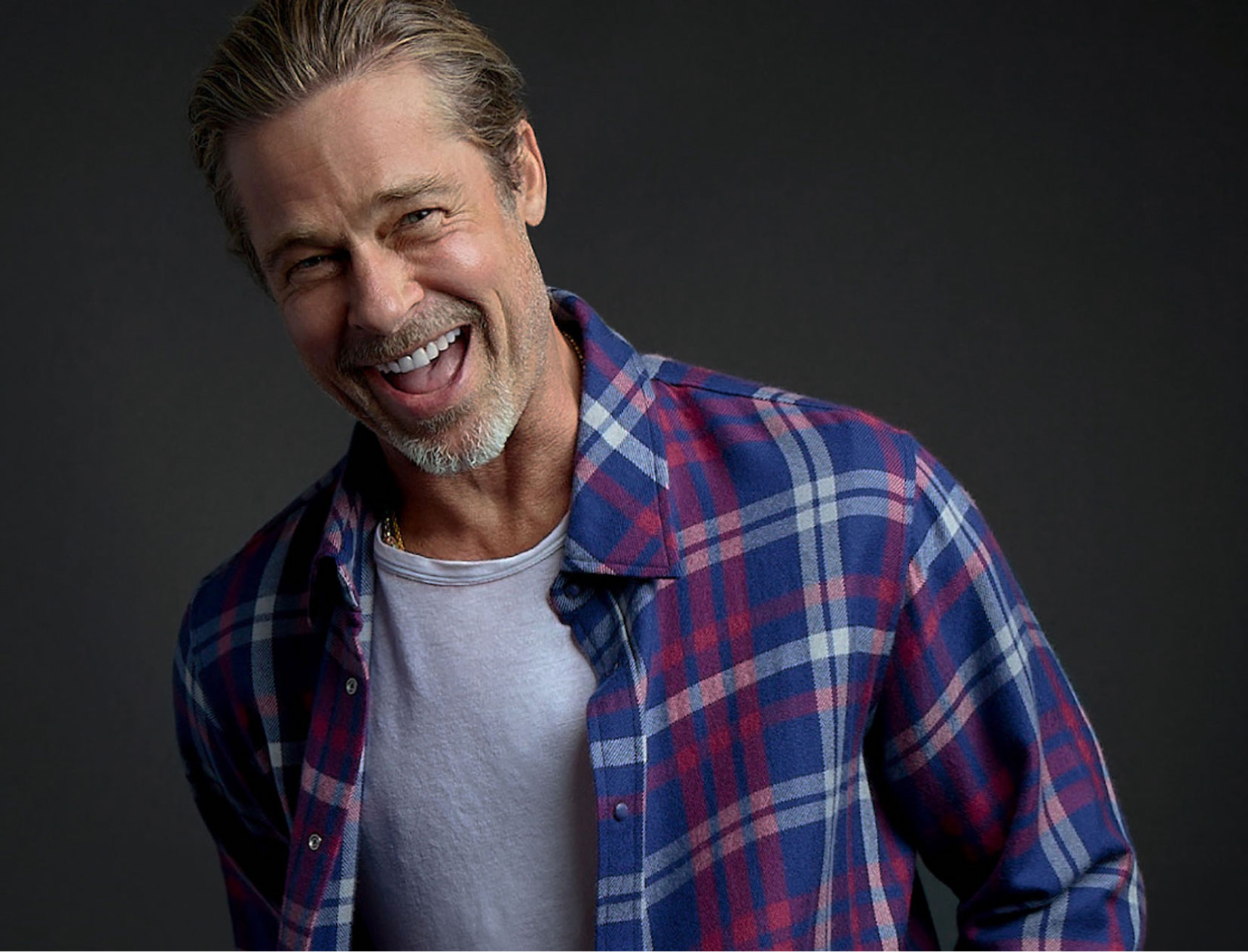 Photos courtesy of Davis Factor. GOD'S TRUE CASHMERE SHIRT, goop, $2,250
If you've browsed our Father's Day gift guide, you might recognize the shirt in the photo above. It's from a new-to-the-goop-shop brand called God's True Cashmere, which comes highly recommended to us (well, to Gwyneth) by Brad Pitt. Below, we interview the founder, and GP talks to Brad about his involvement in the business, his love of the late Bruce Paltrow, and more.
For holistic healer–turned–Brad Pitt's business partner Sat Hari Khalsa, the journey to entrepreneurship was, in her own words, divinely driven. "In October 2018, I had a dream where Brad was telling me that he wanted more softness in his life, more green cashmere," Sat Hari says. Coincidentally, Pitt had said that exact thing to his stylist just two days prior.
Inspired by this vision, Sat Hari set out to make her friend a cashmere button-up based on one she had been given by a client almost a decade earlier. "I knew that these shirts existed, but they weren't exactly what I wanted, and I couldn't find them again," she says. "So I called around to all the different fashion houses to see if somebody could make a cashmere shirt in time for Christmas, and everyone basically said no."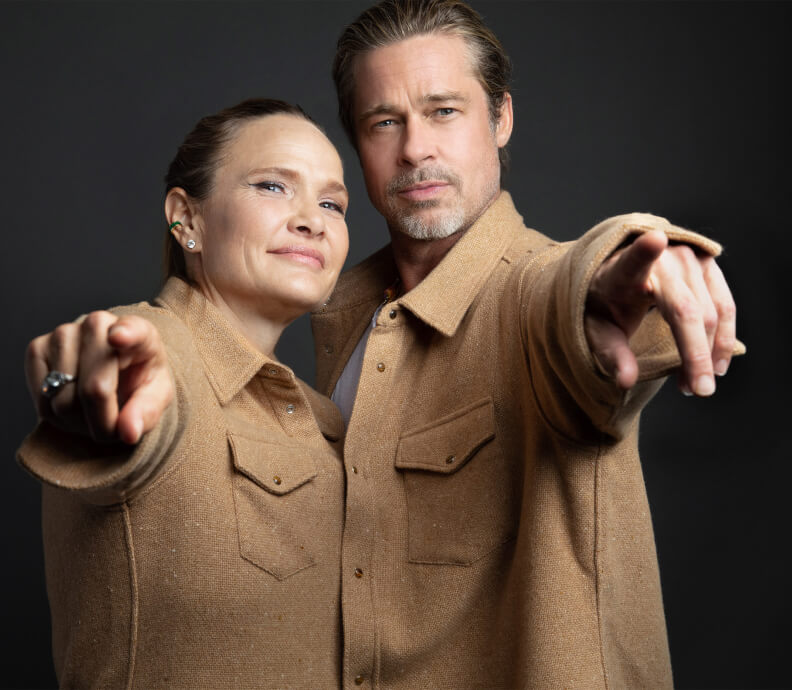 Then one day, a friend put her in touch with a cashmere manufacturer she'd met at a meditation course. The same manufacturer, as it turns out, who had made the OG shirt from all those years ago. The shirt was produced, Pitt loved it, and the pair started planning how to build a business out of it.
"I kept getting all these green lights. It was almost like God was saying, 'Yes, this is what you need to do,'" says Sat Hari. "I kept being shown how to do the snaps, how to cut every single gemstone so that it wouldn't break, how to cover them in enamel." (Each shirt has hand-cut gemstone snaps—7 down the front, representing the chakras, and 11 total, which is the number of mastery in numerology.) She even found labels and hang tags made from recycled materials so that the entire product, not just the ethically shorn cashmere, is more sustainable. The result is a gorgeous, heirloom-quality garment that fits impeccably ("I wanted to make sure that it could fit not just anybody but any body," says Sat Hari) and will last forever.
A Conversation between Gwyneth and Brad
GP:
How did you meet Sat Hari?
BP:
I was working in my artist friend sculptor Thomas Houseago's studio, and she was coming by weekly to give him these health drips. I got in line for one, and we just immediately got on and it became a normal thing for me. Over the years, we've developed a kind of sibling relationship and care for one another. I love her to bits. She's been a dear friend in high times and low times and kept me together.
GP:
How did the shirt business come to happen?
BP:
I've been dabbling with design and Sat Hari's a designer herself—a jewelry designer—and so we came together on that level. She told me about this dream she'd had, of me saying I needed more softness in my life, and I literally had just said to someone that I wanted more softness. And you know, the softness comes from Bruce. I didn't even know what cashmere was till you and Bruce. I knew wool to be wool. And that shit's itchy. But the way you and Bruce spoke about cashmere, I knew it was something.
Bruce taught me about cashmere, what a nice bottle of red is—what a fine bottle of wine means and how to experience it. And I really value that. Hanging out with both of you sanded off some of my rough country edges. It tickled my luxury gene that I always had somewhere in there but didn't have access to. Ever since then, cashmere's the coveted cloth to be covered in. It's just so damn soft and so damn cozy.
So Sat Hari, being the kind human being that she is, was trying to make me [a shirt] for the holidays, and she couldn't get it done. She ended up making her own, and then decided: There's something here. And I said, "Let me come in with you—let's do it together." And she said okay. And now we've got a bunch of shirts that we really like.
BP:
That's the goop seal of approval. That's a high bar.
GP:
I'm a full customer and a major fan. I gave one to my mom for Mother's Day, and she loved it so much. She was like, "Oh, Gwynnie, this is like a warm hug—I'm never taking it off."
BP:
Really? Oh, that's fantastic.
GP:
What about the tartans? Do you request which patterns you want?
BP:
That's where we spend a day with all the colors and threads, and we argue over what kind of red to use. You know: I want a little more tomato; she wants a little more berry. I usually get my way because she's really kind, but she's pulled out some good ones that I wouldn't have ever come up with.
GP:
What do you two want for this company?
BP:
I don't know. I mean, we started it for ourselves…
GP:
That's always the best way, starting something from a white space.
BP:
Yeah. We just keep coming up with ideas, like sweats and hoodies—so we'll just ride it out until we run out of ideas.
GP:
I think there's an opportunity for you guys to fill this hole because there are beautiful luxury cashmere brands, but there's nothing rock and roll about them. There's this space for a little bit of a cooler, a little bit more rugged, super luxury cashmere for cool, gorgeous guys.
BP:
Well, we'll take it. You've had pretty good radar for this.
GP:
Okay, since it's almost Father's Day, I'm going to ask you about Bruce. I'll never forget when we were engaged and he came to me one day, his eyes full of tears, and he said, "You know, I never really realized what they mean when they say you're gaining a son. Like, I'm gaining a son." What impact did he have on you? Why did you love him, even though we didn't get married, unfortunately.
BP:
Yeah, right. [Laughs.] Oh man, everything works out, doesn't it?
GP:
Yes, it does. I finally found the Brad I was supposed to marry. It just took me 20 years.
BP:
And it's lovely to have you as a friend now.
BP:
One of the many things I loved about Bruce—because he did have a profound effect on me and is someone I still think about—was he really fostered your voice, your independence. He carved the way for you guys to be who you are. And I think that's so important to parenting, you know? So the child is free to find out who they are and what they love and what they don't. You guys were just so free in your conversations. And witty. And intelligent. And funny as f*ck.
He could be tough if he needed to be, but it would be rare—only if someone was out of line. And it would come with…not a slap on the wrist but a little drop of wisdom, and he'd let you make the choice. That seemed to be his way. Just to offer you this wisdom and let you figure it out. And knowing to have that faith in your child—they'll get there when they get there.
That man was funny. He was funny. And you guys were so funny together, ripping across the table, which was a rarity that I hadn't experienced much, and I loved it. The fun you guys had was infectious. You could just see just how much he adored you.
GP:
My daughter's like that now, too—she's funny like Bruce. One of my friends from high school said Apple's got the nonrecessive Paltrow humor gene, that ribbing across the table.
BP:
We were always going to get his opinion, but there was a fairness to it that I really appreciated. I think that struck a chord with me.
GP:
Did you feel paternal energy from him?
BP:
One hundred percent. I felt that same kind of guidance that you would get from a coach or a mentor.
GP:
Me too. I mean, he was my father, but he was very much a mentor. He loved being that role for the people that he really loved, and you were definitely one of them.