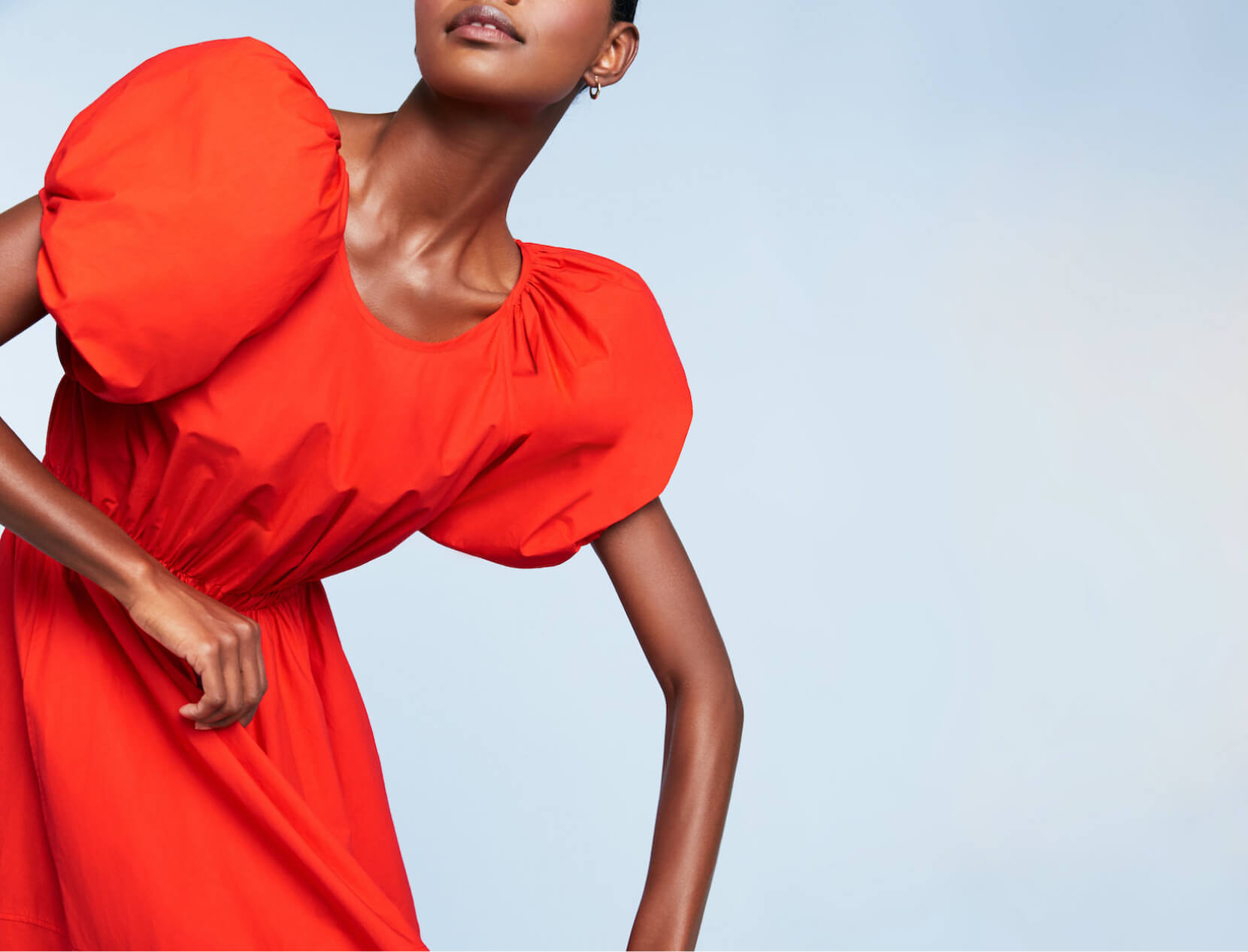 G. LABEL SHEELY PUFF-SLEEVE MIDI DRESS, goop, $357
Big Sale Energy:
Summer Is Here and So Are We
Along with blooming jasmine, strawberry season, and humidity, our twice-a-year markdowns are a reminder that nothing stops summer. Even if you have limited access to sand, plenty of warm-weather rites remain in play—like the return of shorts, swimsuits, and sandals. If you happen to have a few holes in your lineup, don't worry: The goop sale is freshly stocked. Below, some of the leg-freeing, arm-baring, mood-boosting looks we're ready to wear now.

FOR THE MINIMALIST
Striking goop sale gold = luxe basics, trend-forward classics, and beloved brands. For the minimalist-minded, we suggest padding your cart with avant-garde flip-flops, a streamlined bikini, and kitten heels.
ON MODEL:
REJINA PYO TOP, goop, $300;
G. LABEL DIANE A-LINE PEPLUM SKIRT, goop, $297.
OFF MODEL:
BASSIKE DRESS, goop, $324;
Miné mediterranean bikini, goop, $90;
Miné mediterranean BOTTOM, goop, $81;
JEJIA DRESS, goop, $227;
TOTÊME BODYSUIT, goop, $120;
NANUSHKA SHORTS, goop, $237;
NILI LOTAN SWEATER, goop, $210;
BY FAR SANDALS, goop, $257;
HUNTING SEASON BAG, goop, $525;
ACNE STUDIOS SANDALS, goop, $258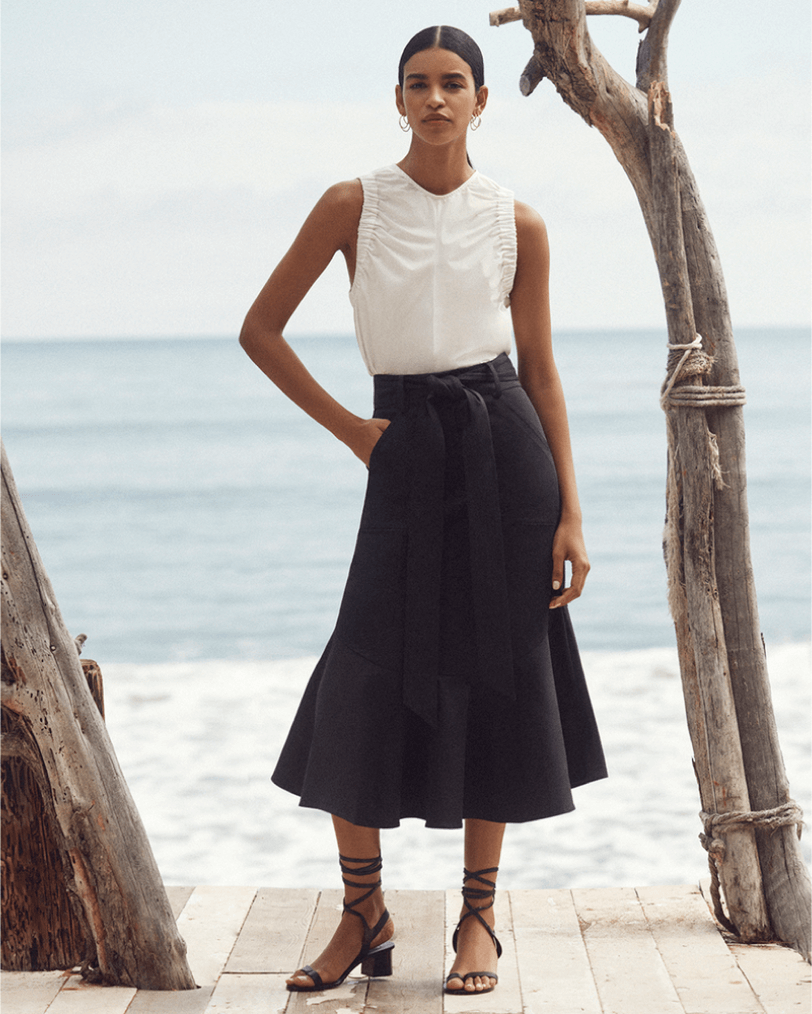 THE VIP LOUNGE
Catch the breeze from your bedroom window in a light-as-air matching set, then slip on slides and take that mellow look—plus a book to inspire your next kitchen adventure—out to the patio.

PARADISE IS A STATE OF MIND
Take one waist-defining maillot and one shimmer-happy sundress, spritz with coconut mist (it's like a piña colada for your hair), and beach it on your lawn, rooftop, or a reclining chaise in your apartment's sunny spot. And those Turkish towels? Trust us, you'll want two.
ON MODEL:
matteau maillot, goop, $330.
OFF MODEL:
aish dress, goop, $324;
herbivore botanicals sea mist, goop, $7;
kreafunk speaker, goop, $86;
june towel, goop, $33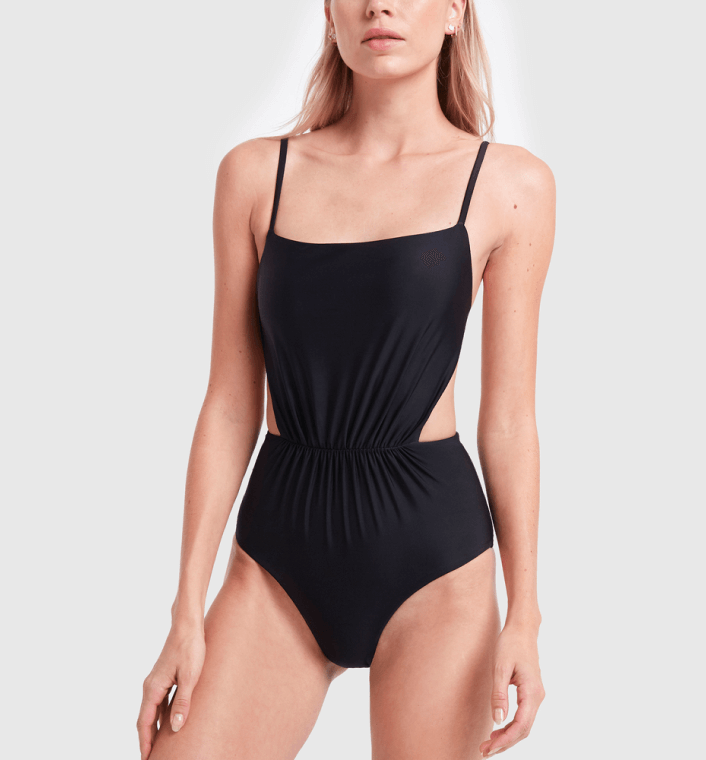 TIGER QUEEN
Unleash your animal instincts via something spotty (a bell-sleeve shirtdress), something skimpy (a stripy, stringy bikini), or something charming (a snake-print mini bag).
ON MODEL:
sea dress, goop, $231.
OFF MODEL:
proenza schouler t-shirt, goop, $210;
ganni dress, goop, $237;
ganni skirt, goop, $114;
tropic of c top, goop, $54;
TROPIC OF C BOTTOM, goop, $48;
ATP ATELIER BAG, goop, $342

EDITORS' PICKS
Fact: goop employees rise at dawn to start shopping the moment the clock strikes sale. After (mostly) resisting goop shop temptation all year, here's how three editors are rewarding their self-control.

PARTY IN THE BACK(YARD)
Here's how not to be upstaged by your own tablescape: Slip into the silkiest, sexiest, grass-sweeping gown this side of 40 percent off, plus gladiator-style sandals fit for a garden-party goddess. Then relax—it's not like you have to drive home.
ON MODEL:
MATTEAU DRESS, goop, $360.
OFF MODEL:
CESTA COLLECTIVE BAG, goop, $237;
heretic dirty jasmine, goop, $39;
acne studios sandals, goop, $420;
artisan books: Estela, goop, $21;
TEROFORMA BAR KIT, goop, $39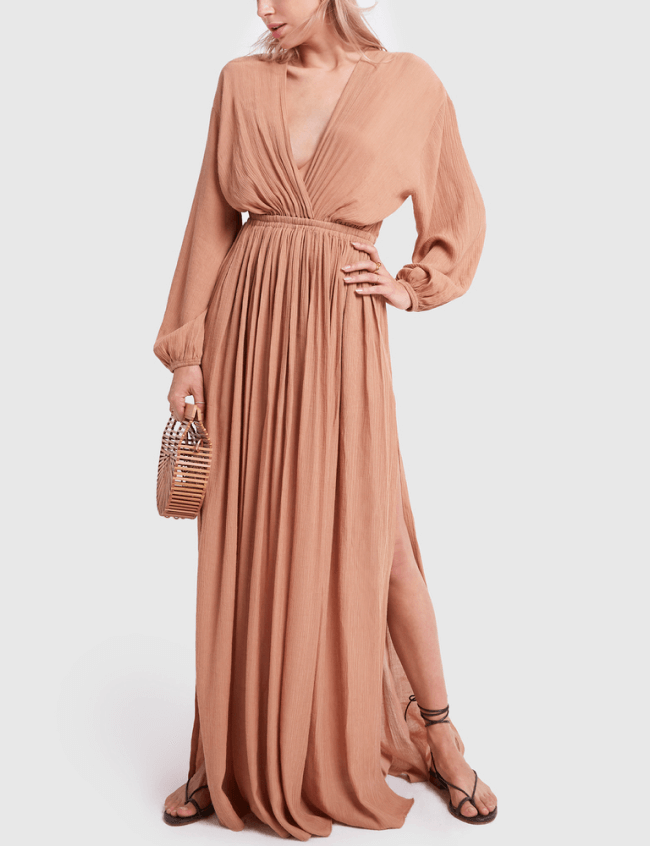 beat the chill
Post-sunset breezes are as much a part of summer as sundresses and denim shorts, and a solid pullover looks good with all three. We take ours with cozy cuffs, a little crop, and the kind of stripes that work with everything. And for those with a habit of literally borrowing from the boys: G. Label Men makes a pillow-soft cashmere crewneck that's worth the investment.