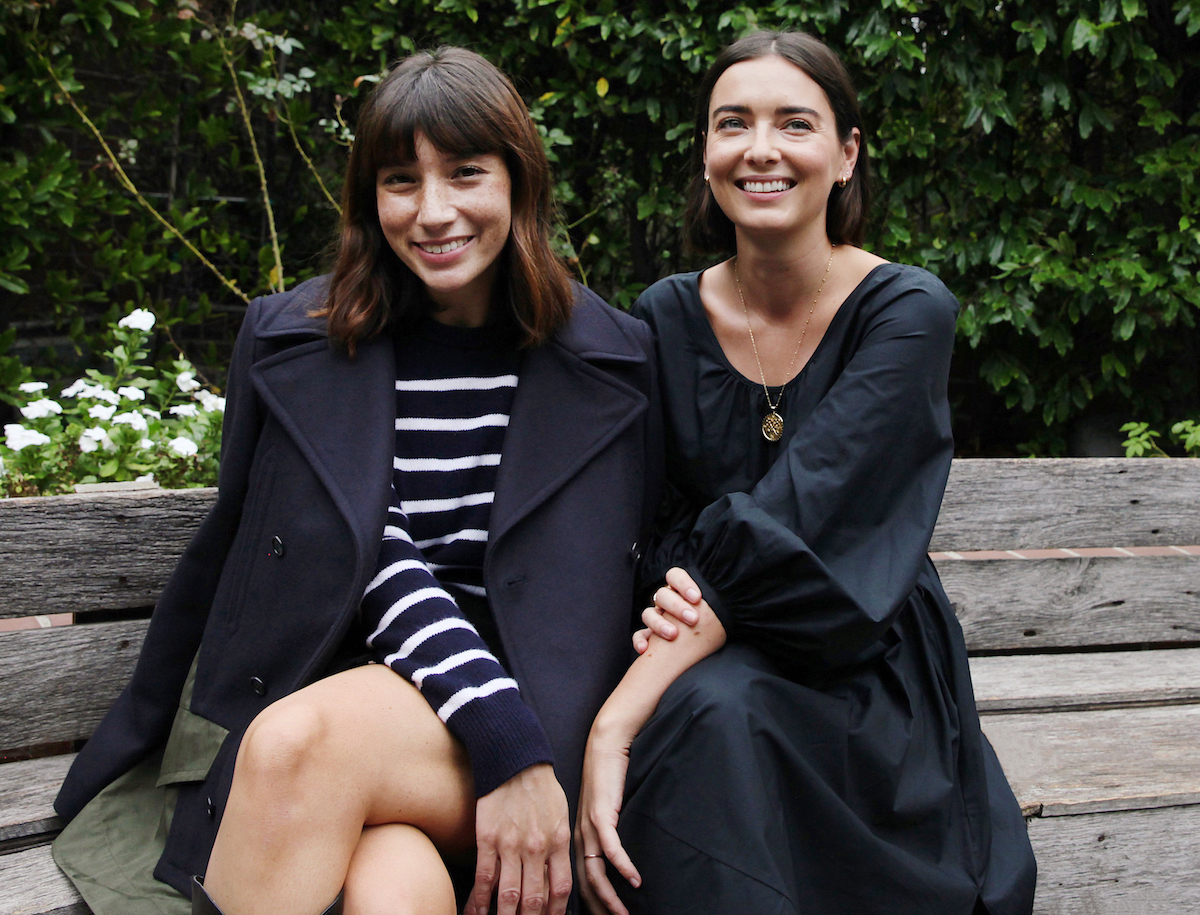 12 Editor-Approved Picks
from the G. Label Sale
Truth be told, the G. Label sale caught the goop editorial team off guard—the collections don't usually hang around long enough to make it to markdown. But we'll take all the good news we can get, so we're celebrating the surprise by scooping up pieces we've been eyeing for months. To help you streamline your own add-to-cart strategy, we've rounded up twelve essentials we already own, love, and turn to on the regular.
(Psst: You'll need a code to get your 20 percent discount on the G. Label pieces here—scroll down to get the code.)
MEGAN O'NEILL
Senior beauty editor, cold-shower convert, electric NYC energy wrapped in a ray of sunshine
G. Sport x Proenza Schouler Bodysuit and
G. Label Justin Pleated
Wide-Leg Shorts
Why she's obsessed:
"The sleek red, the incredible streamlining fit that makes you feel like a dancer as you move through the day, the way it makes your boobs look low-key great, no matter their size."
How she wears the bodysuit:
"With baggy camo pants, fitted high-waisted cropped jeans, a diaphanous skirt and Tevas, or—when I'm really going for it—with these awesome wide-leg pleated shorts for a more tailored, pulled-together look.
Her favorite details of the shorts:
"The cuffs and the pleats lend a polished vibe, while the roominess is pure breezy comfort. And I feel on top of the world when I wear them with my Chelsea boots from The Row."

AMANDA CHUNG
Junior creative copywriter, West Coast chill with a razor-sharp wit, voted best eyelashes at goop
Christina Wide-Leg Shirt Jumpsuit
Why she's obsessed:
"I love the juxtaposition of the sleek placket with the playful, extra-wide
legs—it nails the yeah-I-tried-but-I'm-no-tryhard look perfectly."
Perfect for:
"Breaking a four-day sweatpants streak."
How she wears it:
"With Birkenstocks—what else?"

SANDRA SLUSARCYZK
Associate fashion editor, has "Happiness is a puff sleeve" on her business card
Amagansett Maxidress
Why it's her favorite:
"It's comfy, easy, and elegant—everything I look for in a dress. But as usual, it's the puff for me. I love the billowy shape and bracelet length on these sleeves."
Her favorite details:
"The tie belt, scooped back, and leg slit are my favorite design elements—so chic, and each one makes this dress even easier to wear. It was an instant staple as soon as it hit my closet!"
Perfect for:
"String-lit dinners, sunny beach days (cute sans belt!), work meetings—she fits in everywhere!"

KATE WOLFSON
VP of content, '90s pop-culture encyclopedia (she don't want none unless you've got puns, hun)
Silveira Ruffle Shirt and Alexandra Slit Trouser Skirt
How she wears them:
"With boots (the chunkier the better) and keeping a layer handy, always, now that LA is
showing signs of season-appropriate temperature drops."
Why she's obsessed:
"Simply put, I love a tailored high waist. It makes me feel feminine and polished without
looking overdressed."
Perfect for:
"I'm wearing this skirt-and-ruffle-top combo any time there's a reason to leave the
house, honestly. Even a trip to pick up dinner or a GOOPGENES Body Butter re-up
at the goop store is a valid reason to give the sweats a rest in my book."

SIMONE KITCHENS
Senior features editor with a green thumb, great hair, and a just-married glow that won't quit
Jaimee Puff-Sleeve Polo Sweater
What sets this piece apart:
"I love an oversize anything, but there's something so pulled-together about
the slim silhouette on this pullover."
How she wears it:
"With high-waisted RE/DONEs and Converse."
Why it tops her sweater stack:
"It's navy, my favorite neutral."

SARAH CARR
Associate editor, gua sha enthusiast, dressed as Harry Styles feeding the fish for Halloween
Mendoza Dropped-Waist Shirtdress
How she wears it:
"This dress has been a go-to all summer with slides, but now I'm breaking out the boots and wearing it with a black blazer over my shoulders. My husband and I usually celebrate Friday night with cocktails in the backyard, and this piece goes from desk (okay, kitchen table) to drinks in a snap."
Just add layers:
"I live in a canyon in LA, so right now it's hot at noon and chilly at night. This shirtdress works with the high-low temps—I just keep a cardigan nearby to slip on and off all day long."
Favorite details:
"I love clothing that works year-round, and this crisp white poplin is begging for a cream-colored oversize sweater to nail a monochrome moment this winter."

ALYSSA NELSEN GEIGER
Senior creative copywriter, après-ski instructor, working on an album called Parkas and Rec
Joshua Parka
Why it works at 8,000 feet:
"Honestly, I've been waiting all fall to break out this bad boy. We've been hunkering down in the (now snow-capped!) mountains of Colorado near where I grew up, and now that it's starting to get nice and nippy out, I plan on parka-ing it right here until further notice."
Perfect for:
"Peeping the fall foliage or bundling up on a particularly blustery day…and making your (semi-annoyed) Instagram husband tag along to capture the moment."
How she wears it:
'With the Thomas sweater, a slip skirt, and some leaf-crunching combat boots."
The best parts:
"The supersize pockets and that faux-shearling liner, which is c-o-z-y."

JEAN GODFREY-JUNE
Executive beauty director, glowy nymph of Nyack, elegant with adjectives and eye creams
Citrine Printed Dress
How she wears it:
"With shearling-lined Arizona Birkenstocks. Someday I'll go out again, and low black YSL boots will be perfect with it. With practically all clothes that are not pj's, I wear a leather bracelet from Hermès, gold hoop earrings, and a shaved-diamond pendant necklace from Ten Thousand Things, and the dress is great with all of them."
The versatility factor:
"It's sleek and glamorous and pulled-together and professional—but actually vastly more comfortable than the fancy-top-and-sweatpants angle I'd been working when important meetings or Zoom family reunions showed up on the calendar."
Perfect for:
"Microsoft Teams. Zoom. FaceTime. And then I leave it on for dinner (at home) with my boyfriend."

SARAH ROSE
Senior stylist, cat lady in couture, the safety-pin-wielding Cézanne at every goop photo shoot
Antoniadis Puff-Sleeve Mariner Sweater and Rodrigo Pieced Peacoat
Je ne sais quoi status:
"I'm always striving for quintessential French-girl chic, and this navy-and-white-striped sweater nails the look every time. Plus, the merino wool is the softest, most luxurious knit you'll ever feel."
How she wears them:
"With a miniskirt and tall boots. I love a military-inspired look, especially when there's a modern twist—like this navy-and-army-green colorway.
Perfect for:
"Grabbing a coat as soon as it drops below seventy in LA."

get your code
Use one of the codes below (choose the correct code for your country) at checkout to take 20 percent off these items.
USA: GOOPMYCLOSET20

CANADA: GOOPMYCLOSET20-CA

FRANCE: GOOPMYCLOSET20-FR

ITALY: GOOPMYCLOSET20-IT

UK: GOOPMYCLOSET20-UK

GERMANY: GOOPMYCLOSET20-DE