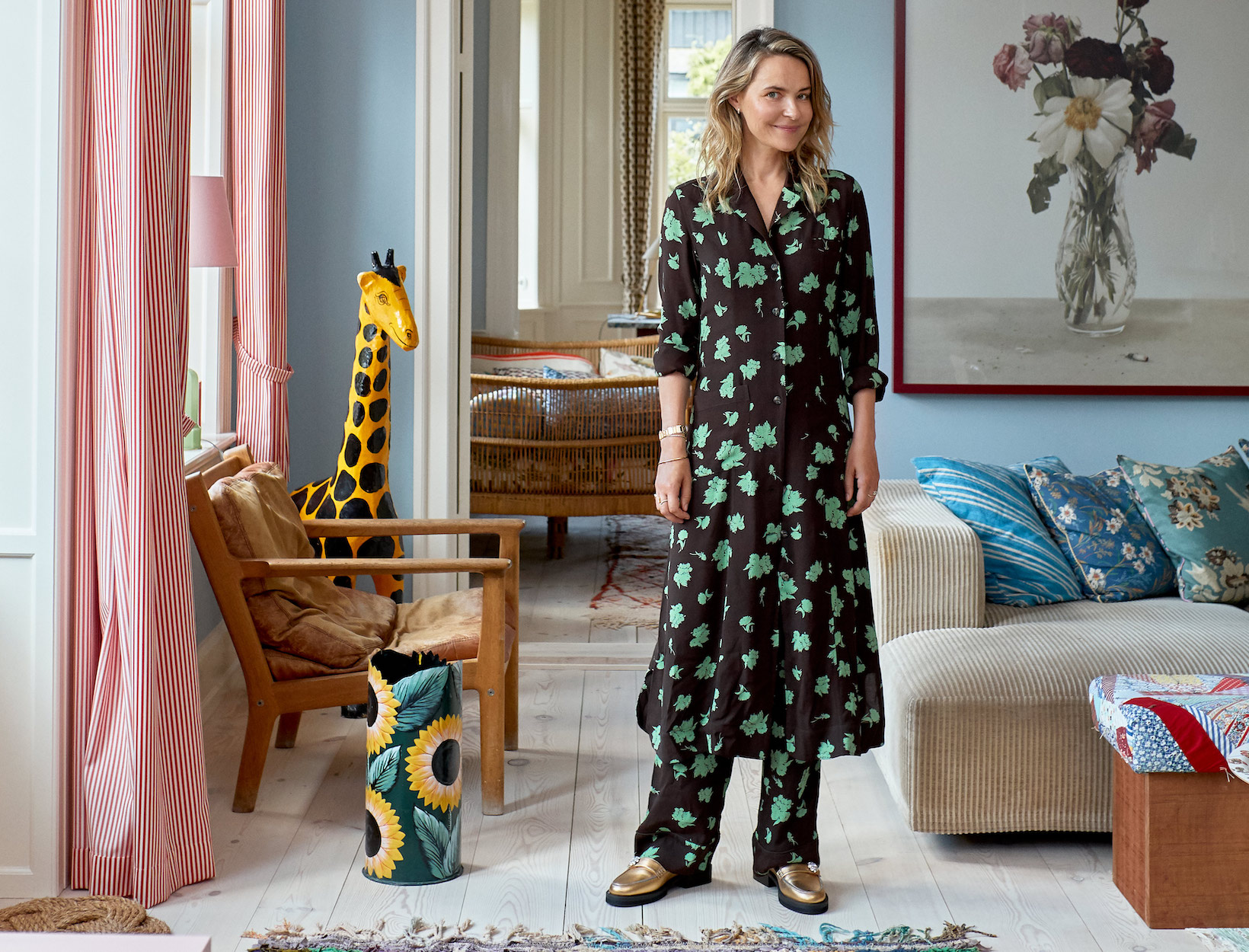 Photo courtesy of Enok Holsegaard
The Cult Brand Reinventing the Scandi Look
When Ditte and Nicolaj Reffstrup took over the Copenhagen-based contemporary fashion brand Ganni more than a decade ago, something was missing from clean-line-loving Scandinavian style. "I couldn't find pieces that represented my and my friends' way of dressing—full of color, contrast, and personality," says Ditte. "So we decided to do something about it ourselves."
All that sharp functionality softened up. Minimalism met its maximalist match. And the Ganni girl—in all her print-wearing glory—made us appreciate the fun in dressing up again, perhaps now more than ever. "Our Scandi 2.0 way of dressing is really more of a mindset," says Ditte. "It's about dressing for yourself, and no one else."
20 QUESTIONS WITH DITTE REFFSTRUP
Best part of your job?
That I get to work with so many amazingly talented people—including my husband, Nicolaj. We have the best team.
First thing you're looking forward to doing when the pandemic is over?
I can't wait to visit New York again. I miss the bustling energy of the city and all the people-watching. It's my favorite destination for inspiration. Apart from that, I can't wait to be able to throw a big old party—I miss the dance floor more than anything!
On my feet, you'll always find:
Sneakers or big chunky boots. I'm always in flats because I cycle everywhere, so I like to keep my footwear practical.
Photo courtesy of Lana Ohrimenko
Last thing you listened to?
I love the new season of GANNI Talks, a podcast we just launched with NYC-based writer Marjon Carlos called Culture Club. The first episode is a conversation between Carlos and artist Theresa Chromati on what's keeping them inspired right now. It's a great listen.
Copenhagen or New York City?
New York will forever be my crush, but Copenhagen is home for me.
Favorite style icon?
Miuccia Prada and Raf Simons.
Sweatpants or dressing up?
Dressing up! I can't wait for the world to reopen. I have a feeling we'll all be ready to shed our couch looks and look our best for visiting restaurants and socializing again. I. Can't. Wait.
Beauty rituals you adhere to?
Because I have such a busy schedule with long days, I try to prioritize facials every few weeks, and I wear sunscreen year-round to protect my skin.
goop picks
Inspiration behind your latest collection?
Our spring collection is all about overcoming the feeling of uncertainty that clouded the first months of the pandemic. Honestly, at the start of lockdown, I had so many doubts. I was reevaluating what's important in life, asking myself if what we do is enough. But then a light switched on, and for the past few months, I've never felt more certain that this is what I am meant to do. And I love what I do. These are troubling times, but we are moving forward with a new optimism and always looking toward change.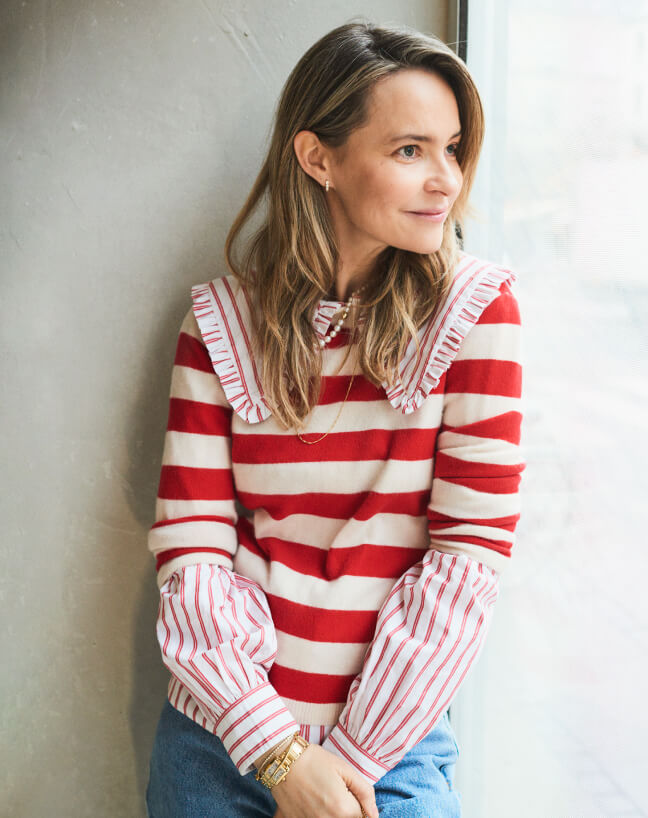 Photo courtesy of Oscar Meyer
Best piece of advice you've ever gotten?
That saying yes to something also means saying no to something else. You can't do everything, so you might as well be present in what you do.
What are you most hopeful for?
More sustainable and innovative solutions in the fashion industry. We need to work together as an industry to create real change, and above all, we need to be willing to invest.
Trend you love and loathe?
I've never really gotten caught up in trends. I try to go with my gut and do my own thing.
Hobbies picked up during quarantine?
Dancing around the kitchen table. And gardening.
Always start your day with?
A cortado—I am nothing without my morning coffee.
goop pick
And wind down with?
Hanging out in the kitchen cooking with the kids. I try to put my phone in a drawer when I get home to have a couple of hours away from screens.
Go-to weeknight recipe?
A fresh spaghetti vongole with parsley, garlic, chili, and clams—such a yummy treat.
goop pick
Best way to spend a Sunday afternoon?
On the tennis court with my family. We all play, and it's such a great way to spend time together.
Favorite account on Instagram right now?
Our @GANNI.lab account—it's a journal of our journey to becoming a more sustainable brand. It focuses on innovation and transparency and highlights some interesting thoughts on the intricacies and challenges of creating responsible fashion.
Any silver linings from this past year?
Learning how much we can change in a short period of time if we really put our minds to it.