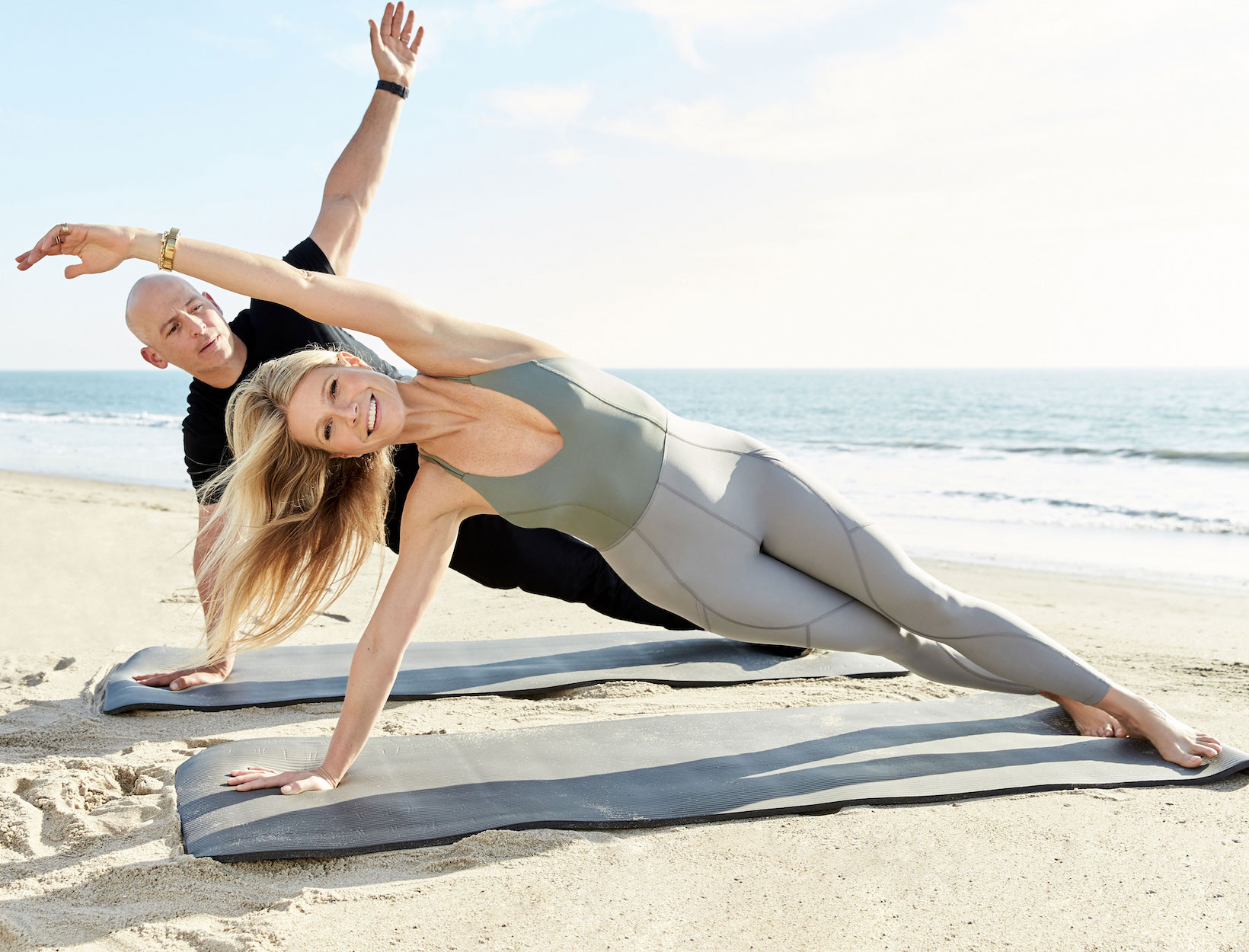 Game-Changing
Workouts
(and the
Gear to Get You
through Class)
"Showing up is half the battle," says every workout instructor/personal trainer/gym buddy in history. And "battle" is the operative term here. If we're equating [insert any culty workout from list below] to combat, well, you'll need to gear up. Cue a killer playlist, pick out an intensity-level-appropriate look, and chalk up your 2019 fitness goal to no sweat. By which we mean, of course, a lot of sweat.
When the dance-cardio beats are booming and TA's dynamic weight-shifting routines are in full swing, you'll be wanting the big guns: moves-with-you gear that's equal parts bold, breathable, and, of course, beautiful. With a heavy-duty underband and strategically placed paneling—both up top and down low—this neutral look powers through every high kick, plié, or grapevine the #TAmily throws your way.
Based on the Lagree Method, this Reformer-based class isn't for the faint of heart—or abs. But the muscle lengthening, strengthening, and toning that follow make it well worth any newbie soreness (a G.Tox bath soak can help!). Double down on a sports bra and elbow-sleeve top layer for extra support. The ventilated open back makes for a perfectly temp-controlled flow.
On top of the fact that you can find a class in nearly half of the US, there's another good reason our boss lady is into this hybrid workout: You can count on getting your vinyasa on without losing the muscle-toning benefits of your free-weights routine. Since they're known to turn up the heat, fitted, sweat-wicking gear—like this strappy G. Label onesie—is your best bet for seamless transitions from downward dogs to bicep burners to cooldowns.
While a dress code isn't in the fine print, we're big fans of dressing the part. And in this case, the part calls for a sleek leotard (note the airy back detail), leggings, and bouncy footwear, which you can kick off during the studio's other offerings—yoga, meditation, breathwork. This feel-good mashup of classes weaves in emotional release; bring along a cozy cocoon-like sweater to slip on after.
RUNNING OUTSIDE
Getting your cardio on outdoors involves some strategic layering. Throw a hoodie over your sports bra or under your puffer. Either way, it's a weatherproof buddy you'll be happy you brought along. Next on the list: supportive sneakers that make you feel like you're running on air.
When it comes to a heart-rate-upping rowing class, streamlined separates—a pretty puff-sleeve tee and no-frills leggings with compression panels—strike a sporty balance. Leg-sculpting flatlock seams are particularly clutch for finessing your form, both on and off the machine. Ease the studio-to-street shuffle with a cool zip-up and blackout shades.
Throwing hooks, jabs, and uppercuts is known to chisel the core. Here to show off all your hard work: an elongated sports bra and high-waisted leggings. What's more, the cutout up top keeps you cool, the high neckline keeps your punches in check, and the compression bottoms keep your lunges in tip-top form.
DAY-OFF DUTY
Netflixing, erranding, zipping through TSA—it's all made better by upgrading your sweats to a feels-like-cashmere fleece lining, a curl-up-in-it-soft cowl neck, and a hits-just-perfectly high waist. Adjustable drawstrings take these layer-friendly staples from breezy (running around town) to perfectly snug (warm-ups, cooldowns).