The French-Girl Starter Kit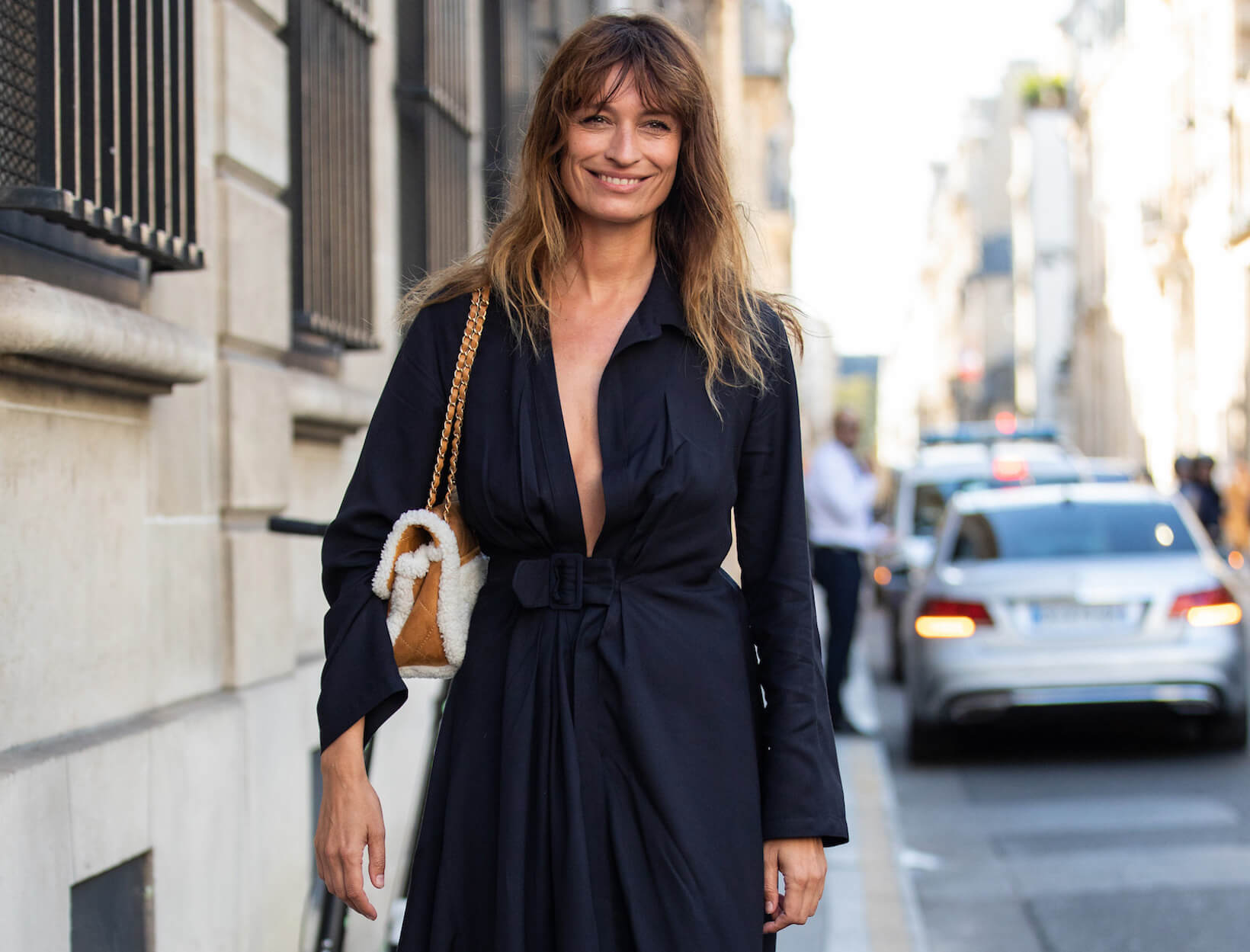 Street style photos courtesy of Sandra Semburg
French-girl style: The term is ubiquitous but hard to define—perhaps that's why so many definitions lean hard on the phrase "je ne sais quoi." The truth is, this particular brand of effortless chic is less about specific pieces and more about how you wear them: with confidence and intentionality. That said, there are certain nonnegotiables, like Breton stripes, a sleek black dress, and a killer pair of jeans. Ahead, your French-girl-style crib sheet.
1
LA MARINIÈRE
What started as a seaman's go-to rose to popularity thanks to the likes of Brigitte Bardot, Coco Chanel, and even Pablo Picasso (the artist often wore his while working on the French seaside). A true marinière has 20 navy-blue stripes, each 10 millimeters wide, spaced 20 millimeters apart, but sailor stripes of any…stripe have a classic buy-now, wear-forever appeal.

3
BOLD SUNNIES
We love the mod-like vibe of these black oval frames—they manage to be simple and striking at the same time.

4
IT BAG
This one is, in a word, parfait. You want something with a bit of texture (quilting) and subtle hardware (chain strap) that will elevate any outfit without feeling too fussy.

5
SHARP-SHOULDERED BLAZER
A tailored blazer is the easiest way to make an outfit look put-together, even if it's just jeans and a T-shirt.

The Five-Minute French-Girl Uniform
Some shoes are so iconic, you can build an entire outfit around them. Case in point: Chanel slingbacks. Just add stripes (to pick up on the black), a cute miniskirt (we love this one's utilitarian details), and minimal makeup (click here for tips from Chanel's first-ever brow artist, Jimena Garcia).
CELINe jacket, Celine, $2,800; westman atelier brow PENCIL, goop, $38; matin miniskirt, goop, $470; CHANEL SLINGBACKS, Chanel, $1,000

6
LITTLE BLACK DRESS
The ultimate closet workhorse: A Parisienne's LBD is demure but hits all the right notes, particularly when it has a square neckline and a coquettish thigh-skimming hem.

7
LEATHER TROUSERS
Think of these as your sartorial secret weapon—they lend an edge to any look without reading full-on rock-and-roll.

9
EVERYDAY RED LIP
Tip: Use a lip brush to create precisely defined edges, or dab it on with your fingertip for a beautifully diffused stain.

10
CLASSIC CARDIGAN
With its ivory trim and brushed-brass buttons, this G. Label sweater reads polished and ladylike.

11
BALLET FLATS
Flats are to the French what white sneakers are to Americans: a staple shoe that will stand the test of time and trend.

12
CRISP BUTTON-UP
Worn a bit oversize, a button-up has a sexy, borrowed-from-him appeal. (Bonus points if it's French blue.)