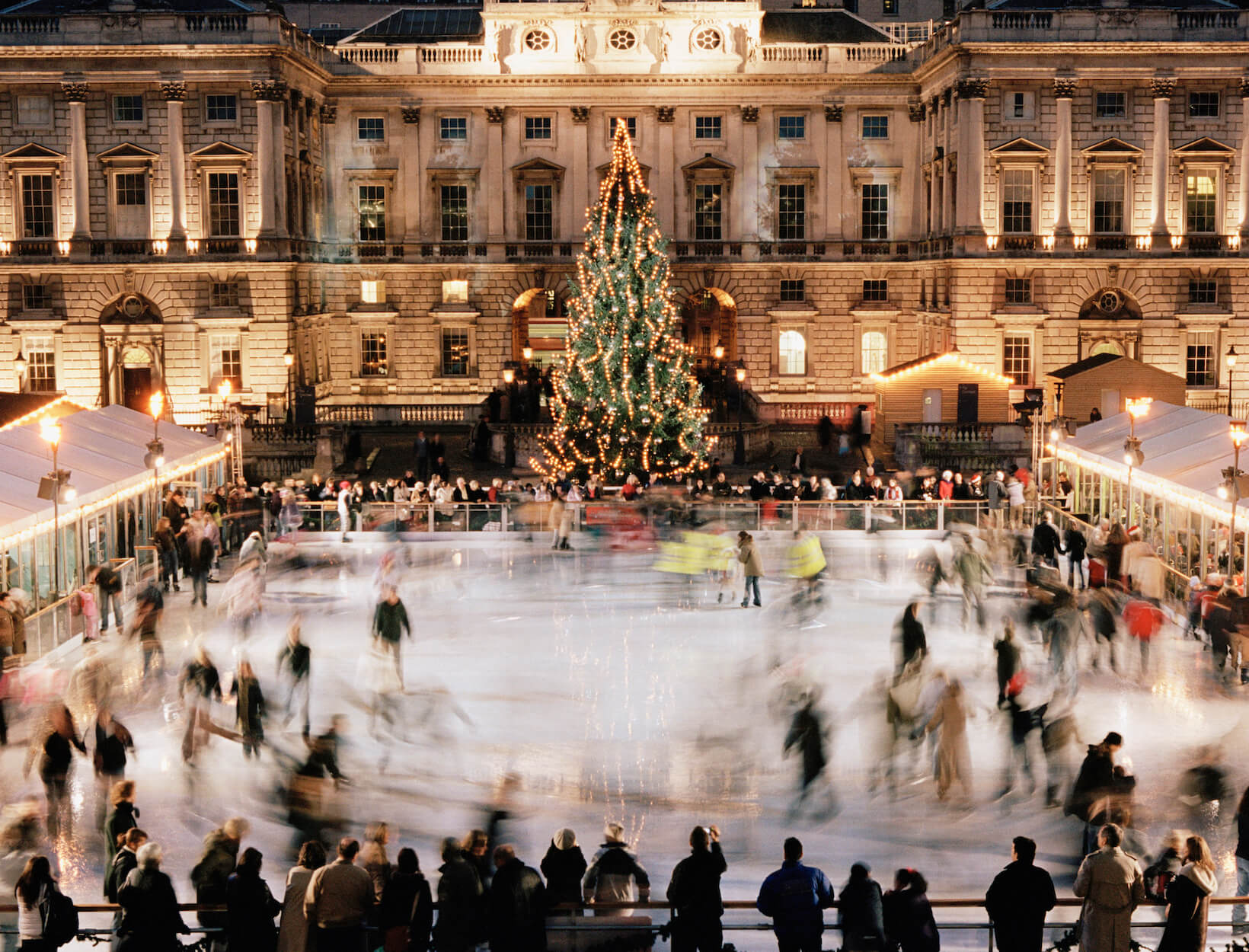 Family-Friendly Winter Breaks
in Florence, Salzburg, and London
With traditions that vary from town to town, Europe offers a culturally different take on the holidays. Whether you're looking to Christmas-market shop or huddle up to sing hymns, we put together itineraries for some of Europe's most festive cities. Here, where to go, what to see, and how to pack.
Salzburg
This Austrian city buzzes year round, given the droves of visitors who come to seek out Mozart's birthplace and the setting of The Sound of Music. That said, with its snowcapped churches, world-renowned Christmas markets, and gorgeous Alpine vistas, there's something particularly magical about the winter months.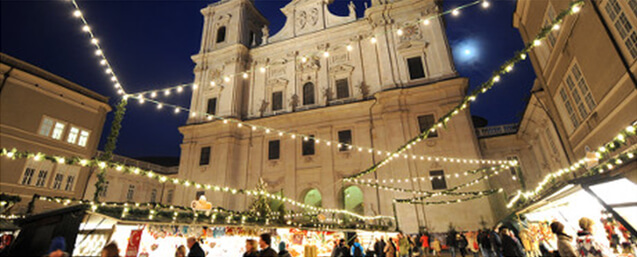 Stay: Though the hotel scene in general has old-world charm, the rooms in Hotel Goldgasse are a bit bolder, with floor-to-ceiling artwork, modern furnishings, light wood floors, and the fluffiest beds. Its central location means many of the city's attractions are a cinch to get to, including the Cathedral and the Salzburg Christmas market. Meanwhile, the in-house restaurant, Gasthof Goldgasse, serves an excellent breakfast of fresh fruit, fried eggs, and bread (baked right next door each morning). For the design-inclined, the interiors at the nearby Blaue-Gans are a stunning example of both historic architecture and a new vision. Austrian architect Christian Prasser maintained the integrity of the centuries-old structure while updating the color scheme with bright white and cool blues—finishing each room with mid-century Danish furniture. In lieu of a hotel gift shop, there's an in-house design store stocked with hand-crafted glassware and artisan collectibles.
Eat: It's one of the world's oldest restaurants (it was once the meeting place for princes and bishops–and some claim it was Charlemagne's hangout of choice), which is reason enough to go to St. Peter Stiftskeller, with its over-the-top regal decor and immaculate service. Get the traditional dark rye bread and stuffed roasted chicken—and since it's housed in St. Peter's Abbey Cathedral, go early to walk around. For a more modern experience, Michelin-starred Esszimmer is beloved for its imaginative menu (the turbot fish is not to be missed). On the other side of the river Salzach, Café Bazar, is an iconic Viennese coffee spot on the Right Bank that's always drawn the city's arts crowd. Head here for a mellow Saturday brunch and some of the best views of city center.
Do: It's hard to find a more festive introduction to the holidays than Salzburg's famous Christmas market. Located in the historic city center at Cathedral and Residenz Square, this epic event started in the 1400's—and today's rendition does a good job of referencing the original. There are more than 90 gift and treat stalls, caroling, as well as the scent of toasted almonds and spices wafting all around. A trip to the Hohensalzburg Castle, a landmark that sits above the city, is a must-see, followed by an afternoon walking through the Alstadt (old town) neighborhood, known for baroque architecture and 14th-century townhouses—one of which is where Mozart grew up. Extend the cultural experience with a visit to Museum der Moderne—and for a slightly slower pace, go to the Right Bank and walk through the Mirabell Palace and Gardens.
Don't miss: Over the four weeks leading up to Christmas in Austria, locals and tourists alike get to take part in a host of traditions, from folk parades to the Salzburg Advent singing performance—during which musicians and actors tell the story of Christmas, from the birth city of "Silent Night."

What to Wear
Florence
For many, winter is the time Florence feels truly alive, when minimal tourists are around. Plus, Italy really excels at the holiday basics. Added bonus: The museums and churches are easily accessible minus the summer hordes.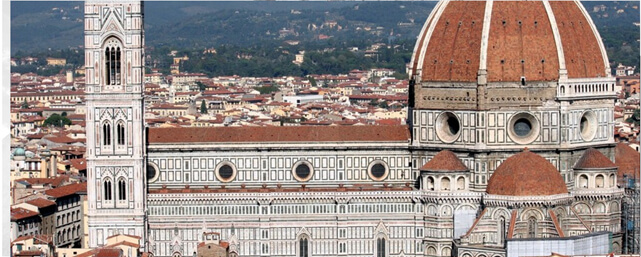 Stay: Owned by the Ferragamo family and designed to feel like a maritime-inflected period townhouse, Hotel Lungarno is conveniently located on the south bank of the river Arno, with incredible views from every room. (The hotel is also home to a serious art collection, including a few Picassos.) For a step into the baroque, there's Villa Cora, which was once owned by Napoleon's widow, the empress Eugenie. It's known for opulent, spacious interiors and is situated within a city park that overlooks the Boboli Gardens—it's a perfect starting point for exploring Florence on foot.
Eat: A proper Italian morning starts with a few shots of good espresso, and nobody does that better than Rivoire, which has been serving Florentines coffee and pastries for more than a century. (It's worth braving the chill to sit on the terrazza and people watch). Aperitivo hour is sacred in Italy and historic Procacci (the truffle suppliers to the Italian royal family until their dissolution) is the ideal pitstop for a glass of prosecco and truffle panino. Traditional Tuscan food—thick steaks, hearty soups, and, of course, pasta—feels justifiably indulgent during the holidays. For fine dining, the three-Michelin star Enoteca Pinchiorri is chic and celebratory, while the old school Alla Vecchia Bettola serves up more traditional, flavorful pastas and rustic meat dishes. Skip dessert and head to La Carraia for the creamiest, house-made gelato.
Do: Minus typical crowds, you can actually take your time at the Uffizi, which has a breathtaking collection of Renaissance-era masterpieces (it's best to break it up over two days if possible). If shopping is on the agenda, Florence delivers: Pick up artisanal keepsakes and Italian-made stationary at Il Torchio. The original Santa Maria Novella apothecary (rumored to be the oldest pharmacy in the world and founded by Dominican monks in the 13th century), is finished with frescoed ceilings and 18th-century furniture. And of course, there's always the Gucci flagship on Via Tournabuoni.
Don't miss: The charming Christmas market in Piazza Santa Croce is lined with wooden stalls selling handmade gifts and edibles; pick up a cup of vin brulé and take it in. The Duomo at Santa Maria Novella is brilliant during the holidays—the piazza in front is illuminated by Florence's largest Christmas tree (with an elaborate nativity scene underneath). Many of the Florentine churches and chapels have choirs singing and echoing Gregorian chants, which definitely adds an extra touch to the surrounding masterpieces (see the Massolino frescoes at the intimately small Brancacci Chapel).

What to Wear
London
The Brits are experts in cozy—and during the holidays they really amp it up. From the huge Christmas trees that dot the city's squares, to the lights tracing Harrods, to the famously elaborate store windows on Bond Street, London can induce festive cheer in even the most holiday-reluctant traveler. (For longer stays, see all our London city guides here.)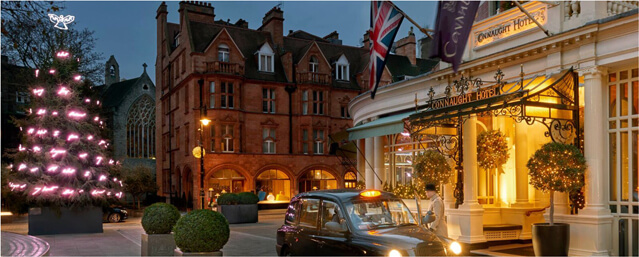 Stay: While London has no shortage of beautiful places to stay, The Connaught in Mayfair reigns supreme. The interiors, particularly festive around the holidays, are full of modern surprises while maintaining the institution's old-world charm. The late David Collins designed the Art Deco-style bar, which is incredibly intimate with its mirrored panels and low-slung seating. (It's tucked off to the side of the lobby, so it's easy to miss.) This year's 30-foot-tall tree, which is right outside on Carlos Place, was designed by Tracey Emin.
Eat: While in London, a proper Sunday lunch of roasted meat, duck fat potatoes, and buttery vegetables is obligatory—go to gastropub The Engineer in Primrose Hill. (You can burn it all off with a long walk through nearby Regents Park.) For dinner, The Wolseley is beloved for atmosphere alone. Modeled after a Parisian-style grand café, the cavernous split-level dining room is always packed with guests sampling oysters, champagne, and Euro classics like schnitzel and coq au vin.
Do: Bond Street and the neighboring Burlington Arcade are decked out in ivy and twinkling lights throughout December, and the festive window displays of the boutiques that line the street do not disappoint. Daylesford, which has locations in Marylebone, Notting Hill, and Pimlico, is a one-stop shop for a taste of the English countryside. They've got a selection of local/organic groceries and a straightforward café menu, but also pretty ornaments and Christmas treats (chocolates, mince pies), plus more gifts to bring home.
Don't miss: Skating under the shadow of the Romanesque Natural History Museum is enchanting. The Christmas markets in Southbank are worth a wander, thanks especially to their close proximity to The Tate Modern (for art lovers) and Borough Market (for food and coffee fans).

What to Wear