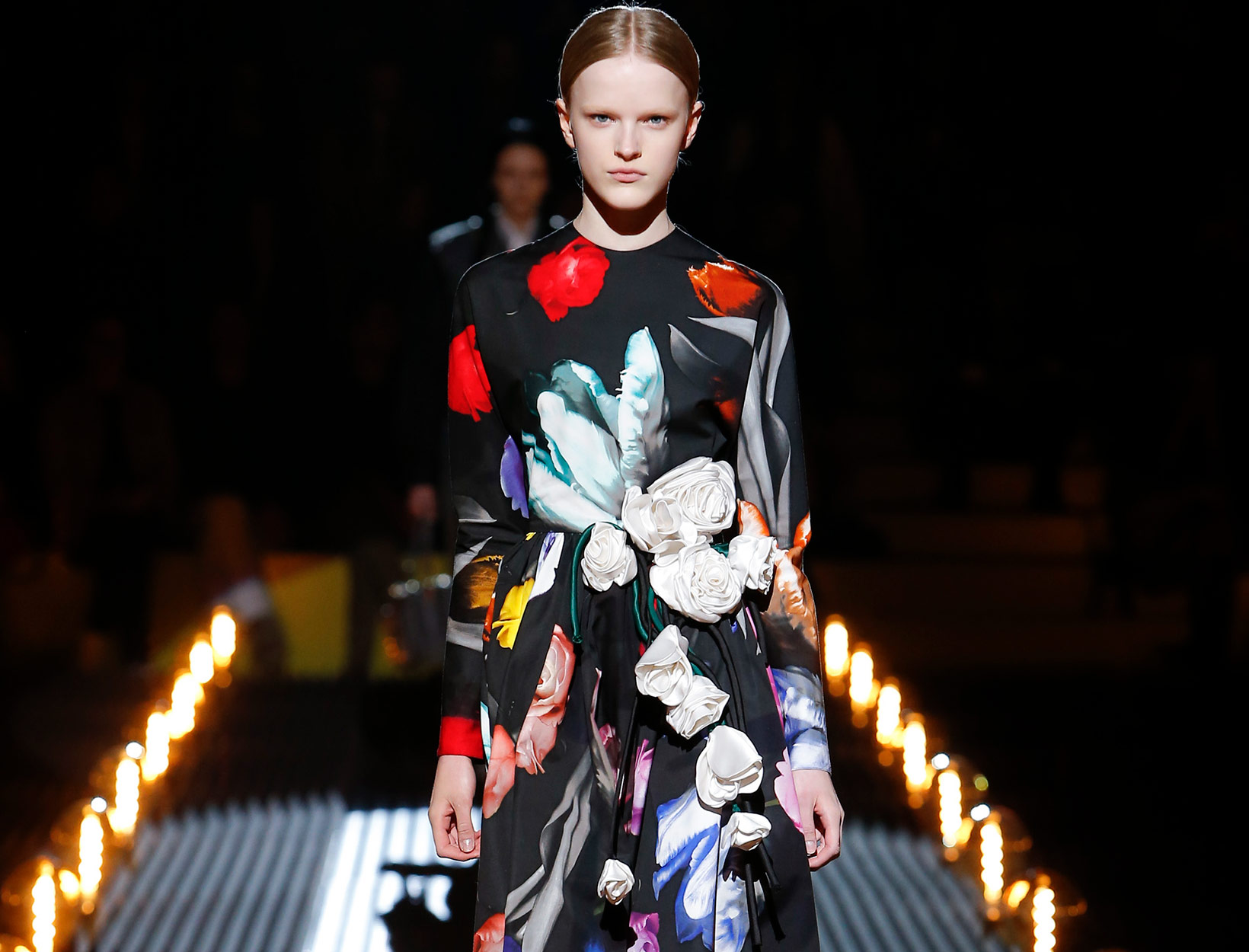 Runway images courtesy of Prada
Fall Runway Trends
That Translate to Real Life
In partnership with our friends at Prada
While the fashion people of the world may be starry-eyed over the spring/summer 2020 collections (we're looking at you, Ali Pew), the rest of us are back here in 2019, sorting out our fall closets. In search of inspiration, we turned to Prada's romance-meets-rebellion fall show—and discovered a few trends that translate easily to the everyday. From bold dashes of color and dark florals to unexpected texture combinations, this is how we're borrowing from the runway right now.
Bold + Blooming
Miuccia Prada's floral moment opted out of allover print in favor of a few well-placed blooms. Take the look from client calls to cocktails with a dark floral A-line skirt and trend-resistant basics (a crisp white button-down, black oxfords), then add a piece you love: a tailored sweater, a menswear-inspired watch, or a sleek bag.

Solid + Sheer
A practical approach to romance—be it in love or layering—generally results in a more lasting relationship. The sartorial equivalent of a well-balanced partnership? A midlength dress in sheer lace or chiffon worn over a hardworking closet staple. Mimic Prada's drama with a substantial shoe, but lighten the look with delicate, high-shine jewelry.

Soft + Shiny
If Prada's fall runway taught us one thing, it's that in fashion, odd couples, like a knee-high patent leather boot and a diamond bangle, often live in harmony. Mimic the juxtaposition between shiny and matte, structured and flowy, and delicate and utilitarian by balancing a satiny skirt with a chunky knit in a complementary shade.

Red + Refined
With a few tweaks, an unexpected runway tryst—bold red satin meets exaggerated herringbone flannel—becomes an inspired daytime look. Swap in a ribbed sweater in the same brilliant shade, add a skirt with volume and movement (think pleats or an asymmetrical hem), and make the office corridor your runway.