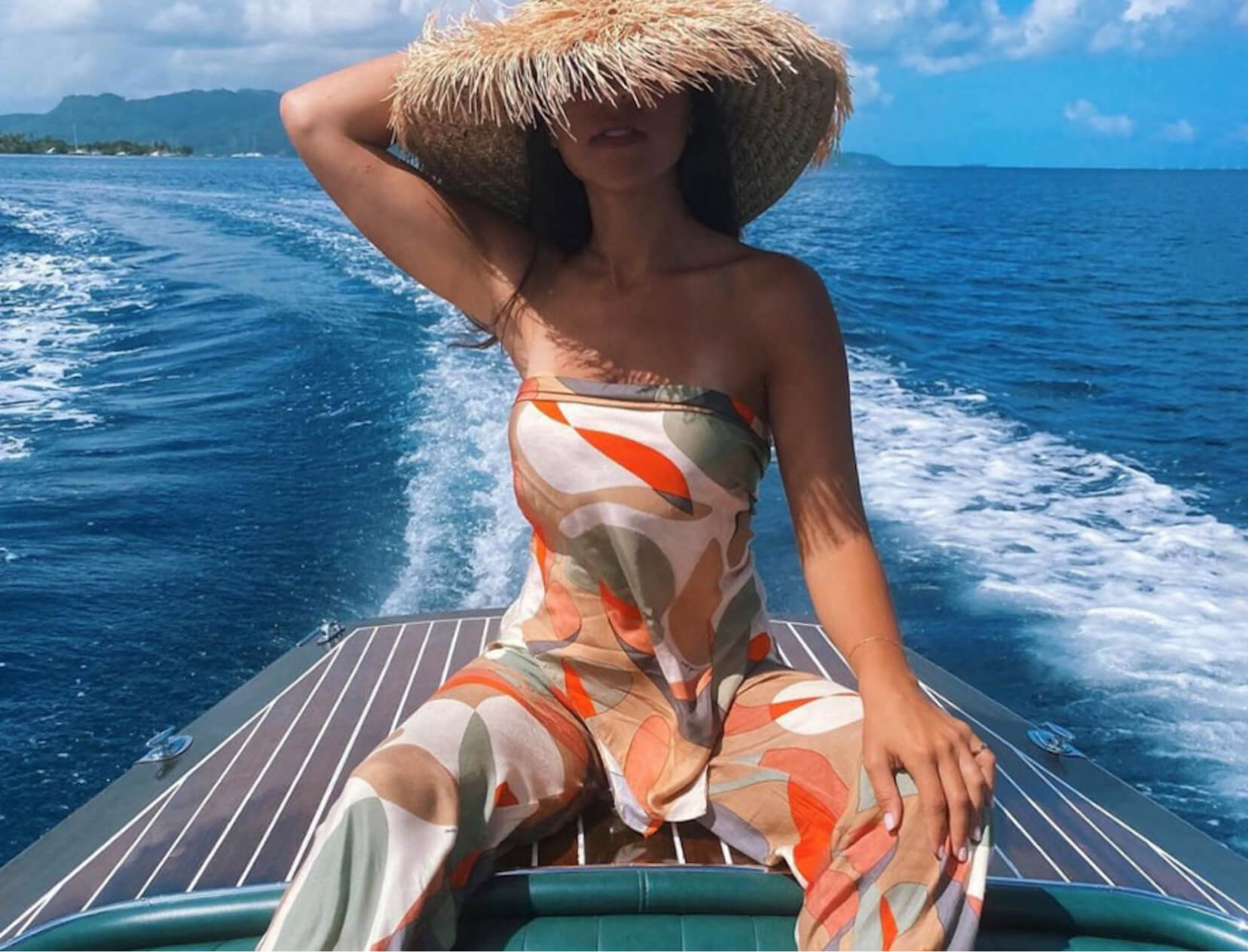 Cult Gaia's Creative Director
Just Wants to Dance
They say if you love what you do, you'll never work a day in your life. For Cult Gaia founder and creative director, Jasmin Hekmat, doing what she loves means working every day of her life. "It's how I carve out time for myself," she insists. "If I'm being creative, I sleep better, I'm less stressed, and I feel more fulfilled: It's my health line."
Back in 2012, when she got her start making flower crowns, Hekmat never could have predicted the success her aptly named ready-to-wear brand would achieve. Cut to the present day and wearing Cult Gaia is like having a little piece of LACMA-worthy art slung over your shoulder or strapped to your feet—each bag, heel, and vacation-destined dress is more alluring than the last.
"We try to make objects that someone will see and go, 'Wow, where did you get
that?' Something that's extraordinary but also very wearable."
Cult Gaia's pieces are more than just conversation-starters—they're conversation-dominators. So how does this visionary keep the conversation going when many people are, for the most part, still holed up at home? "By inspiring joy and excitement," says Hekmat. "Something everyone will always need."
What's the Cult Gaia aesthetic?
A woman's body is something that's a consistent source of inspiration for me. Our muse is this warrior goddess—Gaia is the goddess of earth. And I've always been drawn to simple shapes inspired by nature. I love seeing movement in things when you walk, and the way colors change when they're illuminated by the sun.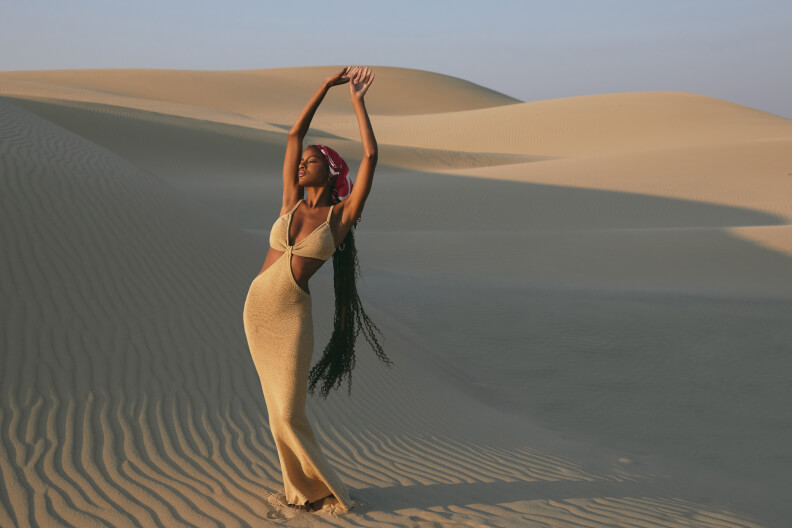 Best part about your job?
Getting to see the final product of something you spent so much time creating. We start with a concept but it's always evolving because we have a large team building on it. And when you finally get it right, you reap the rewards—it's like Christmas morning.
How does nature play a role in the signature ark shape?
It's serendipitous because I've always been obsessed with watermelons and that summery feeling they evoke. The ark is also the shape of a half moon. The sun can also be an ark. So it's all in the same vein for me. Our new Celine Shoulder Bag elevates the original design—and you've got a necklace and bag rolled into one.

Most versatile bag in the collection?
The Roksana is such a good work tote, beach tote, and travel tote—you can bring it everywhere, and it fits so much. I get so many compliments on this bag.
Tell us about the materials you work with.
I love working with natural materials because it keeps everything feeling soft. Bamboo is one of the elements that made us, and raffia has become a signature as well. I find that those materials are a perfect contrast to the architectural acrylics and leathers we use—they ground us and bring us back down to earth.
Has it been hard keeping your community engaged?
We did something fun called Cult Gaia Let's Dance, where whenever someone posted a video of themselves dancing in Cult Gaia on Instagram, we donated $25 to No Kid Hungry. So we got people moving—something that helped us get through the past year. And I think Cult Gaia is even more relevant now because even though so many people are at home, our pieces instill joy and allow people to dream.
Has it been challenging finding inspiration at home?
I'm inspired by everything. I'm inspired by objects, women, contrasts, fantasy. It's sort of a mélange of it all. For our resort collection, I had a vision of Audrey Hepburn doing acid in Marrakech (for the record, Audrey Hepburn would never do acid in Marrakech). But that vision gave birth to so much more than what drawing from reality could have given me.