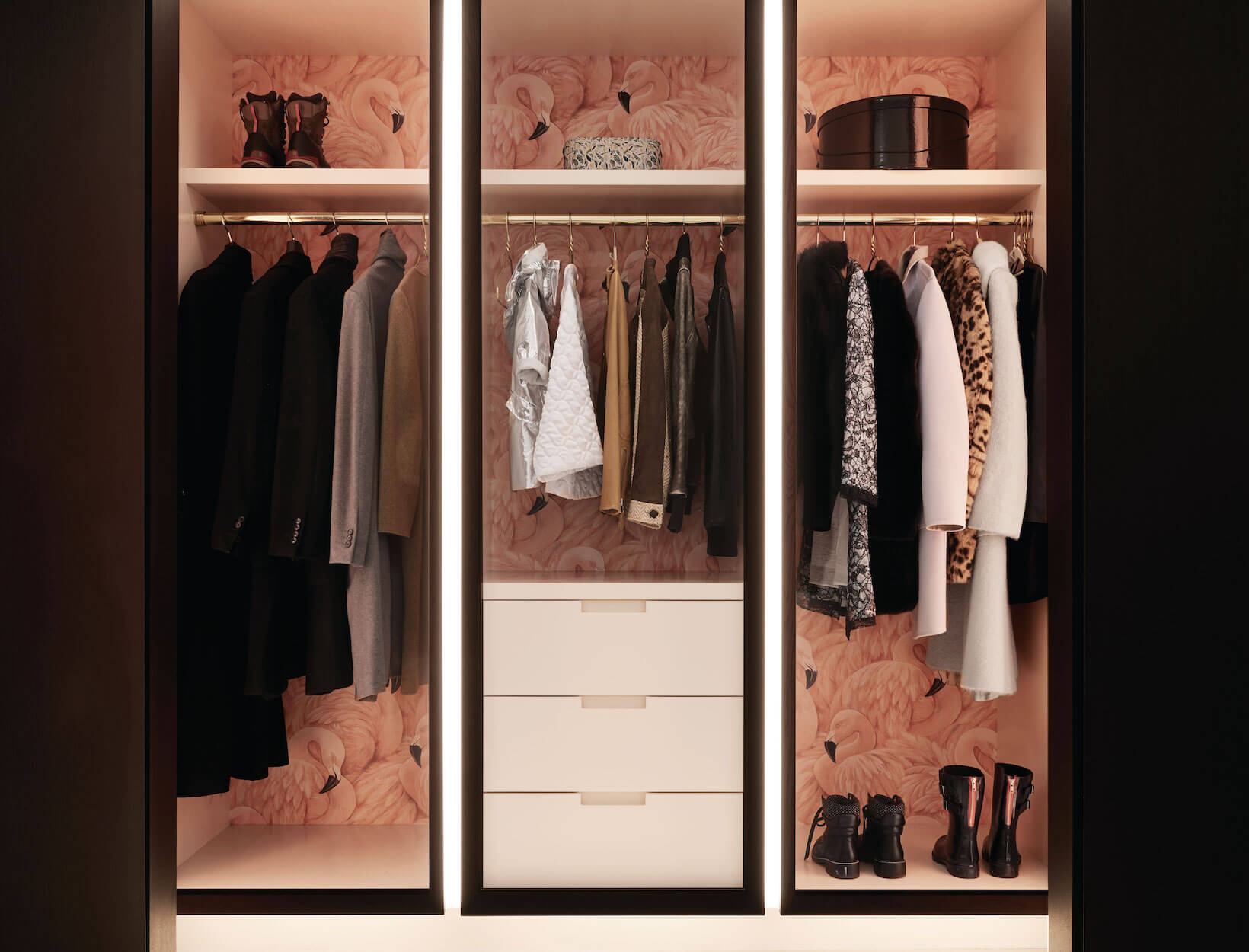 The 2022 Closet Cleanout
In partnership with our friends at Wacoal
Unlike doing the dishes or folding the laundry, a thorough closet rethink shouldn't be a recurring chore but rather a one-time process. Your instinct may be to attack the task with everything you've got, but we suggest a more calculated approach.
Step 1
Commit to Joy
"A 'tidying festival' involves devoting time to emptying your closets and storage areas all at once and sorting items by category—clothing, books, paper, miscellaneous items (or komono), and sentimental pieces. Then you can evaluate the items that truly spark joy in each category and say a grateful goodbye to items that no longer serve a purpose in your life." —Marie Kondo
There's a very good reason why Marie Kondo is the boss that she is. And that reason is this: The bulk of the work lies in differentiating between the keepers (items that bring joy) and the no-longer-neededs (the ones that don't). According to the KonMari Method, success looks something like this:
Imagine your ideal lifestyle. This is the most important step, and it cannot be skipped if you are looking for the long-term impact of the method.

Tidy by category—not location. Cleaning one room or one section of a closet makes it challenging to take a holistic look at what you own and will lead to the clutter coming back.

Put every item of clothing you own in one place. After that, it's time to dive into identifying what sparks joy.

Focus on what to keep instead of what to discard. Keep what sparks joy for you, and let the rest go with gratitude.

Identify a home for the items that spark joy. Having a designated place for each thing is how you show gratitude for the things that spark joy—and how you avoid reverting to clutter after a true tidying festival.
A note from our fashion director: "There's the joy element, and there's the practicality element—you can't have one without the other, nor should you! Try thinking about your wardrobe as two halves that make one thoroughly functional whole: The first is dedicated to the pieces that make you happy, and the second is a supporting cast of basics." —Ali
Step 2
Toss, Resell, or Donate
Make an effort to donate. Do some localized research and pick organizations where your clothes will really go the distance. Women's and family shelters are a good place to start. And if you have gently used luggage that's no longer in use, look into organizations like Hope in a Suitcase and Together We Rise, which support kids entering or living in the foster-care system.
Otherwise, reselling is a good way to go. And if it's not in good enough shape to donate or sell, look into fabric recycling programs in your area—sending clothes to a landfill is the absolute last resort.
Step 3
Drawer Detox
Remember that supporting cast from step one? The most important of the bunch lives here. Take this opportunity to upgrade with sets that are comfortable, on-the-low sexy, and designed to fit just right under clothes. Wacoal has figured out how to nail the fit—its inclusive sizing is impressive and the in-person support or mybraFit app make it easy to get it right—without sacrificing an ounce of comfort or sex appeal, thanks to the stretchy (never saggy) fabric.
Top Drawer =
Bras and Underwear
Middle Drawer =
Sleepwear
Bottom Drawer =
Lounge and Active
Step 4
Closet Refresh
The wants—exaggerated silhouettes, Crayola hues, and sneaky sparkle—are self-explanatory. But there's no reason the things you need can't be damn pretty to look at, too.
Need
Want
Step 5
Organization Station
On the topic of joy, have you ever fired up a garment steamer that looks like an objet d'art or adorned a doorknob with a ceramic air freshener that smells like your…dream closet?
---
We hope you enjoy the products recommended here. Our goal is to suggest only things we love and think you might, as well. We also like transparency, so, full disclosure: We may collect a share of sales or other compensation if you purchase through the external links on this page.