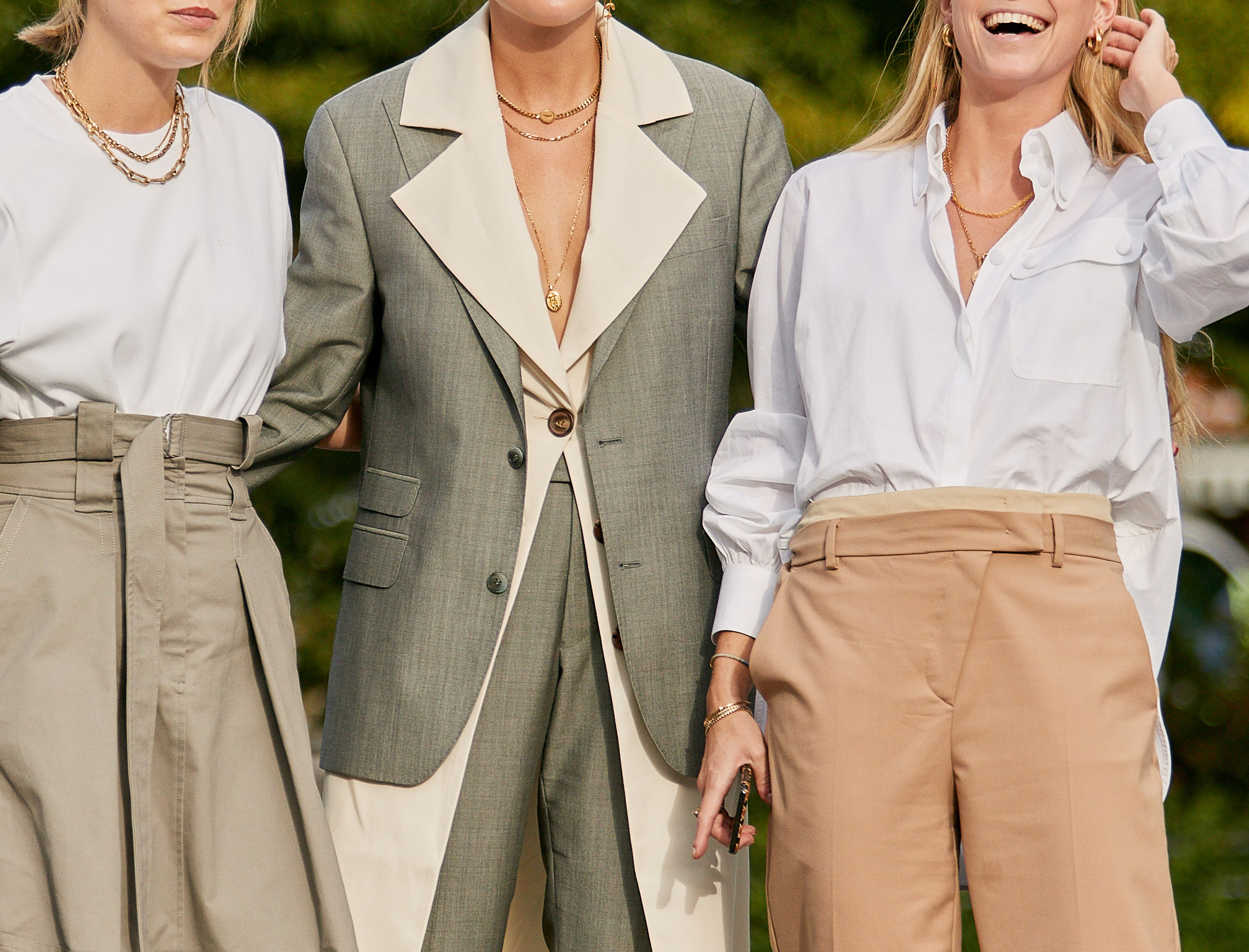 7 Key Pieces to Buy Now
February is starting to lose its chill, meaning it's safe to shed the shearling, lose the leather jacket, and slowly retreat from your closet's cavernous black and navy corners. But getting back into the spring of things is not without its hazards. Decision fatigue can derail a well-intentioned closet refresh, and the trend cycle is lined with sartorial sand traps. Below, the seven pieces we're investing in to get our closets set up through September.
THE NEW KHAKI

Khaki has officially shed its drab reputation—associated with high school uniforms and weekend dad wear. Case in point: this A-line midi. Our new favorite neutral is prime for tucking in a bright sweater or an airy top, and its business-casual roots make khaki the perfect backdrop for a rich caramel bag and bright-white kitten heels.
HOOP DREAMS

The satisfaction of completing an outfit with your favorite everyday hoops gets dialed up after dark. This spring's new earrings are impactful without being costumey, and they look their best with pared-back designs, sumptuous fabrics, and the perfect red lip.
THE LONG SHORT

Don't call them Bermudas. With sculptural earrings and a swipe of creamy blush, Nanushka's vegan-leather long shorts can turn a black button-down and strappy kitten heels into an avant-garde outfit. It's a look made for the midseason: The knee-length silhouette lets you go long and keep it short.
IN THE NAVY

Give last year's crewnecks a break—and your sweater drawer a serious upgrade. With a slim-meets-slouchy navy knit in your repertoire, all it takes is a pair of high-volume pleated trousers plus preppy mules in paint box hues and you're ready to kick back at a Monday meeting or a beach clambake (or both—take note for summer Fridays).
PLEATED PERFECTION

You love an ankle-grazing maxi. Wide-leg culottes make your heart sing. But your lineup is missing a swooshy, elegant piece that works for every day. Here to bridge the gap between the too-formal former and the laid-back latter: pretty pleats that sway feminine without being fussy and work with a silk blouse or a bikini top.
CACHE AND CARRY

A caramel carryall is the rising tide that lifts all looks. On top of the glow it casts on the rest of your outfit, a good bag is worth the investment. You'll use it daily, and—like good denim or a healthy relationship—it gets better over time. What to look for: solid straps, the right profile, plenty of room inside, and a zippered compartment or two for stashing essentials. There's no better piece to buy from a brand you love and admire.
BUTTONED UP

The shirtdress may be the hardest-working button-down in the business, and it's here to carry the menswear moment into warmer temperatures. A well-tailored version barely needs styling—it's that good on its own. Keep the shiny stuff simple, swipe a hint of color on lips and cheeks, and add a classic carryall with modern accents (we've got some inspiration for that above).