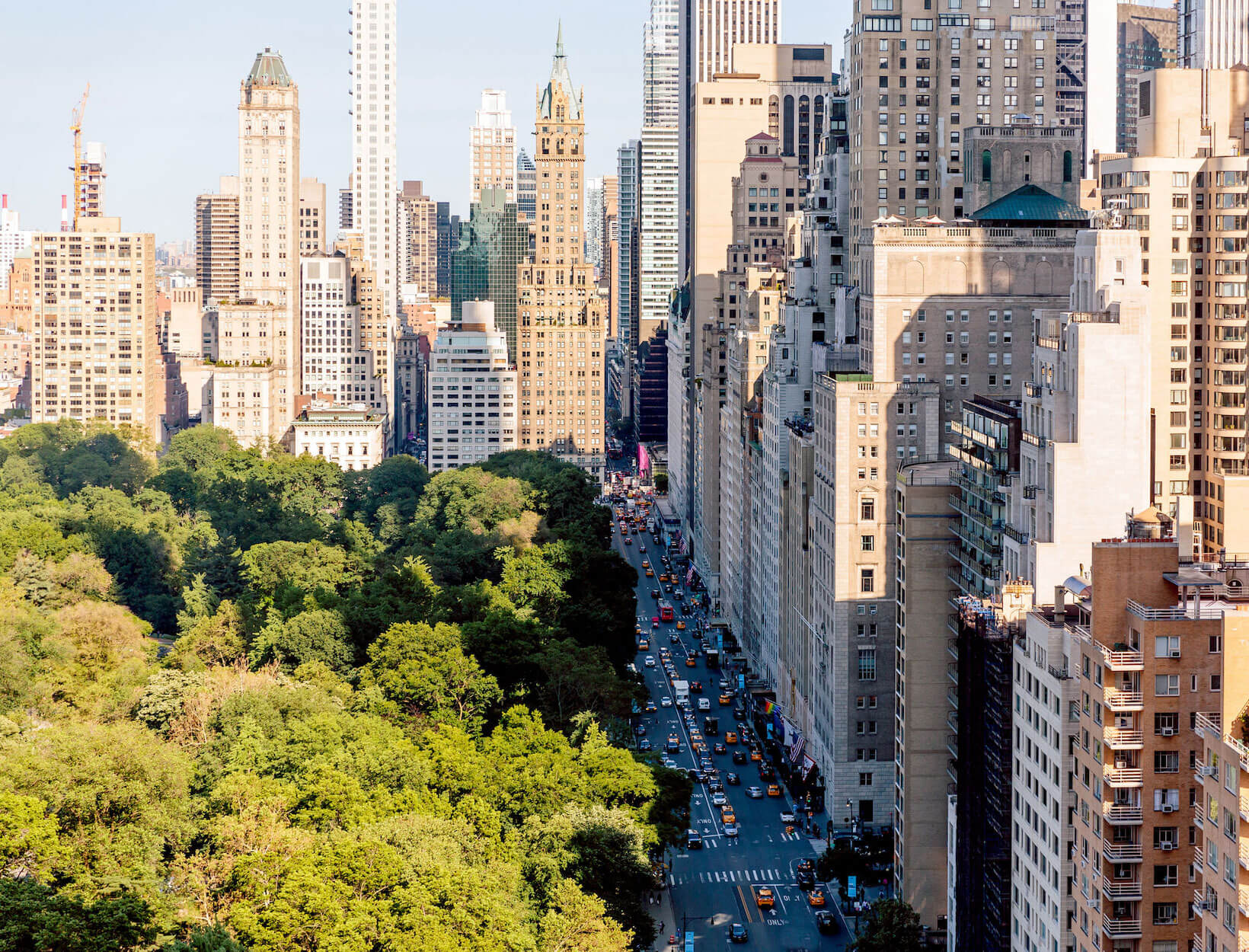 A Classic-NYC Walking Tour
Created with Van Cleef & Arpels
A stroll down (or up) Fifth Avenue still conjures a certain old New York, depicted in classic films and immortalized in vintage postcards. It's a quintessential Manhattan experience, one that—through May 31—is getting the unapologetically joyful Van Cleef & Arpels treatment, with help from French artist Alexandre Benjamin Navet.
The blocks between 47th Street and 59th Street, while majestic in their own right (St. Patrick's Cathedral, the Plaza, Rockefeller Center, flagship stores galore…), have been outfitted with 14 three-dimensional floral-themed reimaginings of Navet's color-happy sketches, each one unique to its particular location. "I like to do something different for every location because the city is different and the energy is unique, and I'm in awe to have the opportunity to express myself on such a beautiful avenue," says Navet.
Thanks to their size and razzle-dazzle factor, these installations are impossible to miss, but to help you make the most of Van Cleef & Arpels' vision and this beloved slice of the city, we put together a little walking tour of the Upper East Side.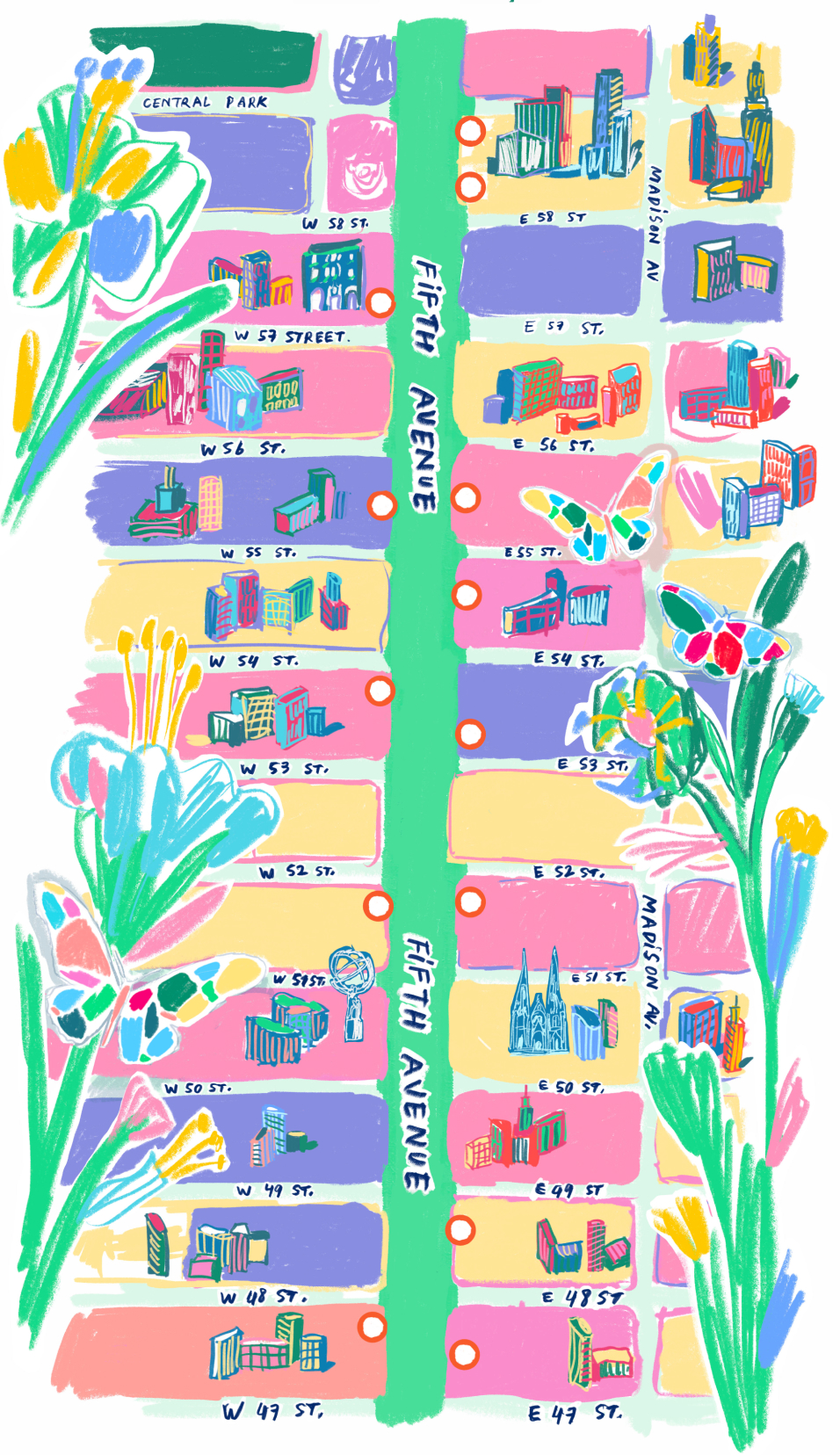 Illustration courtesy of Van Cleef & Arpels
10 a.m.
Sant Ambroeus at Sotheby's
Start your day at the Sotheby's outpost of this NYC dining institution for casual cappuccino sipping and Cézanne viewing. Presale exhibitions are always open to the public at no cost; this month, a series of exhibitions spotlights work from the 20th and 21st centuries.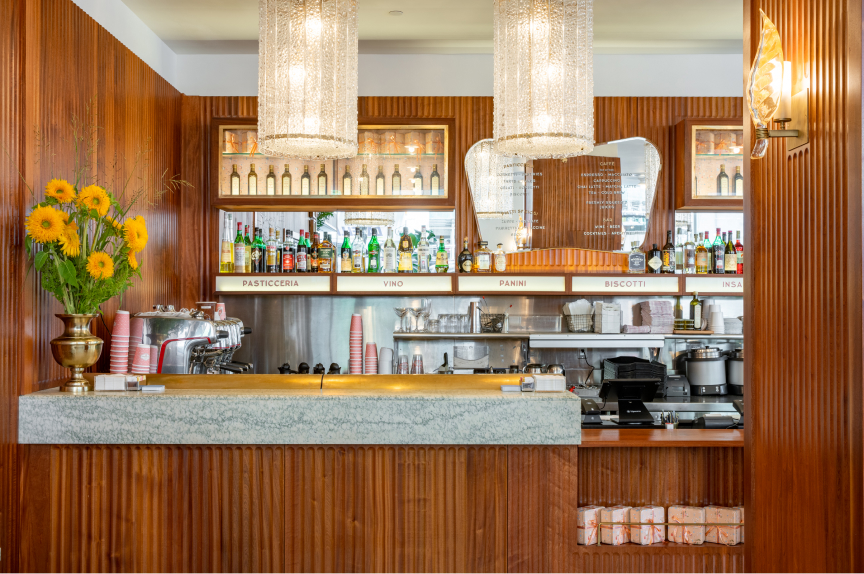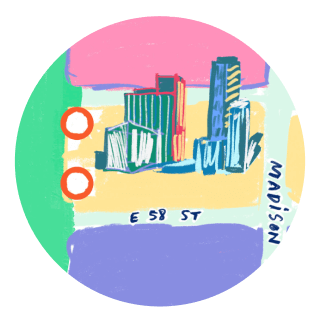 11 a.m.
Apple Plaza North
Against the sleek glass facade of the Apple flagship and the surrounding buildings, Navet's Entrance Arches are a breath of fresh, flower-scented air. That's because the planters attached to the arches are filled with live blooms in the happiest pastel hues.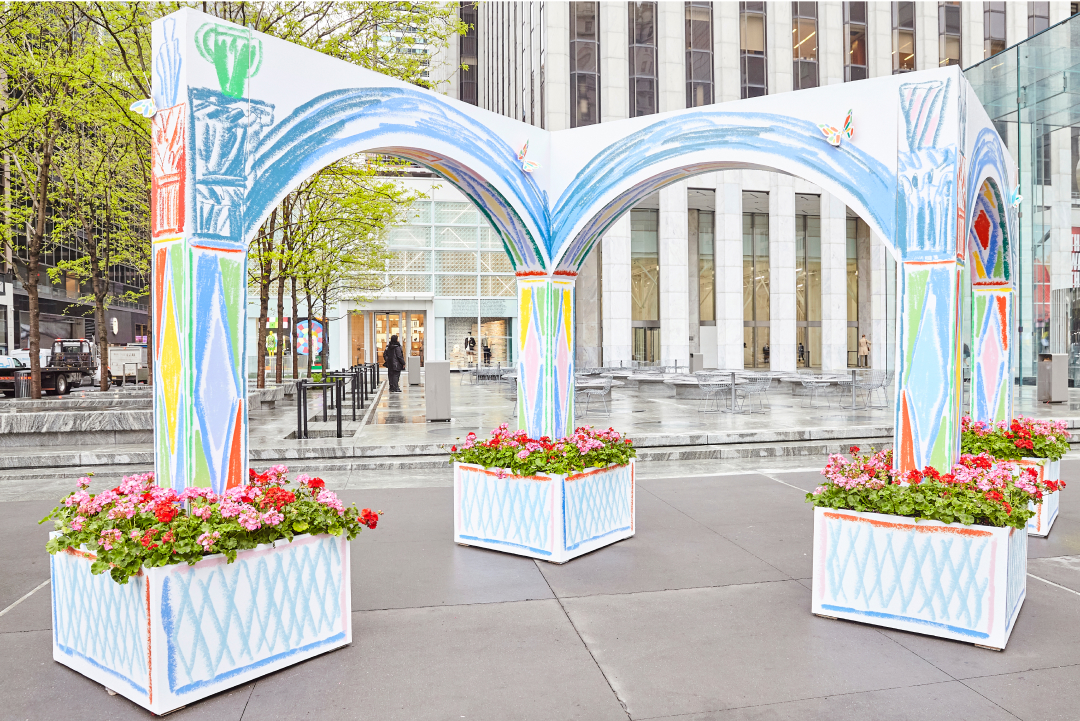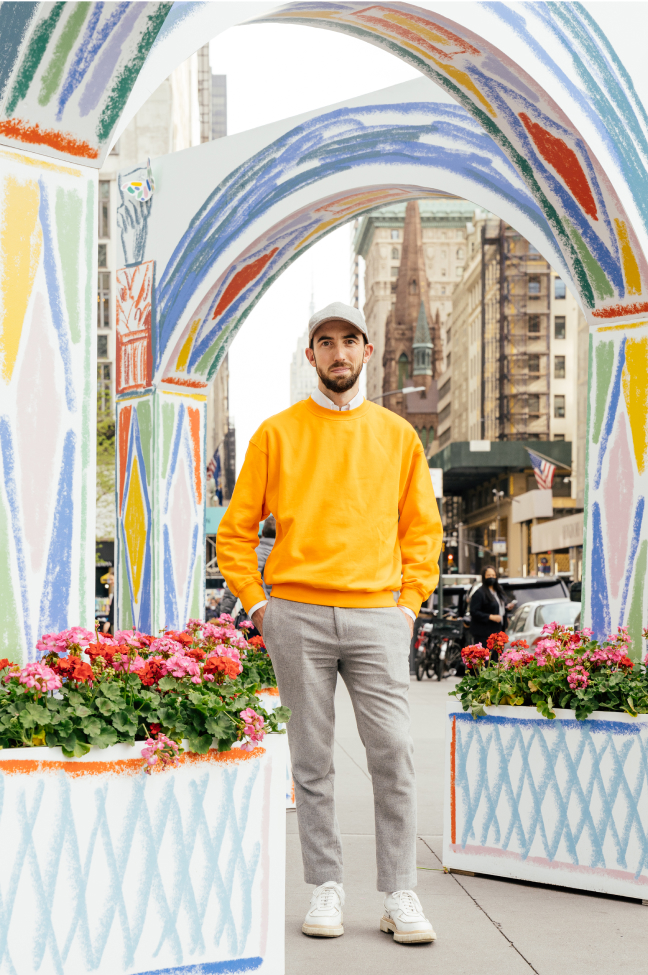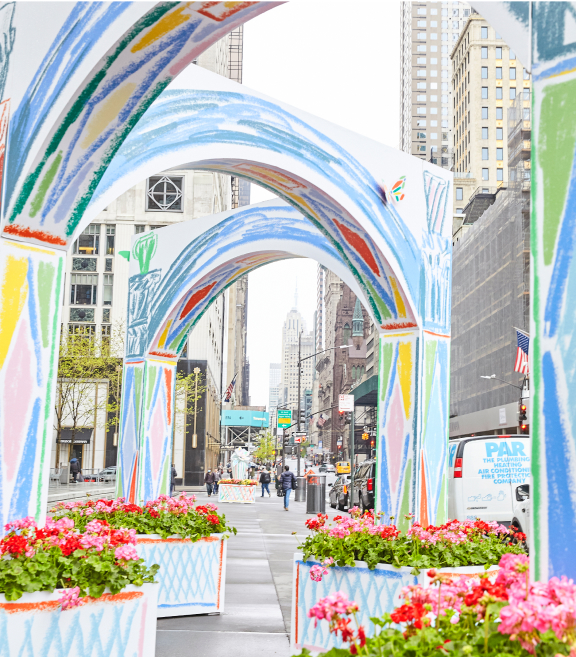 Photos courtesy of Van Cleef & Arpels
Photos courtesy of Van Cleef & Arpels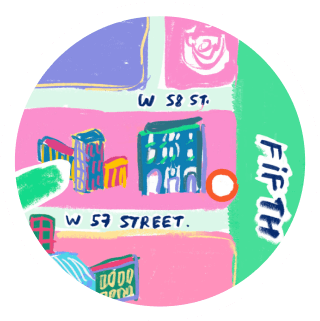 11:15 a.m.
Van Cleef & Arpels Flagship
Sketching vases is Navet's specialty, and butterflies are synonymous with Van Cleef & Arpels. In other words, the two massive vases and accompanying butterflies flanking the entrance to the Van Cleef & Arpels flagship make a whole lot of sense.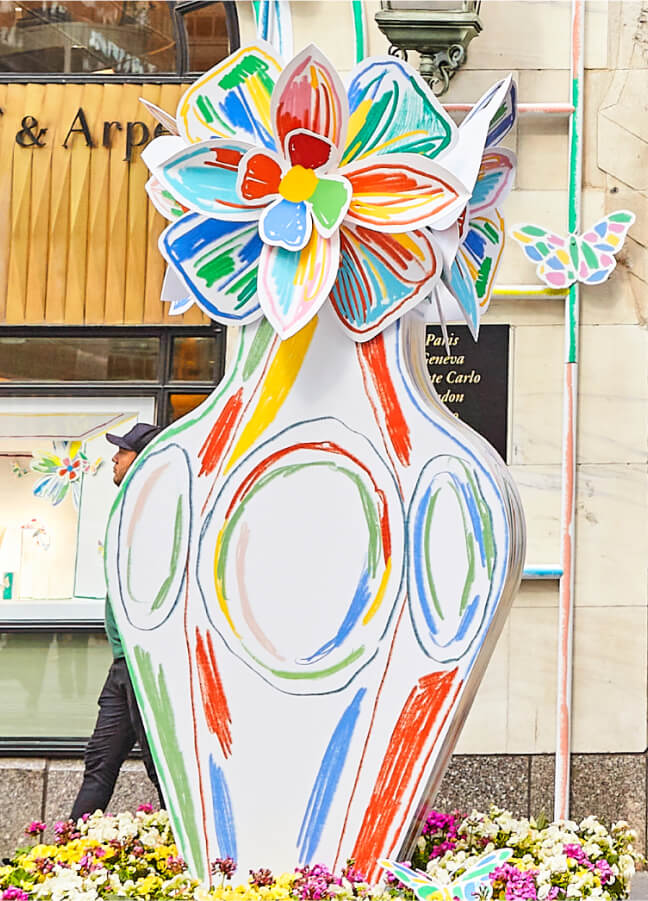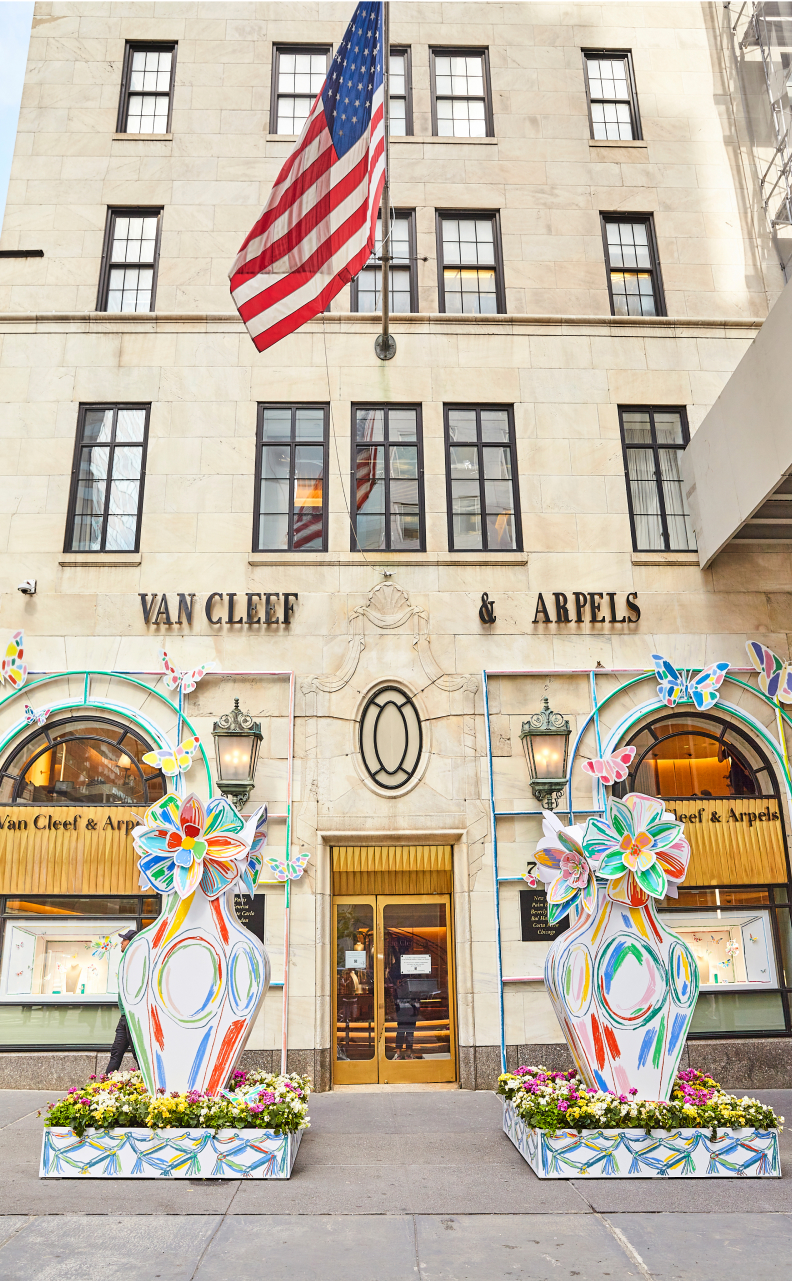 Photos courtesy of Van Cleef & Arpels
Photos courtesy of Van Cleef & Arpels
12 p.m.
Bergdorf Goodman
We're pretty sure that the term "window-shopping" was invented specifically for Bergdorf's jewel-box windows. Inside, eight impeccably curated floors are home to the latest and greatest from fashion's boldface names (and on floor nine, you'll find a fittingly luxurious salon).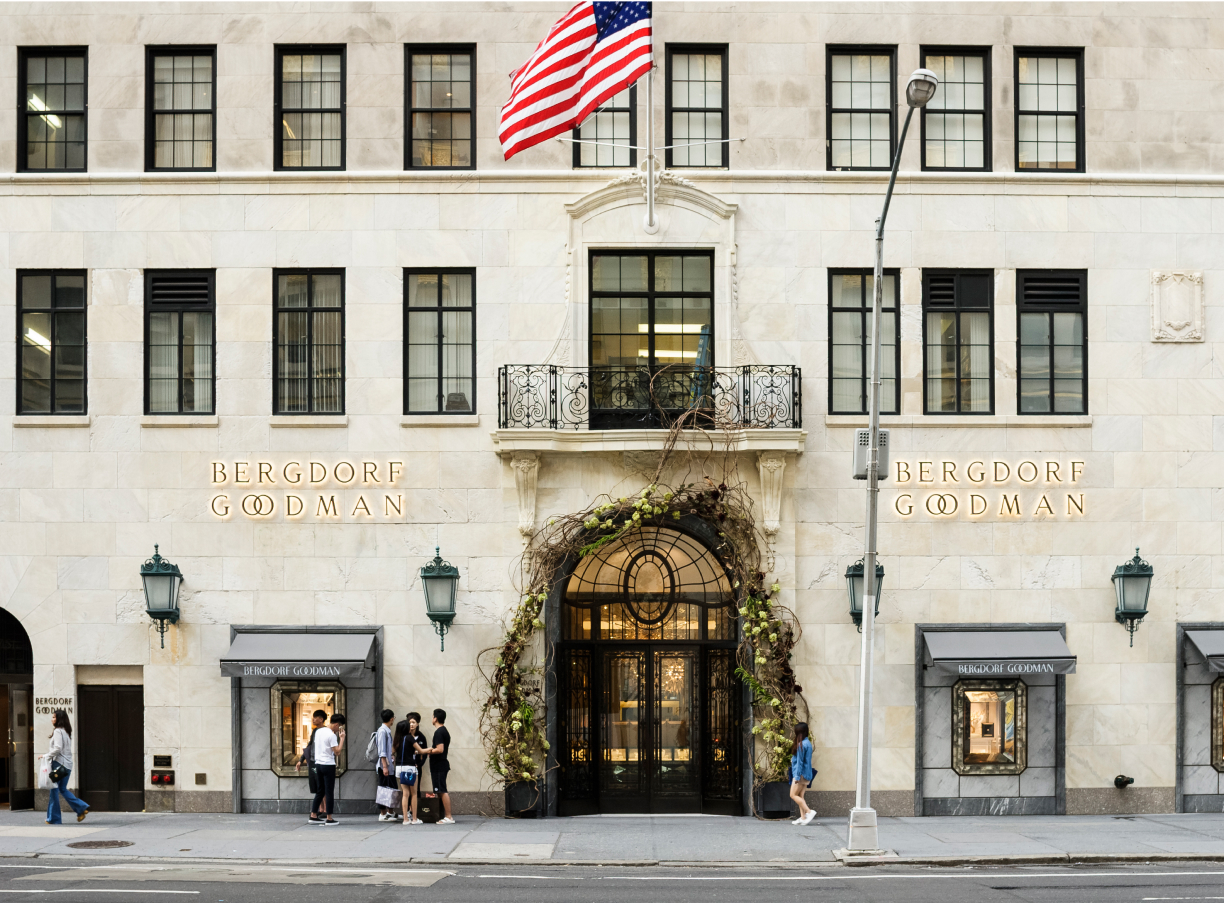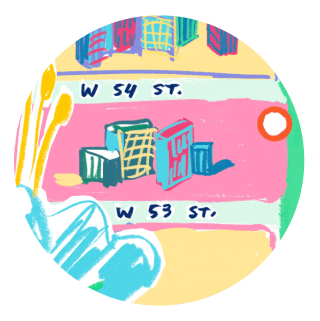 1 p.m.
Fifth Avenue
and 54th Street
This is prime Manhattan real estate, and the sidewalks are usually packed. Which is why the sight of freestanding, larger-than-life picture windows—complete with welcoming bench—is bound to stop pedestrians in their tracks.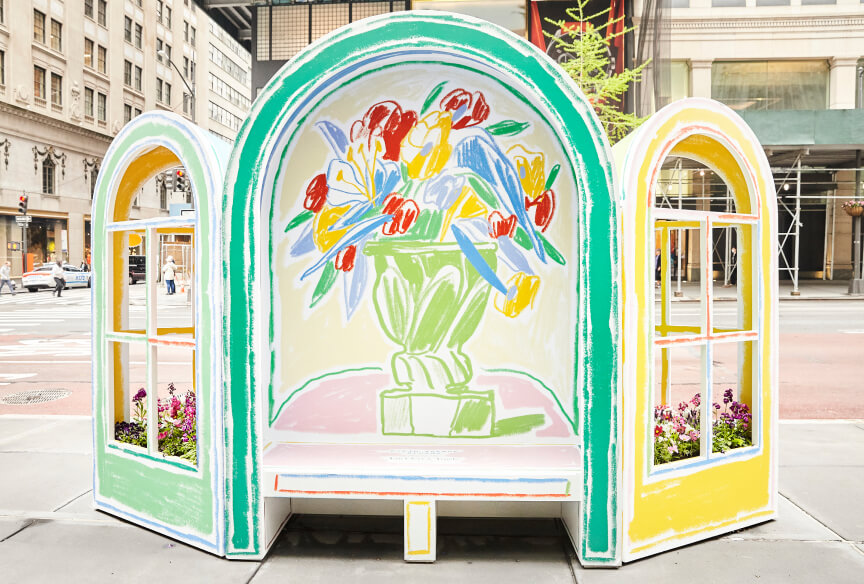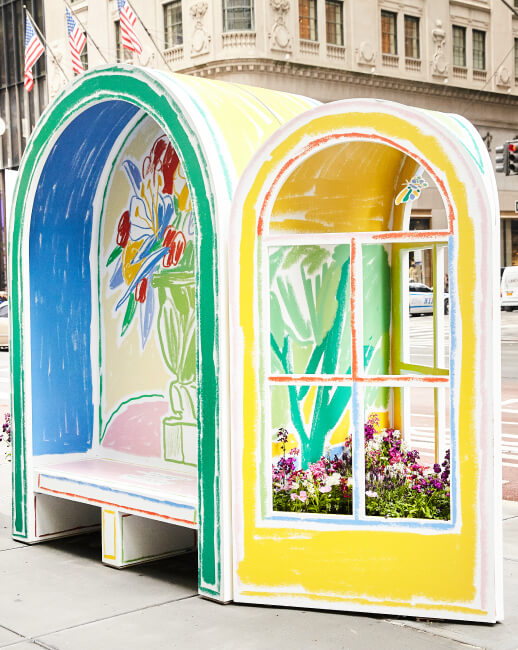 Photos courtesy of Van Cleef & Arpels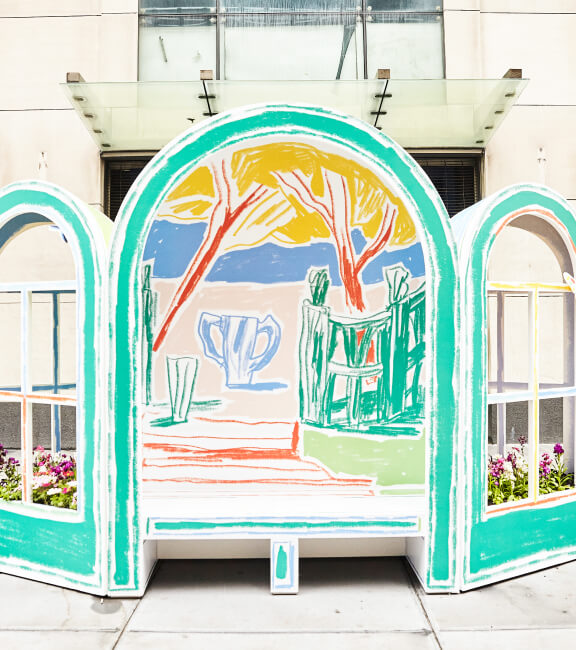 Photos courtesy of Van Cleef & Arpels
1:15 p.m.
MoMA and The Modern
From a deep dive into the significance of Henri Matisse's The Red Studio to the prized permanent collection, which includes works from Wassily Kandinsky, Juan Gris, and so many more, MoMA is a modern-art lover's mecca. The Modern, the museum's two-Michelin-starred restaurant, is a contemporary-American food lover's. Make a reservation in advance and stay for lunch.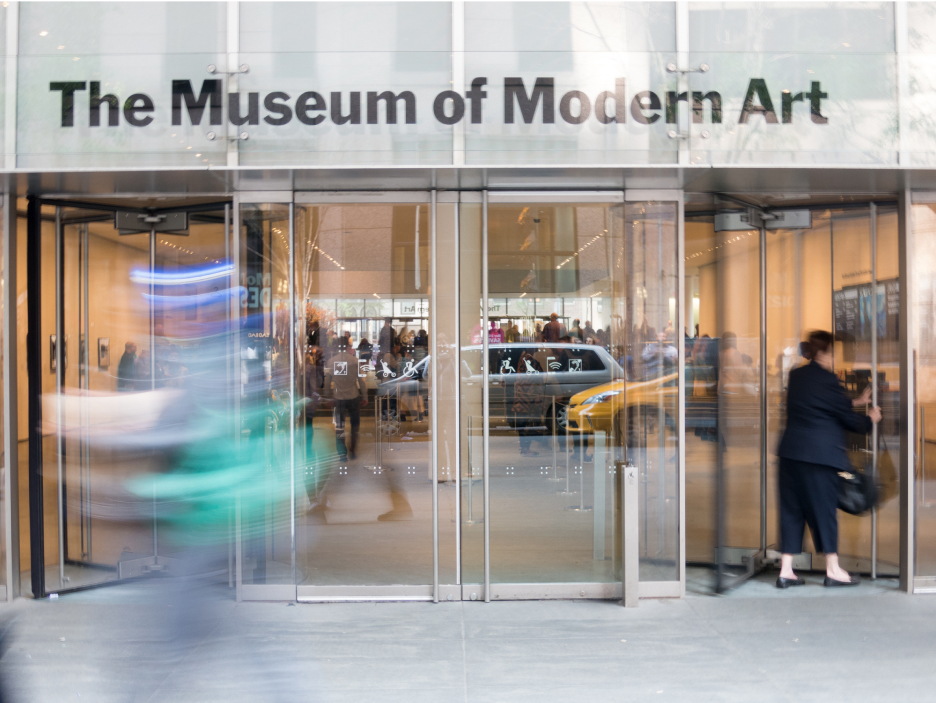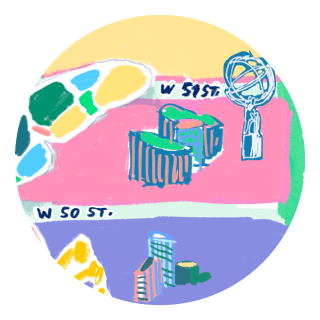 3:30 p.m.
Atlas Statue
You've made it to Rockefeller Center, home to such NYC institutions as SNL, the most movie-famous ice-skating rink ever, and the statue of the Greek demigod Atlas. This piece has stood here since 1937; Van Cleef & Arpels and Navet's oversize planter benches are a great spot to perch while you admire him.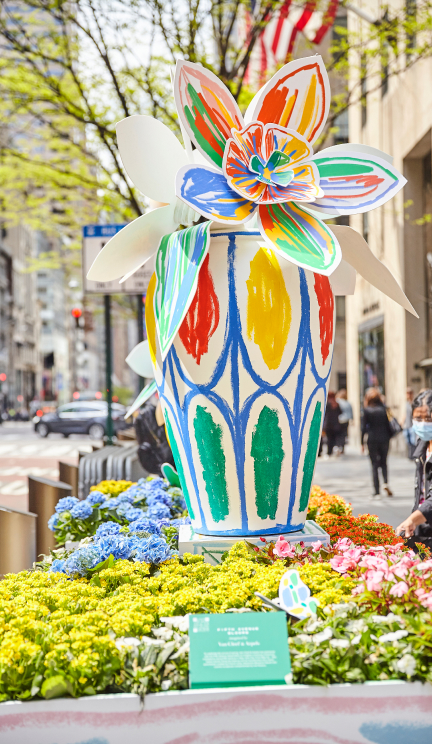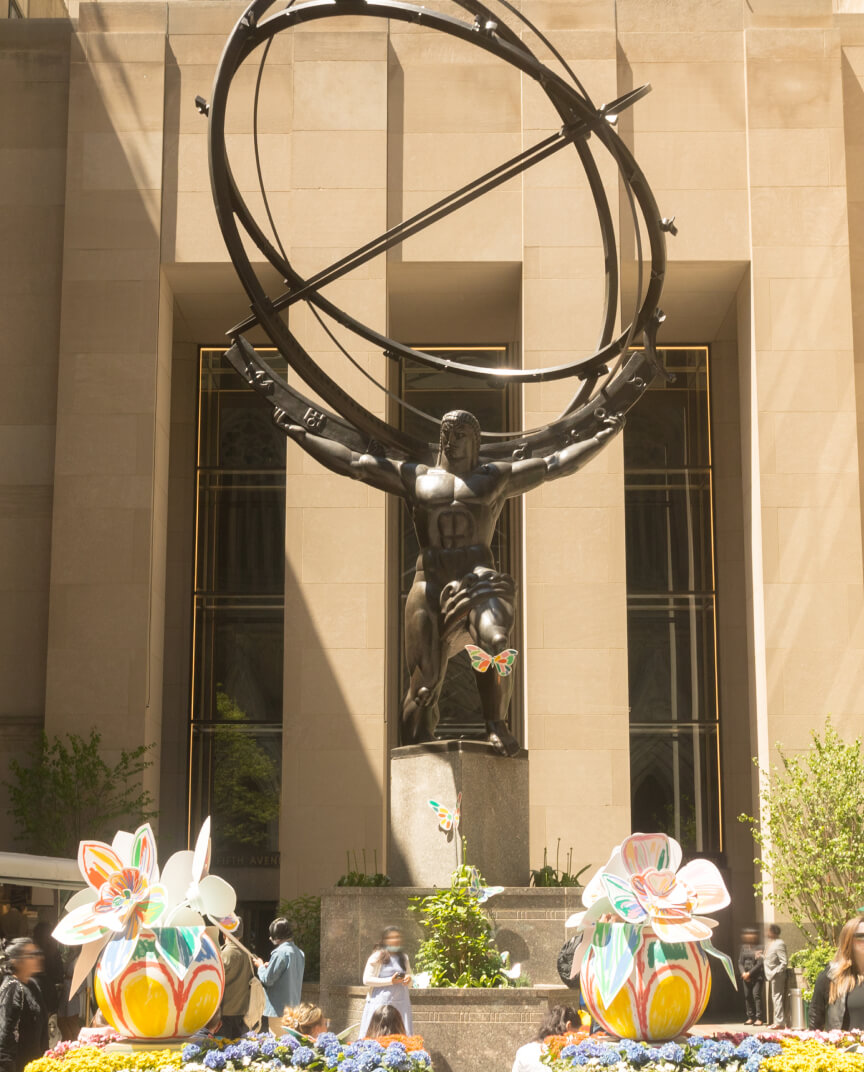 Photos courtesy of Van Cleef & Arpels
Photos courtesy of Van Cleef & Arpels
5 p.m.
The Polo Bar
Whether for a cocktail—ask about the Vesper martini, trust us—or full-on seated dinner, Ralph Lauren's famed restaurant is a fittingly quintessential ending to a day walking the city. The menu is reliably solid, yes, but Ralph's Corned Beef Sandwich may as well be an NYC landmark.
Photo courtesy of Ralph Lauren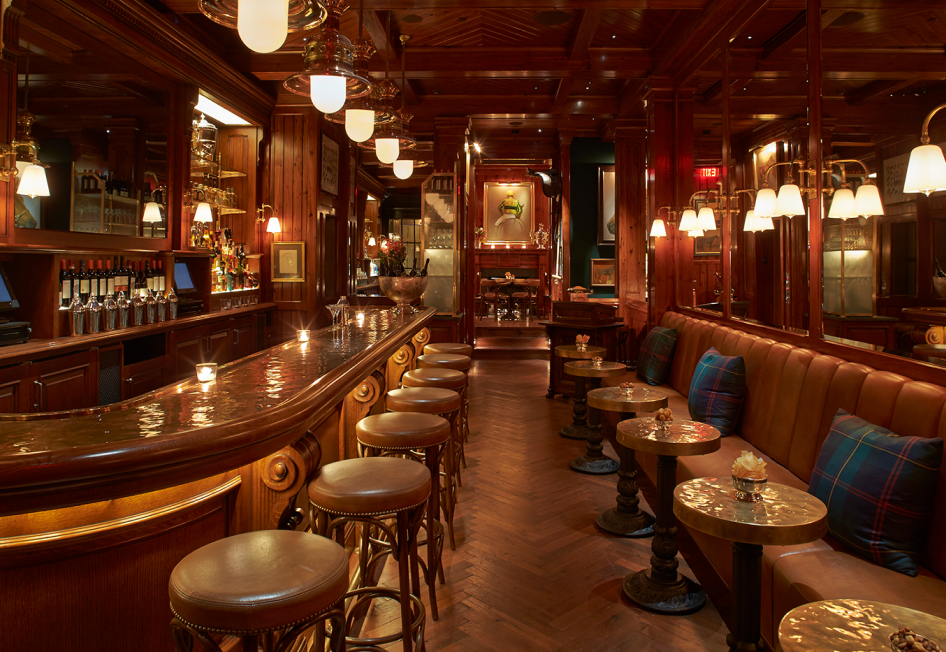 Photo courtesy of Ralph Lauren