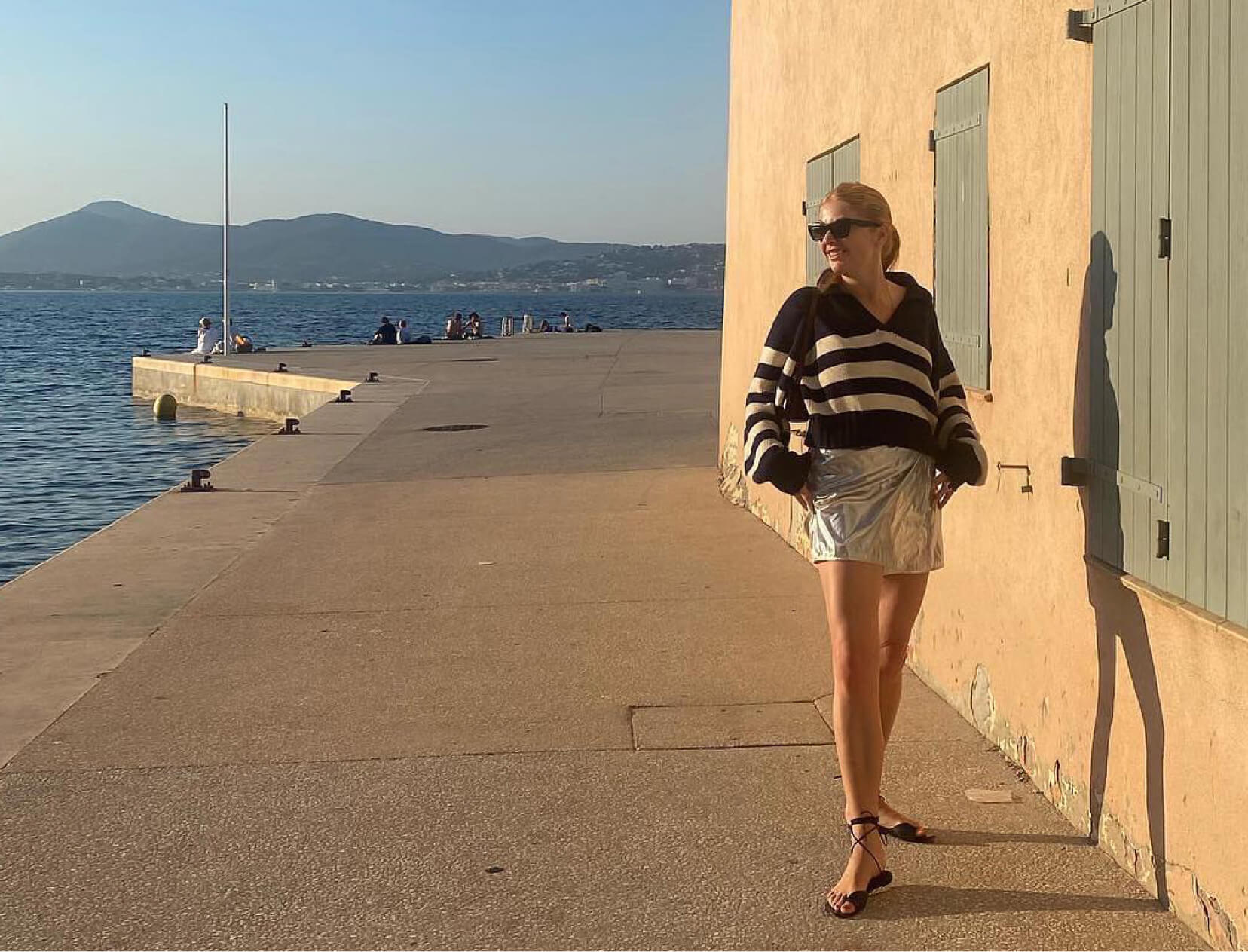 How a Psychic Reading Inspired
Summer's Cool-Girl Brand
Lucy Akin—designer, entrepreneur, self-proclaimed Italophile—has always yearned to live la dolce vita. "My friends would make fun of me because they would see what I had packed for a summer in Italy and they'd be like, 'What trip are you going on?'" says the Ciao Lucia designer, who began spending time in Europe when she studied abroad in college. "My suitcase looked like if you met the love of your life and went on a romantic weekend on the Amalfi Coast. I had everything ready for it."
Forget dressing for the job you want; Akin was dressing for the life she wanted. "I started embodying this girl—Lucia—who was carefree and independent," she says. "I would go on trips by myself to different places. It just became who I was after a while."
Fast-forward a few years and Akin was curating an achingly cool boutique on La Brea called Shop Super Street. The downside? She was totally burned-out. On a whim one day, she went to see a psychic. "The minute I sat down, he asked, 'Why aren't you designing your own stuff?' And I was like, 'Oh, I hadn't thought about it.'"
The rest, as they say, is history. Akin sketched out six dresses inspired by her alter ego, Lucia, and a love of French New Wave that she'd picked up in Paris. She turned the sketches into samples and sold them in her store sans labels. "It slowly grew and grew and became something I wanted to do full-time," she says. So she sold her store and launched her label.
And then the pandemic hit. "Things just kind of took off for us during COVID," Akin marvels. "I think what happened was that everyone was cooped up, so bored, on their computers all day. And there was something about our imagery that really took people somewhere else." A quick scroll through the brand's sun-soaked Instagram feed and you'll see what she means: It's a grid of beautiful beaches, brightly hued sundresses, film photography of cool girls on vacation—wanderlust at its finest.
Akin still enjoys managing the feed and responding to DMs ("I talk to customers all day long!" she says), but her passion is creating clothes that make people feel their best: "It's important for me that when you get your Ciao Lucia, you put it on and are like, 'This is so cute. I look great.'"
We chatted with Akin about her love of cacio e pepe, why curating a vibe could be her second job, and—now that we're officially 10 days into summer—what she's eyeing and buying this season.
Favorite destination?
Rome in the summer is magic. It's so nice. It feels like the sun stays out until, like, 11 p.m. It's just the best.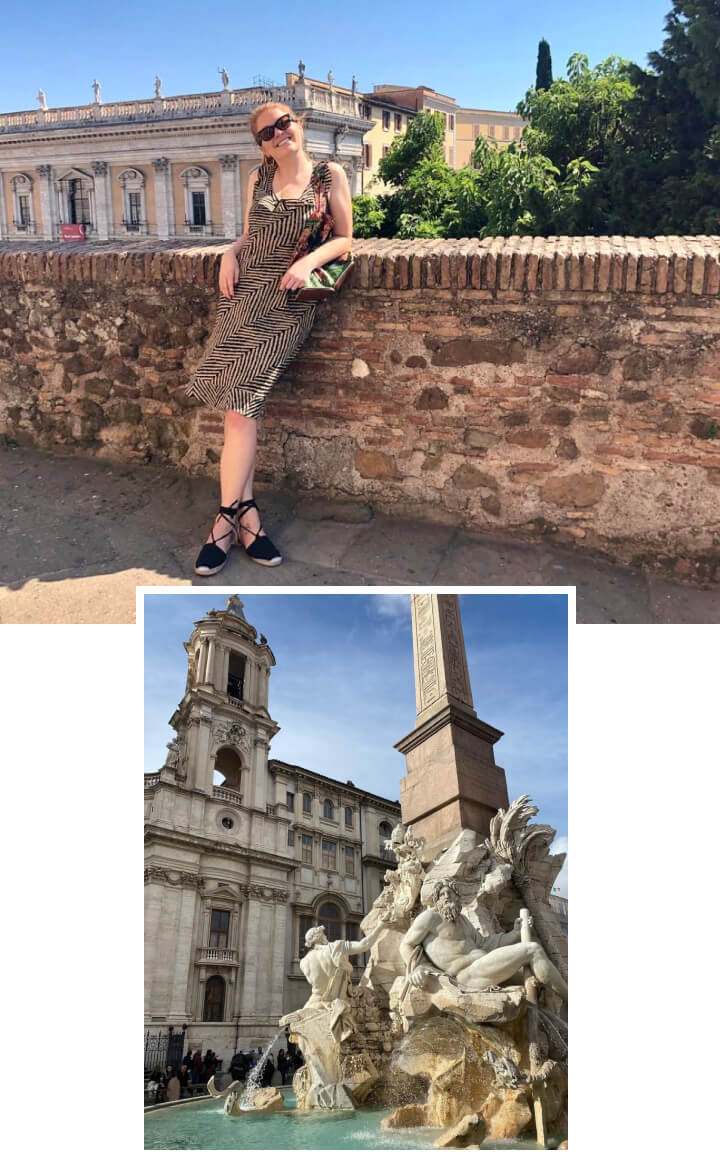 Favorite restaurants in Rome?
Nino for lunch, Piperno for dinner, Pierluigi to get engaged, and SantoPalato for life-changing pasta.
Bucket-list destination?
Passalacqua, a historic hotel on Lake Como. It just reopened and looks so glamorous.
Suitcase of choice?
I have a carry-on Away bag. It's the hunter-green color, which I love because it feels very British. I've had it for six years. It's tried-and-true. I only bring a carry-on on trips because it's easier for planes, trains, boats… I think I can do two weeks with a carry-on. The thing is, Ciao Lucia packs down. It gets really small, especially the silky pieces—they pack down to the size of a compact.
Staple summer pieces?
When you're traveling, you need a dress that can transition from day to night so you can wear it a few times, and a lot of the Ciao Lucia dresses do that.
If I could buy only one swimsuit this season…
This is giving la dolce vita. Such a cute vintage-looking top.
Knit pick?
This is the ideal summer sweater. I love stripes.
Cover-up?
I will absolutely wear pajamas to the beach.
On my feet, you'll always find…
Sandals. I get made fun of because I wear them year-round in Los Angeles. These look like the perfect pair.
Any travel plans this summer?
I just got back from the South of France—we did an influencer trip there—so I tacked on Capri beforehand, which was great. I might be going to Pantelleria at the end of July, but I haven't solidified those plans yet.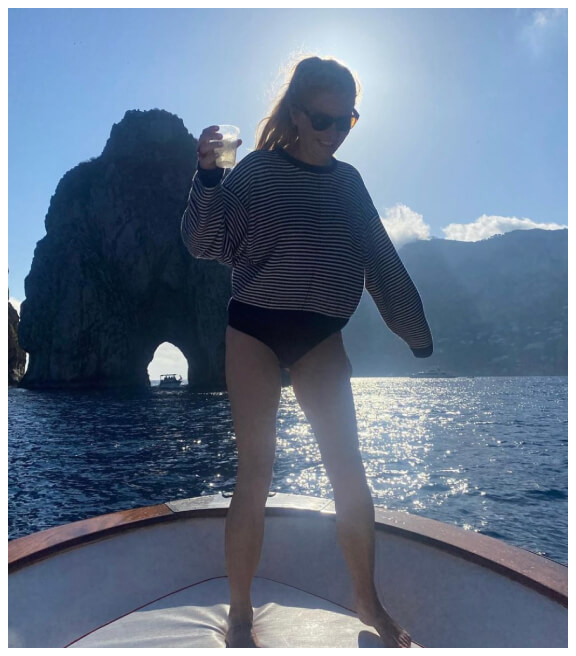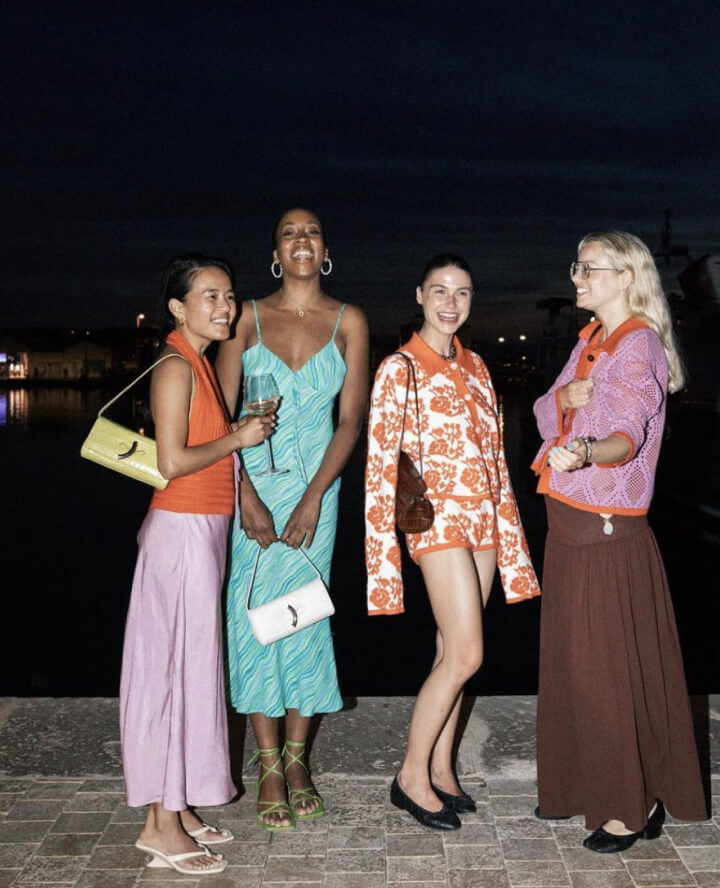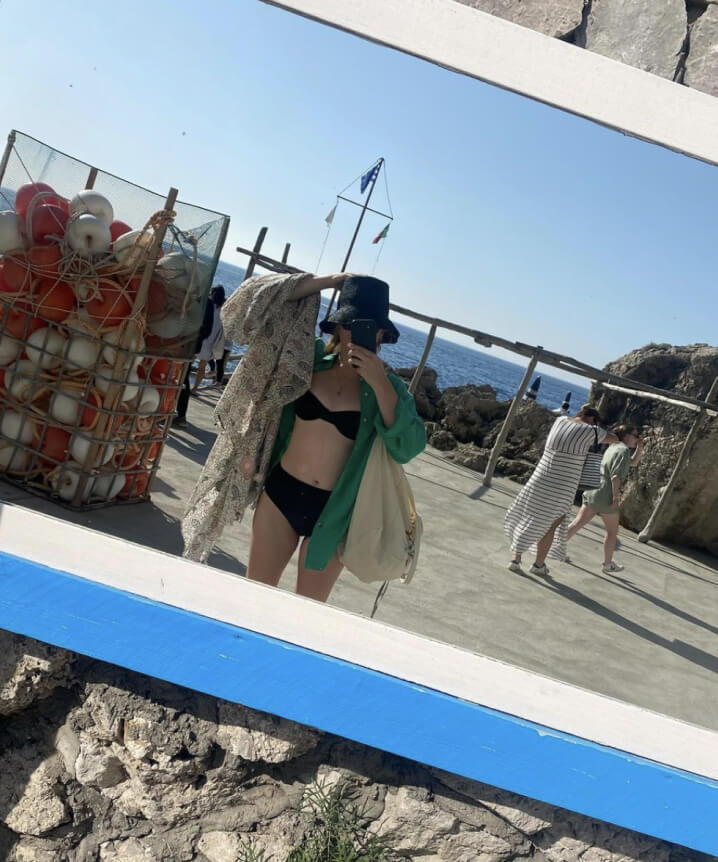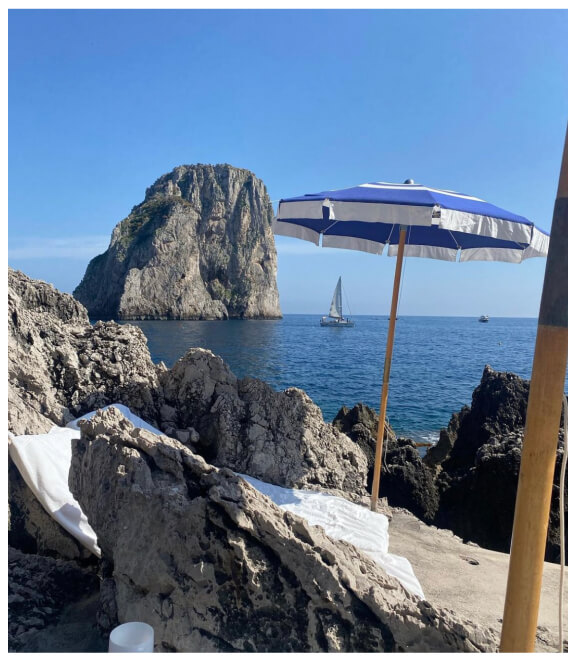 Best skin-care tip for travel?
I always bring a good face spray to refresh my skin because I end up feeling dirty after a flight.
I cake this cream on at night to bring back some moisture.
Desert-island product?
I am a redhead, so I pack SPF 50. Supergoop Play is my go-to sunscreen.
On your lips?
I like a light wash for summer.
Currently reading?
Pachinko. I'm not quite ready to watch the show, but I know I'm going to enjoy the book.
Favorite podcast?
I listen to The goop Podcast a lot, I swear. [Laughs.] I'm really sad 2 Dope Queens is over. If you've never listened, I would go back and listen to the old episodes. Otherwise, I love How I Built This—very inspiring for a young entrepreneur.
What's next for Ciao Lucia?
Another tennis collection—we're launching our second capsule at the end of July.