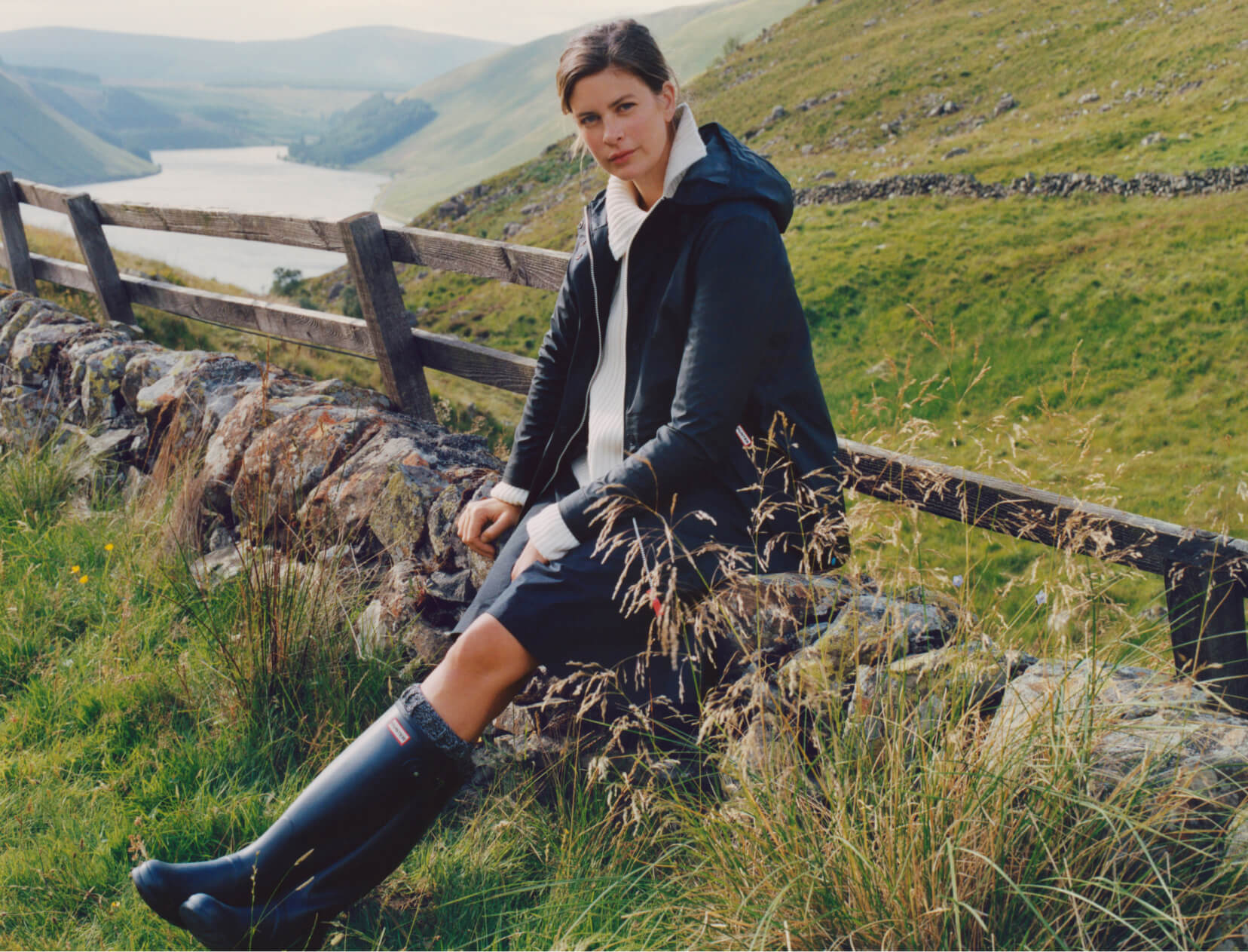 Gearing Up for the Great Outdoors
In partnership with our friends at Hunter
So you finally threw down for a pair of hiking boots, maybe bought a park pass, and solidified a road trip to that glamping destination you've been talking about driving to since March.
This is the year of the domestic adventure, and there are certain things one should always be prepared with in case of campfires, impromptu drives through leafy landscapes, setting foot on or around a mountain, or any of 2020's other social-distancing-friendly doings you might get after in the coming months.
THE TRAILBLAZERS

Come rain or shine, a great outdoorsy shoe with traction, support, and all-around comfort tops the list of nonnegotiables. Think of them as the four-wheel drive of shoes: great in the city, even better in off-road mode.
THE BASE LAYERS

Whatever level of activity you're doing, staying comfortable starts with a solid base layer—be it a stealth support system, a bodysuit that never rides up, stripes that prefer the scenic route, or a lightweight pullover that can hang around your waist if you start to overheat.
THE ELEMENT-BRAVERS

The swiftest way to look cool and stay warm? A hypersensible shell. They can go practical (the more pockets, the better); they can go playful (colorblocking is your friend here); they can go high-performance (windproof insulation FTW).
THE EVERY-SCENARIO-POSSIBLE PANTS

Hitting the trails, hopping on an electric bike, or embracing all there is to love about lodge life (we're here for it), these play-the-field pants are master adapters.
THE WARM EMBRACE

Some things just go together. Like hot cider, fuzzy socks—and a better-than-a-blanket sweater. And if you think these layers look cozy from where you're sitting, just wait till you've got one wrapped around you in the wild.
THE UP-FOR-
WHATEVER SET

If you don't already own some version of a matching set, you might be doing 2020 wrong. Not only do they take the guesswork out of getting ready; they're as cute as they are comfortable and take nature walks to the next level.
THE NICE-TO-HAVES

Do you need a set of waterproof binos? Or a camouflage-cord case for toting your phone crossbody? Not exactly. But in the spirit of being prepared for anything, some tricked-out tech and gadgets for going off-grid never hurt. Gearheads, eat your heart out.
THE SKIN SAVIORS

When it comes to the "what else should I bring" question, we subscribe to the KISS principle (keep it simple, stupid): a brilliant balm for happy lips, clean mineral SPF for any exposed skin, fanny-pack-able face wipes for posthike grime, and the one spray you'll be glad you brought at golden hour.
---
We hope you enjoy the products recommended here. Our goal is to suggest only things we love and think you might, as well. We also like transparency, so, full disclosure: We may collect a share of sales or other compensation if you purchase through the external links on this page.