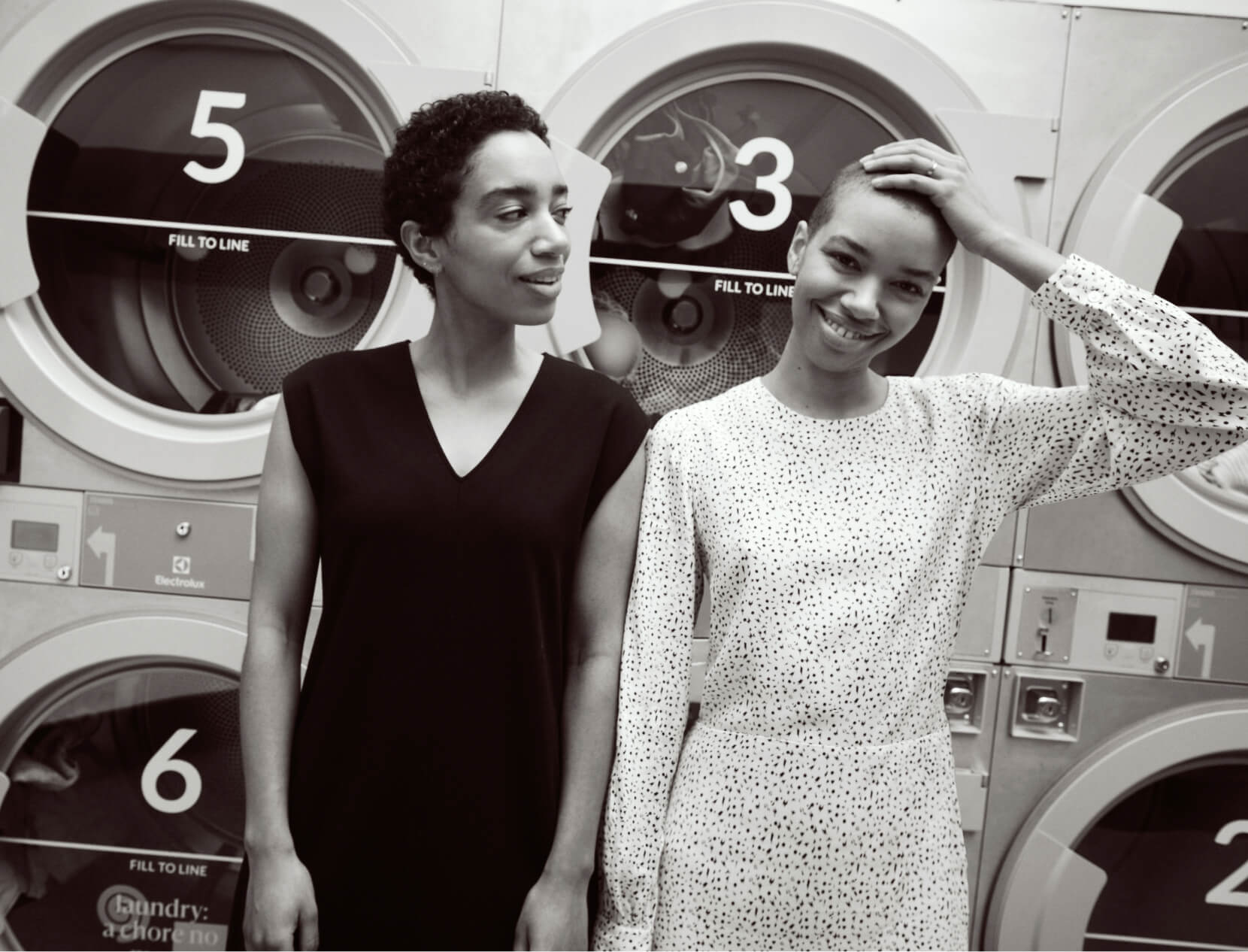 The Two Sisters Who Made Conscious Laundry Cool
In partnership with our friends at Eileen Fisher
Breaking into the clothing-care industry wasn't exactly what German-born sisters Theresa and Corinna Williams had in mind when they first moved to New York. Like many great ideas, Celsious—Brooklyn's first sustainably minded laundromat-café-shop—was born out of pure necessity.
While working as editor-at-large for Harper's Bazaar Germany, Corinna was surrounded by fashion, yet she couldn't find an appealing, eco-conscious way to get her own pieces properly cared for. "There just weren't that many places in New York that took sustainable, nontoxic cleaning into consideration," she says. Especially not in a welcoming, design-forward way. "Someone needed to make the garment and laundry-care service a better experience," she adds. And better not only for people but for the planet, too.
Once it became clear what it would take to run this sustainable business, the two sisters ultimately decided to leave their former jobs: "The fluff was going to be a full-time thing," says Corinna. As for the community vibe they built—well, that was like a bonus shot of espresso at their (super chic) coffee bar.
"We've gotten to know a ton of regulars, and that's one of the biggest joys of owning a brick-and-mortar laundromat," says Theresa. People flock in from as far as New Jersey to use the energy-efficient Electrolux washers and dryers while testing Celsious's line of biodegradable laundry powders and coconut-based stain sticks. "New customers would come in and tell us about their skin sensitivities, autoimmune issues, and respiratory issues," describes Corinna. And when asked what products they used, it was all conventional detergent this and fabric softener that—the kind that are often laced with fragrances hiding harmful ingredients that stick around long after the laundry's been unloaded.
"The fabric softener that's on dryer sheets often contains potential endocrine disruptors, like phthalates, which hide behind the listed ingredient 'fragrance.' Once the dryer sheet is heated up, it can release some of those chemicals into the air. So you have fumes that can possibly irritate your respiratory tract. They're also single-use, so you use them once, and you toss them out—they're not biodegradable," Theresa explains. "It's crazy scary," Corinna chimes in.
Scarier still is the overall lack of understanding surrounding these conventional ways of washing: "We, as a society, we're looking for potentially toxic ingredients in our food, cosmetics, and skin care, but there's such a huge blind spot when it comes to laundry products," says Corinna. "A big part of our mission is to make sure that the information is out there. Then everyone can decide on how they want to move forward." How cool and conscious is that?
THERESA WILLIAMS

"In terms of energy usage, the largest culprit is actually heating the water rather than running the actual equipment, so whenever you can, wash in cold temperatures. That requires you to sometimes stain-treat a little bit more heavily before you actually wash, but then that allows you to really be able to wash pretty much everything on a low temperature. That said, when washing items after being sick, please select the highest temperature that's safe for the fabric, in order to kill bacteria."
EILEEN FISHER TOP, Eileen Fisher, $188; G. LABEL PATRICK WIDE-CUFF PANTS, goop, $495; JENNIFER FISHER X GOOP EARRINGS, goop, $425

"Before you buy, check the garment-care label. If it says, 'dry clean only' and you don't feel comfortable handwashing it, buy something else. One of the easiest sustainable switches is making sure you're able to take care of your garments in a sustainable way before you even purchase."

—Theresa
EILEEN FISHER COAT, Eileen Fisher, $438; LAURA LOMBARDI NECKLACE, goop, $136; DORSEY NECKLACE, goop, $120

CORINNA WILLIAMS

"A lot of the conventional detergents have potentially toxic ingredients in them…any chemicals that remain on your clothes can get absorbed through your skin, which means that you need to be as careful with those products as you are with other products used on your skin."
ON CORINNA: EILEEN FISHER DRESS, Eileen Fisher, $248. ON THERESA: G. LABEL CITRINE PRINTED DRESS, goop, $695

"We shouldn't be saying this as laundromat owners, but if you can, hang-drying is definitely the more sustainable option. It obviously saves energy from not having to run the dryer, and also it will be gentler on the fibers of your clothing, so your clothing lasts longer."

—Theresa