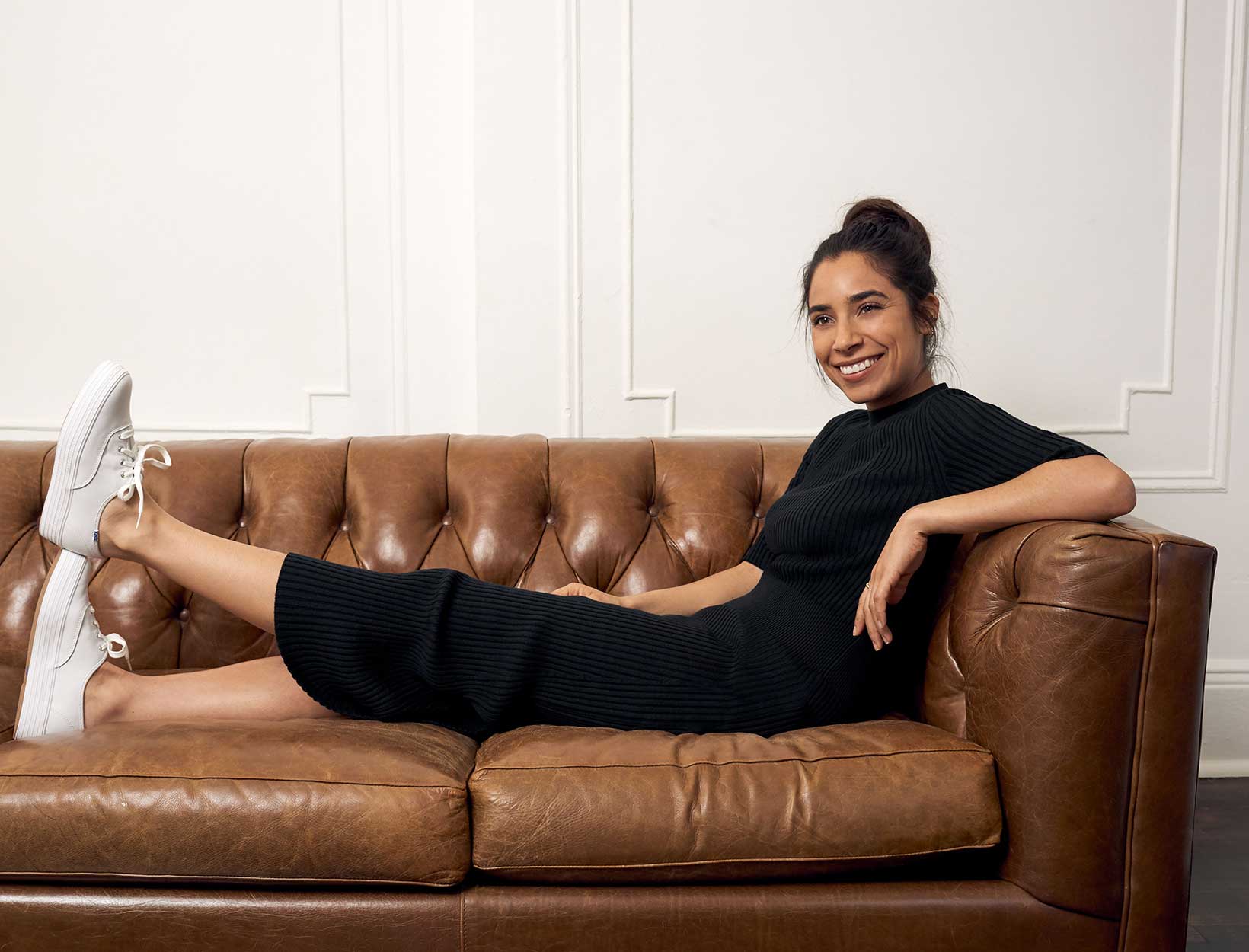 G. label JENNA MIDI FIT-AND-FLARE SWEATERDRESS, goop, $695; Keds sneakers, Keds, $60
One New Yorker's Unlikely Path to Wellness
In partnership with our friends at Keds
It was bad news that turned out to be one of the best things to happen to Bianca Valle. "I had just gotten laid off," says the former beauty editor of Nylon magazine. "I thought: Okay, I have a clean slate. Let me reorient my entire life."
That reorientation is where things start to get interesting. When the print magazine folded, Valle "wrote down a list of what I think about the most: skin care, growth, travel, and—healthy food."
That list turned out to be a lightbulb moment for Valle, who also holds a bachelor's degree in film and television from New York University Tisch School of the Arts. At first, Valle's food journey was a game of R and D: "I had to figure it out on my own. I had no resources other than forums that were like, 'Oh, if you eat too many Brazil nuts, your hormones are going to get next-level crazy.' I was going down all these rabbit holes," she says. "I was vegan. I did keto. I did this. I did that. I didn't eat this. I eliminated that. The nightshades, and the beans, and the enzymes, and the soaking…" Valle made a career pivot to holistic nutrition—she immersed herself in the world of food, exercise, and exercise addiction, and she recently started a new health hotline to address these issues. "I'm very passionate about it," says the sometime model. "Food is our foundation. How can we not talk about it?"
So we reached out to Valle to do exactly that.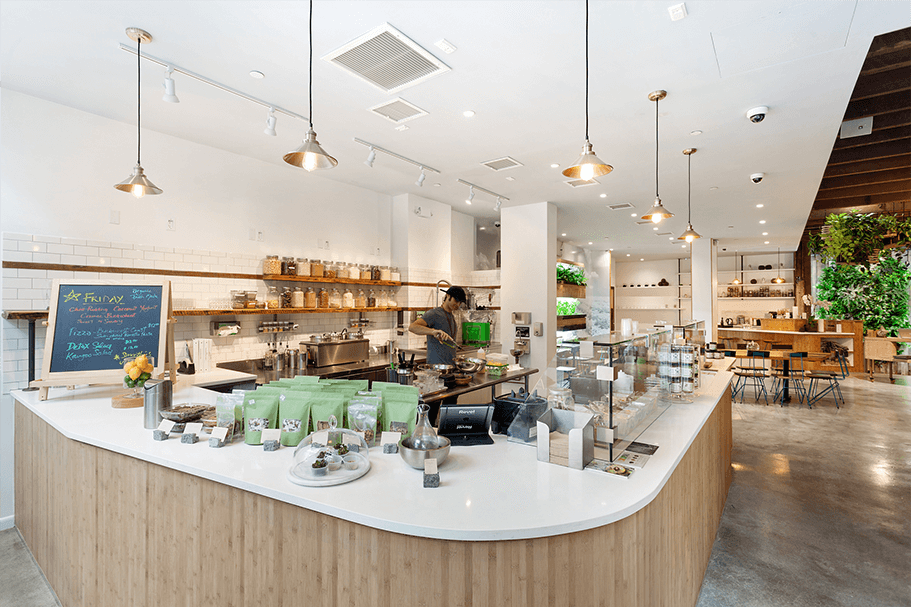 ON FINDING HER CALLING
"A friend who works at one of my favorite wellness cafés, Kollectiv, said, 'You should check out this nutrition school and study food.' From that moment on, my world was turned into my dream."
"Once I started sharing, I was getting lots of DMs from people asking, 'What do I eat? What do you think about this?' So I opened up a number that I shared on Instagram and said, 'We can talk for twenty minutes about any health questions you have; it's donation-based.'"
"I have a wealth of knowledge that my younger self would have died to know. If I can be that mentor for someone else, why not?"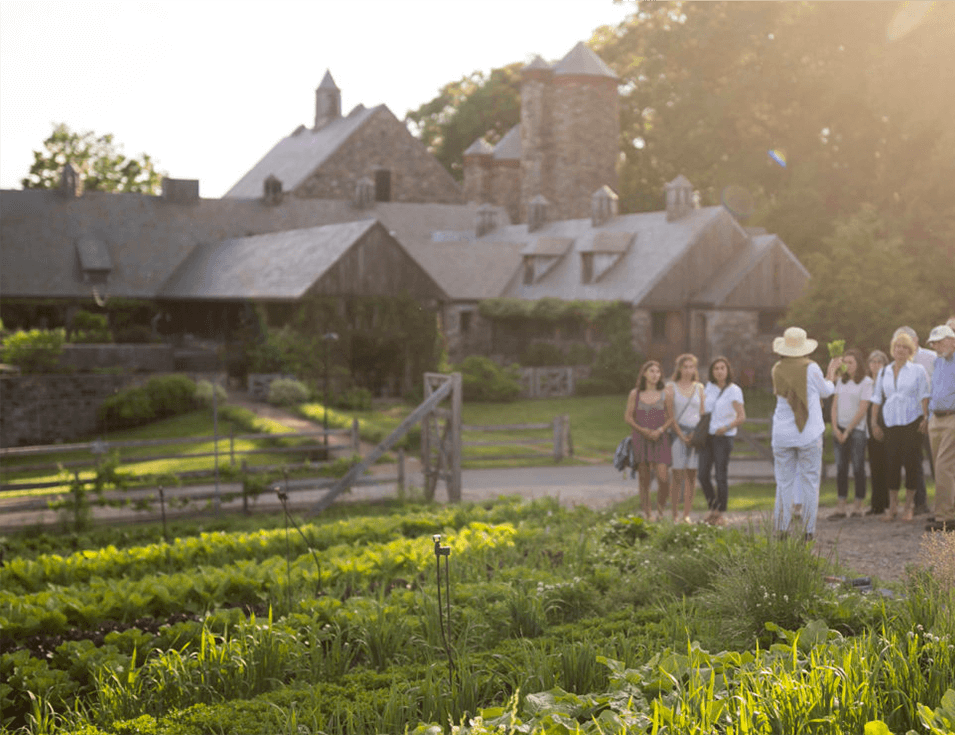 ON FOOD
"If you can look at food as something that can either give to you or take away from you, you will never look at a processed food again or feel deprived," says Valle. "When you decide to heal yourself and make good, healthy choices, you're not depriving yourself. You're adding to your existence."
"I visit farms, I cook a lot, I go to farmers' markets, and I'm working to be a certified holistic health practitioner—it's an amalgam of all my passions."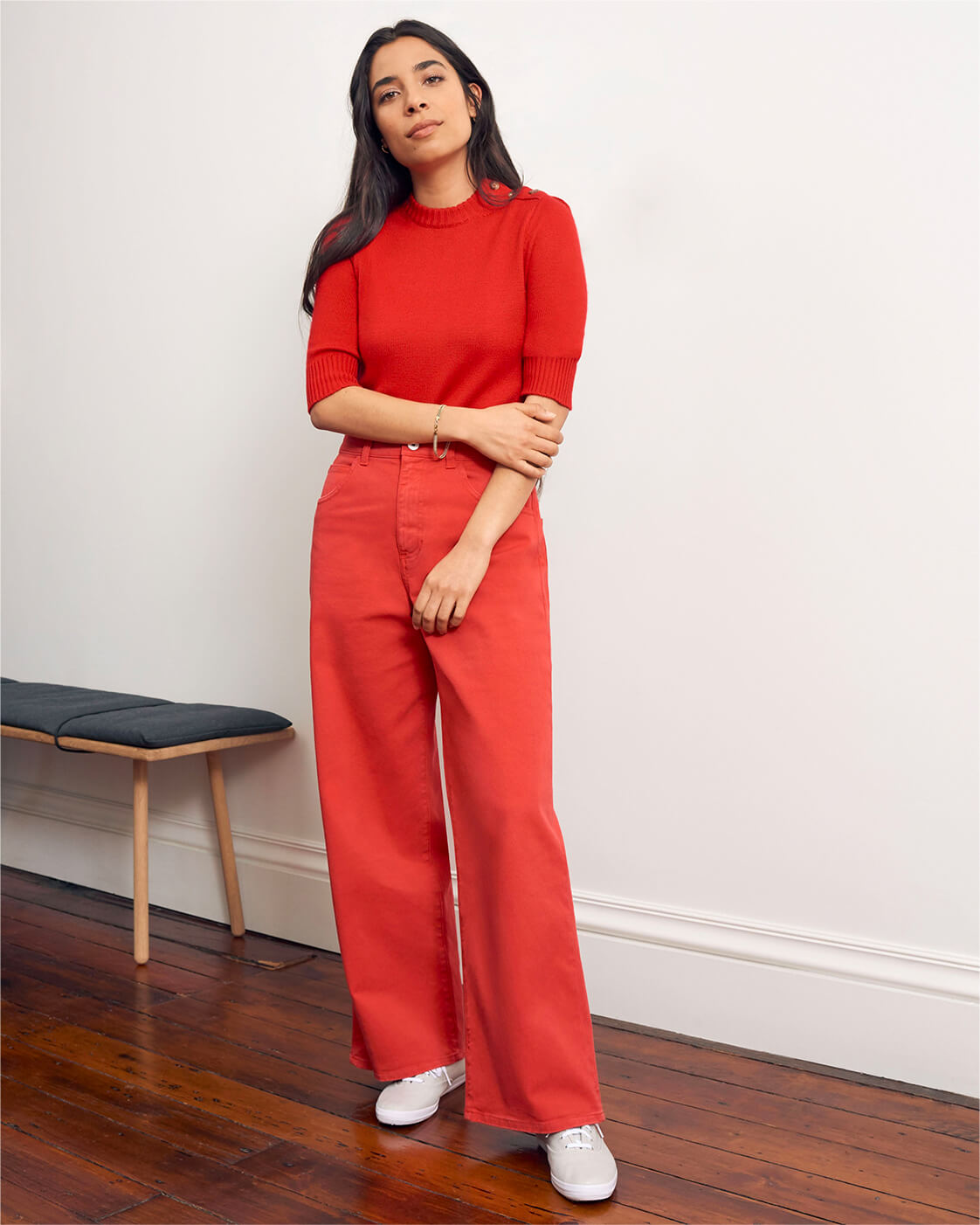 G. Label CHURCHES
BUTTON-SHOULDER SHORT-SLEEVE SWEATER, goop, $595; Marni Pants, goop, $590; Keds sneakers, Keds, $50
ON HER MISSION
"My sleep suffers because I try to do it all. I thought: Okay, I paint; I do photography; I'm doing nutrition. What is the ultimate project? That's when I came up with the wellness zine. I hand-painted, hand-illustrated, and handwrote the zine that I'm currently working on getting funding to get printed. Then I'm going to sell it for a really reasonable price to people as another resource for figuring out their food formula," she explains.
G. Label CHURCHES
BUTTON-SHOULDER SHORT-SLEEVE SWEATER, goop, $595; Marni Pants, goop, $590; Keds sneakers, Keds, $50
"That's truly my life's mission: to make wellness accessible. That's why my hotline's donation-based. That's why my zine is going to be under $25."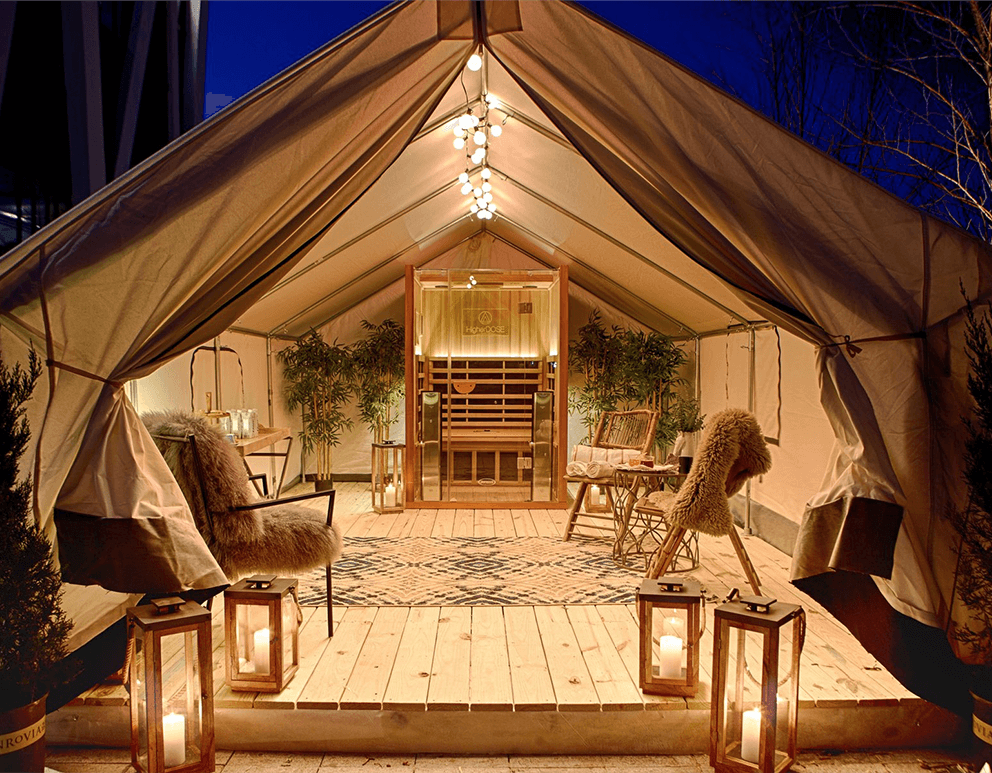 ON EXERCISING
"I was addicted to running," Valle says. "I would wake up and run six miles every morning, which was beautiful, but it took such a toll on my body. If I didn't run my six miles in the morning, I'd be like, 'I failed.' It wasn't healthy. I put myself in hot yoga because, intuitively, my body was like, 'This is what's going to work now.'"
"I am a huge sauna girl. That has been kind of like my peace. I go to Higher Dose here in New York—they're fabulous. I sit in there, and I do Vedic meditation, and I come out like, 'Hello! Let's do that again.'"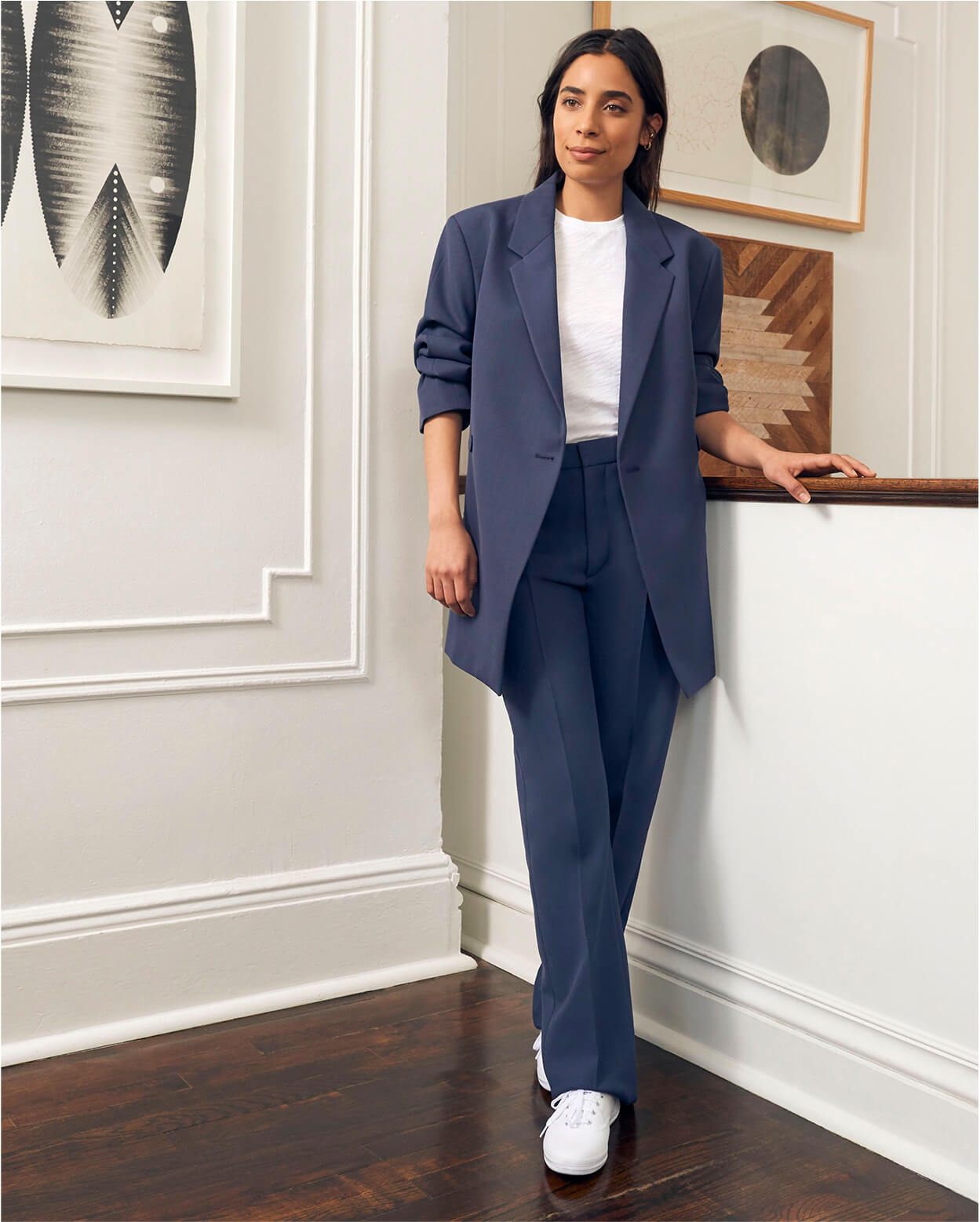 Totême Jacket, goop, $660; Totême Pants, goop, $350; ATM Anthony Thomas Melillo tee, goop, $85; Keds sneakers, Keds, $50
ON HER WORKWEEK UNIFORM
"In the morning, when I go work out, my days are so back-to-back-to-back-to-back that I've had to show up to meetings and showrooms and castings in exercise clothes. I'm really trying to own it and think: You know what? This is me."
Totême Jacket, goop, $660; Totême Pants, goop, $350; ATM Anthony Thomas Melillo Tee, goop, $85; Keds sneakers, Keds, $50
SHOP THE STORY