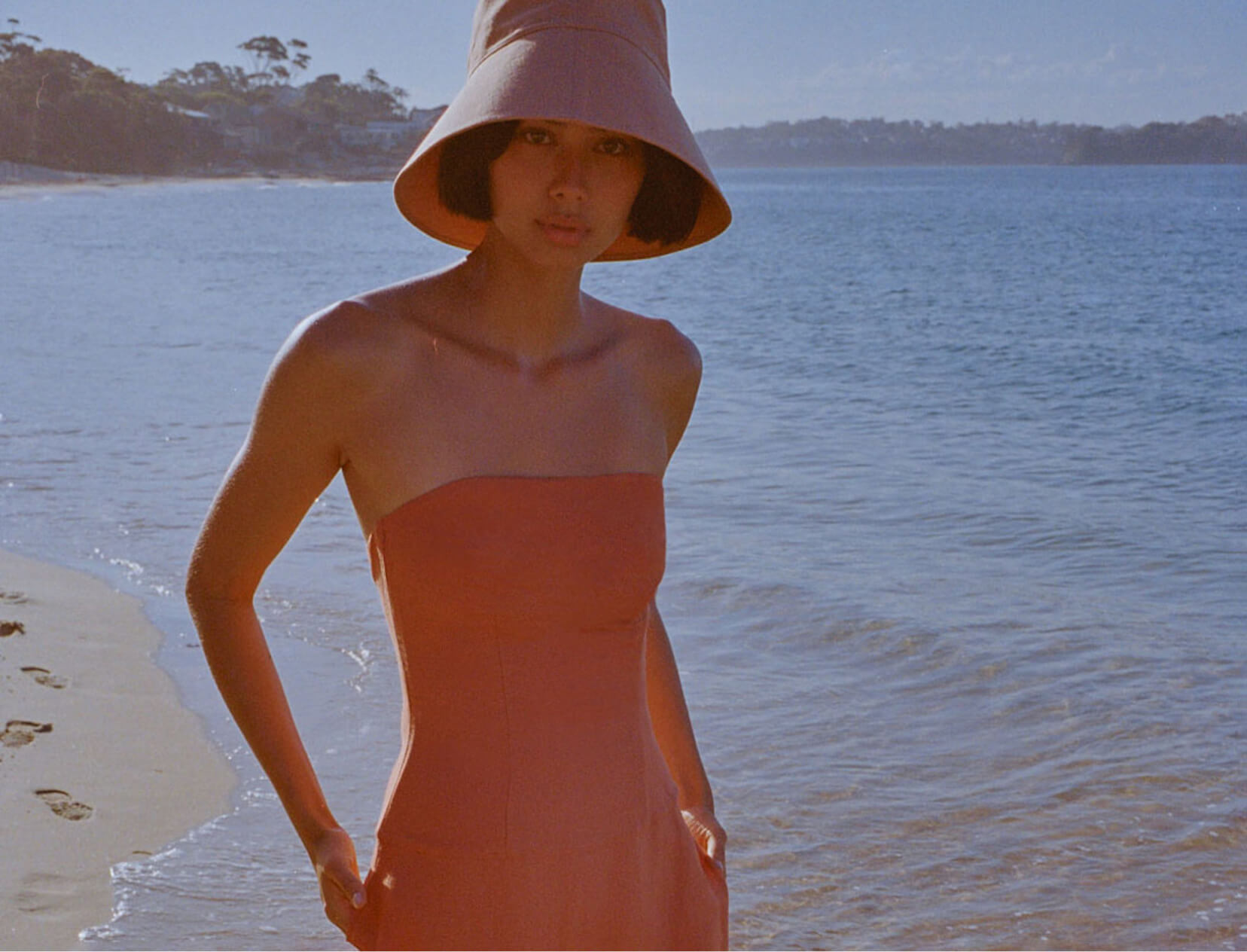 12 Do-Good Brands to Get Behind
That people generally don't think as critically about what they put on their bodies as they do about what they put in them is at best inconsistent. The decision to adopt a mindful approach to food can be motivated by concerns over the environmental impact of industrialized anything, animal cruelty, or widespread workers' rights abuses, to name just a few. And these issues are just as prevalent in fashion as they are in food.
Luckily, it's 2021—and brands are holding themselves to a higher standard. Whether by meticulously sourcing raw materials, reimagining the cadence of collections, or bringing workers in-house to ensure they're being treated (and paid!) fairly, these ethical and environmentally conscious players are proving that style and sustainability can, in fact, beautifully coexist.
DEIJI STUDIOS

Slow mornings are so much more enjoyable in one of Deiji Studios' mindfully made lounge sets (they're done in Standard 100 by Oeko-Tex–certified linen, which is tested to ensure that it's free of more than a hundred substances known to be harmful to human health) and a pair of impossibly plush slippers (made in a WRAP-accredited factory). Feel-good plus: The brand pledges 1 percent of its annual sales revenue to support environmental nonprofits.

On model: DEIJI STUDIOS 01 SET, goop, $244. Off Model: DEIJI STUDIOS 01 SET, goop, $244; DEIJI STUDIOS 03 SET, goop, $190.

TOVE

Launched in 2019 by Camille Perry and Holly Wright—the former heads of buying and design, respectively, at Topshop—this London-based brand has sustainable thinking baked into its business model. To avoid overproduction, it does only small runs of its intricately detailed blouses, dresses (Ceres is a must-buy), and trousers. Oh, and the packaging? It's recyclable down to the tissue paper.

On Model: TOVE DRESS, goop, $575. Off Model: TOVE TOP, goop, $305; TOVE TROUSERS, goop, $330.

ST. AGNI

It might seem counterintuitive for a clothing company to keep its stock levels low deliberately. But for Lara and Matt Fells, the married couple behind this Australian womenswear label, it makes perfect sense. Their goal: to promote slower consumption habits among their customers by creating just enough to meet demand. And as anyone who took Econ 101 will know, it's this very principle that makes nabbing one of the minimalist, summer-friendly essentials in your size so gratifying.

On Model: ST. AGNI FLATS, goop, $202. Off Model: ST. AGNI DRESS, goop, $207; ST. AGNI TEE, goop, $189; ST. AGNI TANK, goop, $139.

BONDI BORN

This majority-female-owned-and-operated brand is built on the idea that you don't have to sacrifice your values to make a splash. Not only does this Certified B Corp source sustainable fabrics; it produces everything within a four-block radius in Sydney, minimizing its transportation emissions as much as possible.

On Model: BONDI BORN DRESS, goop, $495. Off Model: BONDI BORN BIKINI TOP, goop, $150; BONDI BORN BIKINI BOTTOM, goop, $120; BONDI BORN SHIRT, goop, $325.

ESSE

Disheartened by the unrelenting nature of the traditional fashion calendar, industry veteran Charlotte Hicks founded ESSE: a slow-fashion brand that specializes in considered basics—say, a slinky column dress done in upcycled satin—that you'll hold on to forever.

On Model: ESSE DRESS, goop, $499. Off Model: ESSE SHIRT, goop, $289; ESSE DRESS, goop, $556.

ANOTHER TOMORROW

This brand makes damn good shirting—see above—but what's even more impressive is its dedication to doing it right: by using materials that support soil health (like GOTS-certified cotton), paying its mill workers in Italy a living wage (or more), and offsetting its logistics footprint so that when your order arrives on your doorstep, it's completely carbon-neutral.

ANOTHER TOMORROW SHIRT, Another Tomorrow, $320; ANOTHER TOMORROW TROUSERS, Another Tomorrow, $520

POUR LES FEMMES

Pour Les Femmes—founded by actress Robin Wright and designer Karen Fowler—partners with a workshop in Eastern Congo to produce the cotton and linen pj's in its Give Work collection. Each set provides three days of work for female artisans with limited opportunities. Which makes positively impacting someone's life so easy, you can literally do it in your sleep.

POUR LES FEMMES SHIRT, goop, similar styles available, $195

ANEMOS

Summer Fridays are almost upon us, and being prepared means revisiting—and likely refreshing—your swim drawer. (Strap-happy bikini or ultrasleek one-piece? Take your pick.) What we love: Anemos's Italian-made options are both fashion-forward and easy on the planet, made from eco-friendly fabrics produced in integrated facilities that reduce water and energy use and cut down on carbon emissions.

On Model: ANEMOS TOP, Anemos, $140; ANEMOS BOTTOM, Anemos, $135. Off Model: ANEMOS TOP, Anemos, $140; ANEMOS BOTTOM, Anemos, $135; ANEMOS ONE-PIECE, goop, $240

PARADIS PERDUS

Paradis Perdus is the brainchild of French designer Thomas Poli and a team of New York fashion-industry vets from lines like Isabel Marant and Mansur Gavriel who wanted to create fashion-forward knitwear that delivers the feel-good factor in more ways than one. We have one word for the carbon-compensated recycled cashmere: h-e-a-v-e-n-l-y.

On Model: PARADIS PERDUS SWEATER, Paradis Perdus, $475; PARADIS PERDUS SHORTS, Paradis Perdus, $245. Off Model: PARADIS PERDUS SWEATSHIRT, Paradis Perdus, $295; PARADIS PERDUS SWEATPANTS, Paradis Perdus, $195; PARADIS PERDUS SWEATER, Paradis Perdus, $395.

MIRTH

Sisters Katie McClure and Erin McClure Breen came up with the idea of their ethically made resort line, Mirth, on a trip to India. The whisper-weight caftans and sundresses are all hand-loomed and block-printed by highly skilled artisans in India, and a portion of the proceeds goes back to an educational initiative in the village where the designs come to life.

On Model: MIRTH SHIRTDRESS, goop, $270. Off Model: MIRTH DRESS, goop, $320; MIRTH DRESS, goop, $220; MIRTH DRESS, goop, $248.

LAFAYETTE 148

Few brands out there take social responsibility as seriously as Lafayette 148. From creating energy-saving workspaces and textile-recycling programs (the New York–based line partners with local nonprofits to give surplus fabrics a second life), to employing all its artisans in-house to ensure its production process is ethical and transparent, to funding a school in its cofounder's hometown of Shantou, China, there's no shortage of reasons to feel good about shopping here.

LAFAYETTE 148 SHIRT, Lafayette 148, $448

GABRIELA HEARST

For Gabriela Hearst, who grew up on a solar-powered sixth-generation ranch in Uruguay, sustainability is simply a way of life. Which is why she works tirelessly to improve upon her eponymous label's already-intentional ethos—using deadstock fabrics on the runway, building out carbon-neutral retail spaces, and setting actionable goals, like eliminating the use of virgin materials entirely by 2022.