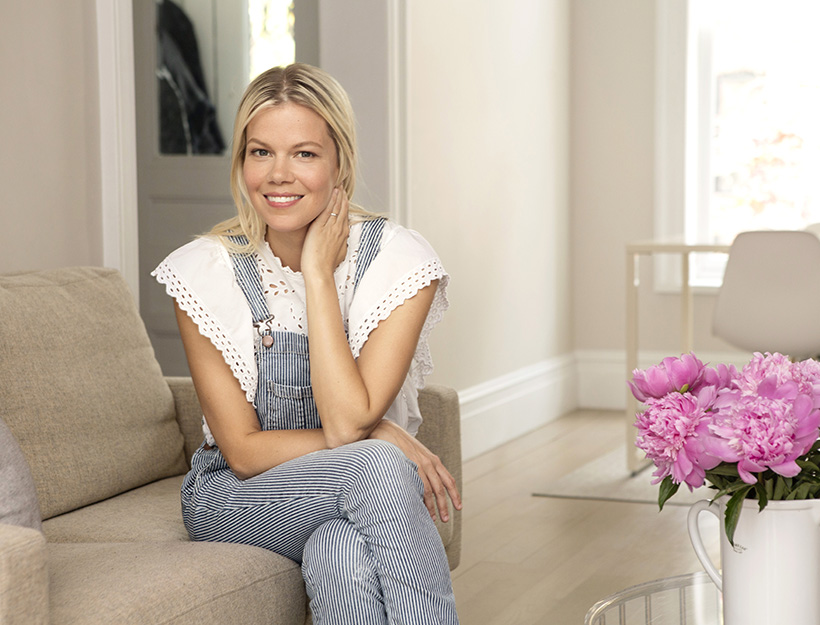 Photograph by Taylor Jewell
Back-to-School with a Fashion-Pro Mom
Along with running the wildly successful accessories brand Loeffler Randall (shop her consistently fresh, compulsively wearable shoes and bags here), creative director/co-founder Jessie Randall is the mother of nine-year-old twins and a six-year-old. Her incredible style extends to her home, the way she dresses, and the way she helps her kids dress, too. Below, she shares her secrets for back-to-school prep, making kids clothes last, her favorite kids' brands, and more.
A Q&A with Jessie Randall
Q
Is back-to-school shopping an annual summer ritual? How do you approach it?
A
I love shopping for back-to-school. I get excited to find cute things for them. I actually get more excited shopping for them than I do for myself. That said, it's so hot in August that I like to buy just a few standout items and staples before school starts, and then purchase anything I need for colder weather once it's actually cold out.
Q
What are your back-to-school essentials; are there staples you buy every year?
A
My kids live in Patagonia down sweater-jackets once it turns to fall, so I like to buy those early. They are so lightweight and durable—very high quality. I get them Patagonia fleeces each year, too. Also, in wintertime, I'll buy them each a really good winter coat, but I size up a few years so we get maximum usage out of it. I also buy them backpacks, lunch boxes, and a nice outfit for the first day of school.
Q
What are your favorite kids brands? Any that wear particularly well, or make great hand-me-downs?
A
Q
As an accessories guru, what are your go-to lunchboxes, backpacks, notebooks, etc.?
A
Trico Field has the cutest backpacks with the softest textured nylon. I love them but they often cost more than I want to spend! I like Fjallraven backpacks, too, because the colors are so pretty. This year I wanted something really special, so I ordered plain backpacks and tons of cute patches on Etsy and other patch websites, and we are all going to customize the backpacks together. I love something that is custom and one-of-a-kind! Plus, it's a fun project for us to work on together.
Q
What do your kids most want for the start of this school year?
A
A cool backpack. As for clothes, I tend to pick out the things I like and then they style them however they want. My boys refuse to wear anything without an elastic waistband, so I have to give in to that. They live in sweatpants all year round.
Q
What laundry rules do you live by, or is there a stain-fighting trick you swear by?
A
Kids get messy, so I buy clothes that hide stains well—darker in color, or made of easy-to-wash fabrics. I keep the nicer items in my closet and only pull them out for special occasions.
Q
Do your kids wear uniforms (school or sport)? Any tips for making clothes that are worn on a daily basis last?
A
My kids don't wear a uniform, but they swim a lot at school. So we have a ton of bathing suits. I like Vilebrequin suits because they are very high quality. I buy them in a big size and get lots of years of use out of them.
Q
What about kids shoes—what brands last longest in your house?
A
My kids wear a lot of Crocs. I actually think Crocs are pretty cute for kids—I get the ones with the white line along the bottom that look more like sneakers. I like that they are easy to get on and off. With a big family, I'm looking for speed! I also buy Velcro sneakers because they are easier. Right now, the kids are into Adidas velcro sneaks. For the end of summer and beginning of fall, they will still be in their Birkenstocks, and I may get them some canvas Chuck Taylors to customize with doodles. That would be really cute.
Q
What's a secret mom tool that you always keep in your purse?
A
I always have crayons on me, so we can draw on the paper placemats when we are out to dinner.
Q
Beyond shopping, how else does your family prep for the back-to-school transition?
A
I clear out their homework drawers to give them a fresh start, get lots of pencils sharpened, and have all the school supplies ready to go. Planning out their activity schedules is another big piece of it. I actually enjoy getting organized and ready for the beginning of the school year. It makes me happy.