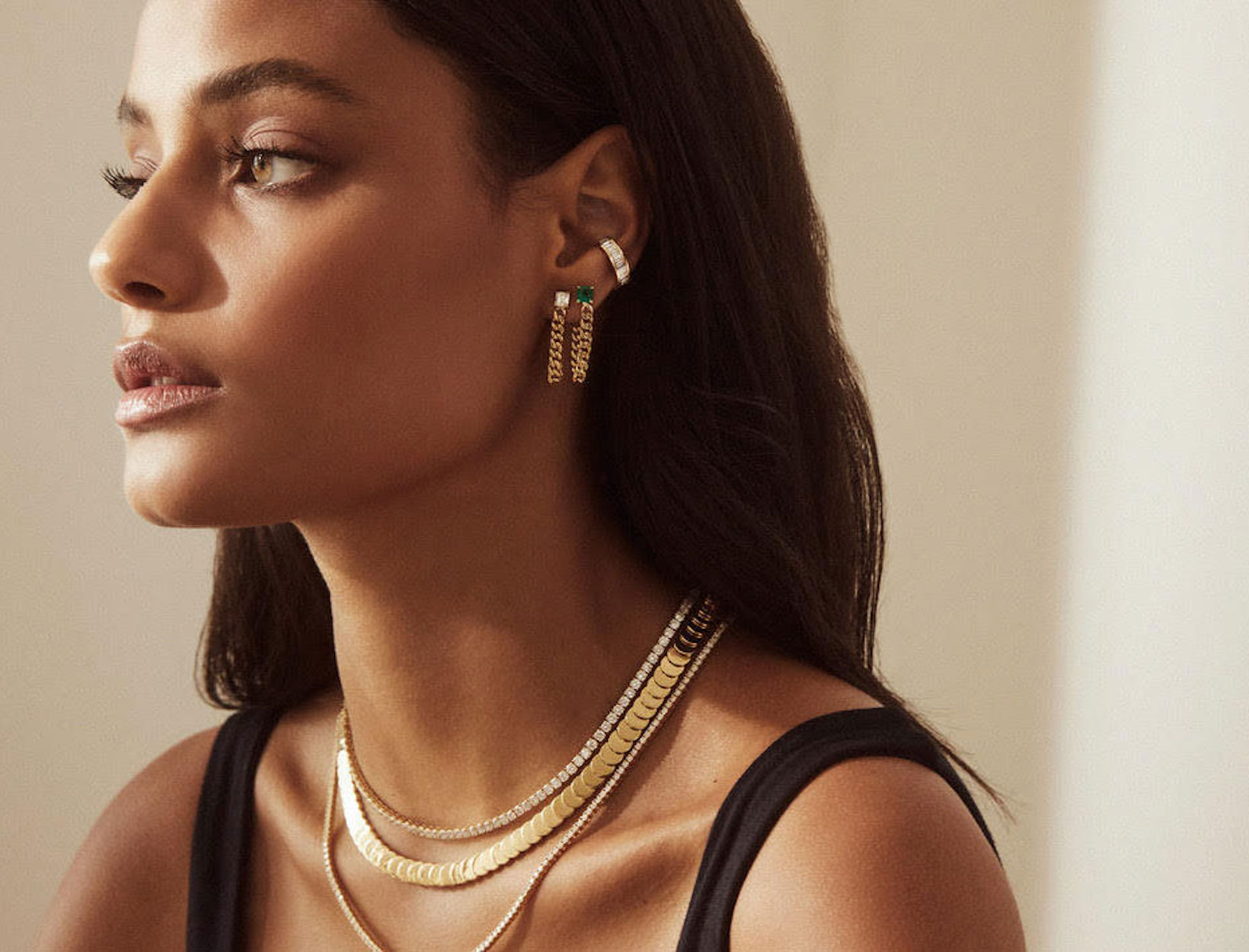 One Jeweler's Guide to
Perfecting Your Ear Game
In a sea of cool-girl jewelry brands, few designers do the ears justice better than Anita Ko. Ko's grown-up gems split the difference between low-key and dressed-up. So when she happily agreed to dole out tips for minimalist and maximalist stackers alike, we were all…well, you know.
1
BUILD AROUND EVERYDAY PIECES
First things first: Start with the staples. "If you have only one or two piercings, choose earrings that you love and want to wear all the time," says Ko. "I love the diamond drop huggies for a clean and polished look, and I like to pair them with the pavé huggies for a little luxe in my second and third holes." Want the look without the commitment of multiple piercings? A split earring creates the illusion of more without your having to go all in.
2
LAYER WITH INTENTION
Ko's advice for stacking with purpose? Go for like-minded metals and precious stones with similar settings for a more unified feel. "I don't love to mix metals," she says. "I usually try to stick with the same color gold throughout." With hoops, layer from largest (at the lobe) to smallest (the farther up you go). Whether you're working in huggies, studs, or cuffs up above, the net effect is always streamlined.
3
PLAY WITH PLACEMENT
For best results, don't get too caught up in matching. "There are no hard rules when it comes to styling," says Ko. "Play around with symmetry: The Double Pear Loop is made for two piercings, but if you have three or more in the same ear, you can wear it with a simple stud or huggie in between. I also happen to love it styled with asymmetrically placed earrings on the other ear."
4
DIAL UP THE DRAMA
"The floating ear climber is such a cool and sexy earring," says Ko. "What I love most about this statement piece is that—whether worn as a pair or mismatched—it looks like you have multiple piercings sparkling up your ear." Want to level up? Ear cuffs add impact without extra holes, while a diamond-encrusted paperclip lends dimension and edge in equal measure.
5
MAKE IT YOUR OWN
"Most important, do your own thing," insists Ko. "The goal is to feel sexy and confident." Take a traditionally feminine pair of earrings and double up on one side, add pavé hoops for extra sparkle, pile on the cuffs—get creative, and don't be afraid to bend the trends in a way that feels right for you.
INTEL FOR
AT-HOME

CARE

The best solves for dealing with dirt, grime, and oil buildup? Get yourself a gentle, plant-based solution to keep piercings clean and your earrings radiating gleam. Use alcohol swabs to wipe down posts and backings often. And finally: Polish! A soft, reusable buffer ensures high shine all the time.