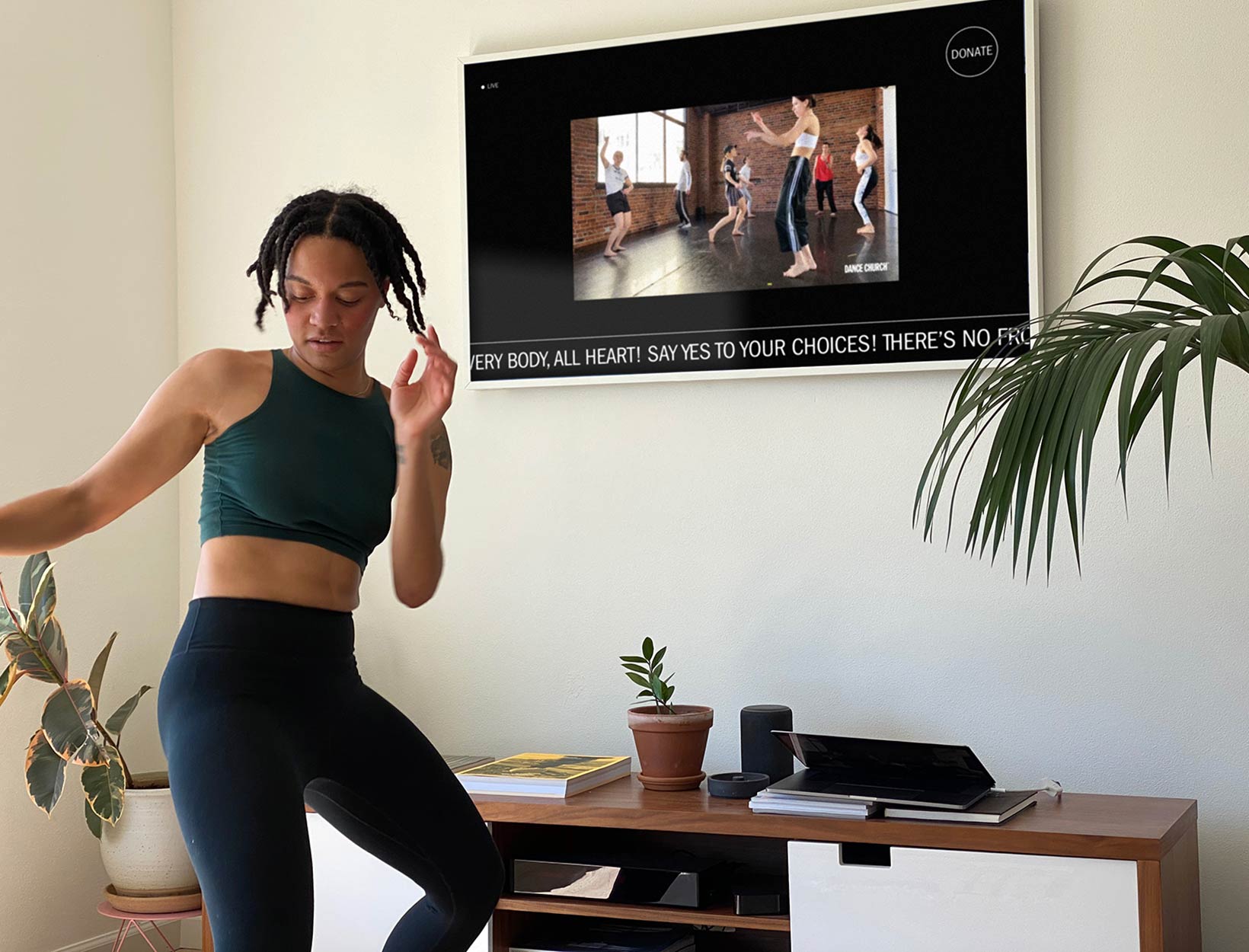 Activewear Upgrades for
Your Home Workouts
Now that many a living room moonlights as a fitness studio, excuses like traffic, parking, and packed classes are no longer legitimate reasons for skipping a workout. But even when the only thing between you and your next endorphin high is a few lunges down the hall, it's best to have a game plan—the amount of streaming classes out there can be dizzying—and a stash of sleek activewear to get you pumped. Below, the digital workouts we're currently hyped on, plus performance-minded looks to pair with each one.
Photo courtesey of Dos Mundos Creative

No-Slip Leotard

A TA workout targets tiny muscles you didn't know existed (by the end of class, your arms, abs, and booty are sizzling, and Tracy's toned, defined physique suddenly makes sense). The leg series has your lower body lifting and bending in every possible direction—opt for stretchy paneled leggings layered over a strappy, stay-put leotard.
Soothing Shades

A muted pastel palette is perfect for working through your warrior sequence. We love this cropped, ribbed top in deep periwinkle—the extra length makes it more shirt than bra, so all you need to settle into savasana is a cozy pullover.
High-Performance Pieces

Peloton purists are as passionate about the at-home cycling program's playlists as the classes themselves, so it's worth investing in a pair of earbuds that won't budge. In many cases, you're pedaling with a professional, so pull on energy-boosting brights and sweat-wicking fabrics, find your fellow Pelotoners (the platform lets you connect and ride with friends), and start climbing.
Supportive Racerback

Yes, will get your heart rate soaring, but Toomey's approach also works you out of your own head and into a state of all-out emotional release. Throughout the full-body cardio journey, expect jumping (choose a racerback with extra coverage), stretching (you'll want streamlined leggings free of hardware), and a lot of sweating (swipe on Schmidt's—a goop-tested clean deodorant that really works).
Matching Set

Long and lean, toned and tightened: The MWH Method combines classic Pilates and breathwork, but what we appreciate most about her approach is the focus on nurturing a relationship with your body. Hit the mat in a monochrome set as elongating as the hundred, and accessorize with weighted bangles for extra impact.
Party Pants

Kate Wallich's weekly Seattle and LA dance parties are the best reason we know to break out animal-print bike shorts and hoop earrings. To keep the community dancing and social distancing at the same time, the team went live—now anyone on the internet can log in to the free Sunday morning class (but donations help support the team of dance professionals losing income right now). It's an amazing way to shake up your routine and get cooped-up kiddos moving while you sneak in a workout—plus, you're guaranteed to laugh out loud at least once.