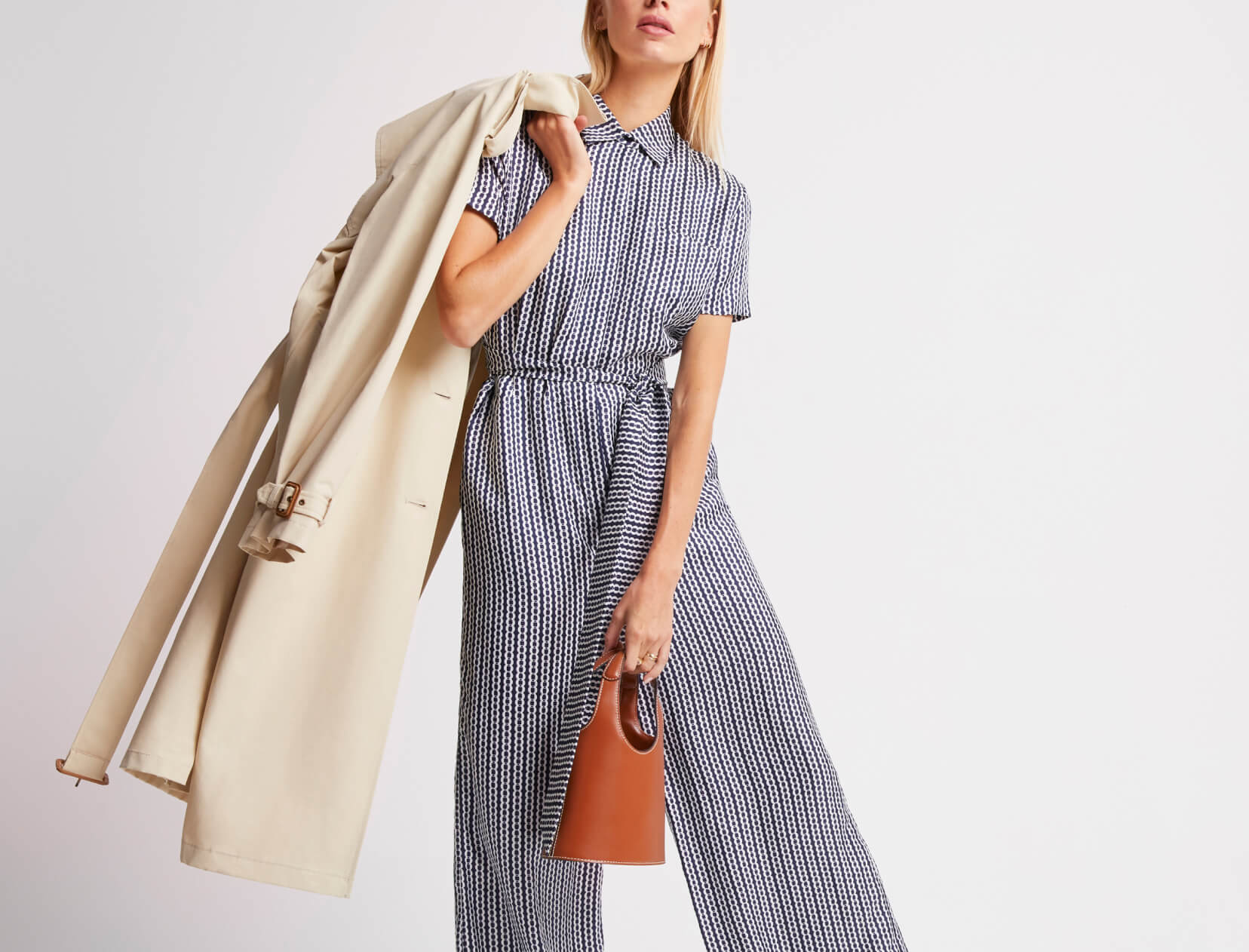 A Month of Outfits to Get You to Spring
For senior stylist Sarah Rose, outfit planning—yes, even twenty-eight outfits in one shot—is a game of optimizing. One that involves a hyperstreamlined palette (peppered with pops of color). Chameleon-like classics to mix, match, and mingle as you see fit. And: some season-shifting styling aids that'll show you just how resourceful your closet can be.
1
WEEK
The trick to making your wardrobe work smarter, not harder, is to stretch the layers throughout the month. See the drawstring denim jacket? The classic stripes? The creamy bomber-style sweater? Hang on to those—they'll come in handy later, too.
Stylist's Note: "I love denim on denim—it's a total cool-girl move. And the Blair jumpsuit is one of those unicorns that you can wear with a jean jacket for errands, then top with a cardigan for lounging to give it a completely new vibe." —Sarah Rose
2
WEEK
When you've got emails to draft, work wives to Zoom, and a midweek workout you penciled in with your wellness tracker, you'll want pretty prints, darling waist-up details, and a totally practical sweatdress to ensure all bases are covered.
Stylist's Note: "When in doubt, don't be afraid to double down on the details: The puff is a goop trademark, the dots feel a little retro, and the pajama-style jumpsuit—which can go loungy or dressy—reminds me of an old-school Diane Von Furstenberg from the '70s." —Rose
3
WEEK
All it takes are a few strategic swaps—sweatshorts in lieu of sweatpants, a collegiate sweatshirt that feels right at home over a crisp collar, and the aforementioned bomber-style sweater over a utility jumpsuit—to make the foundational pieces you leaned on all of week one feel fresh.
Stylist's Note: "A good rule of thumb: Opposites attract. Pull a big comfy hoodie over an A-line dress to keep that pretty poplin from taking itself too seriously." —Rose
4
WEEK
Swishy shapes, skimpy shorts, and shin-baring silhouettes: Week four is a love letter to warm-weather dressing in all its forms. All those in favor of a spring-ready switch-up say: aye.
Stylist's Note: "I'm obsessed with Thursday's outfit. It's actually a puff-sleeve shirtdress I tied around a pair of wide-legs for a look that's a little more unexpected, with a modern twist—something you could wear anywhere, really." —Rose