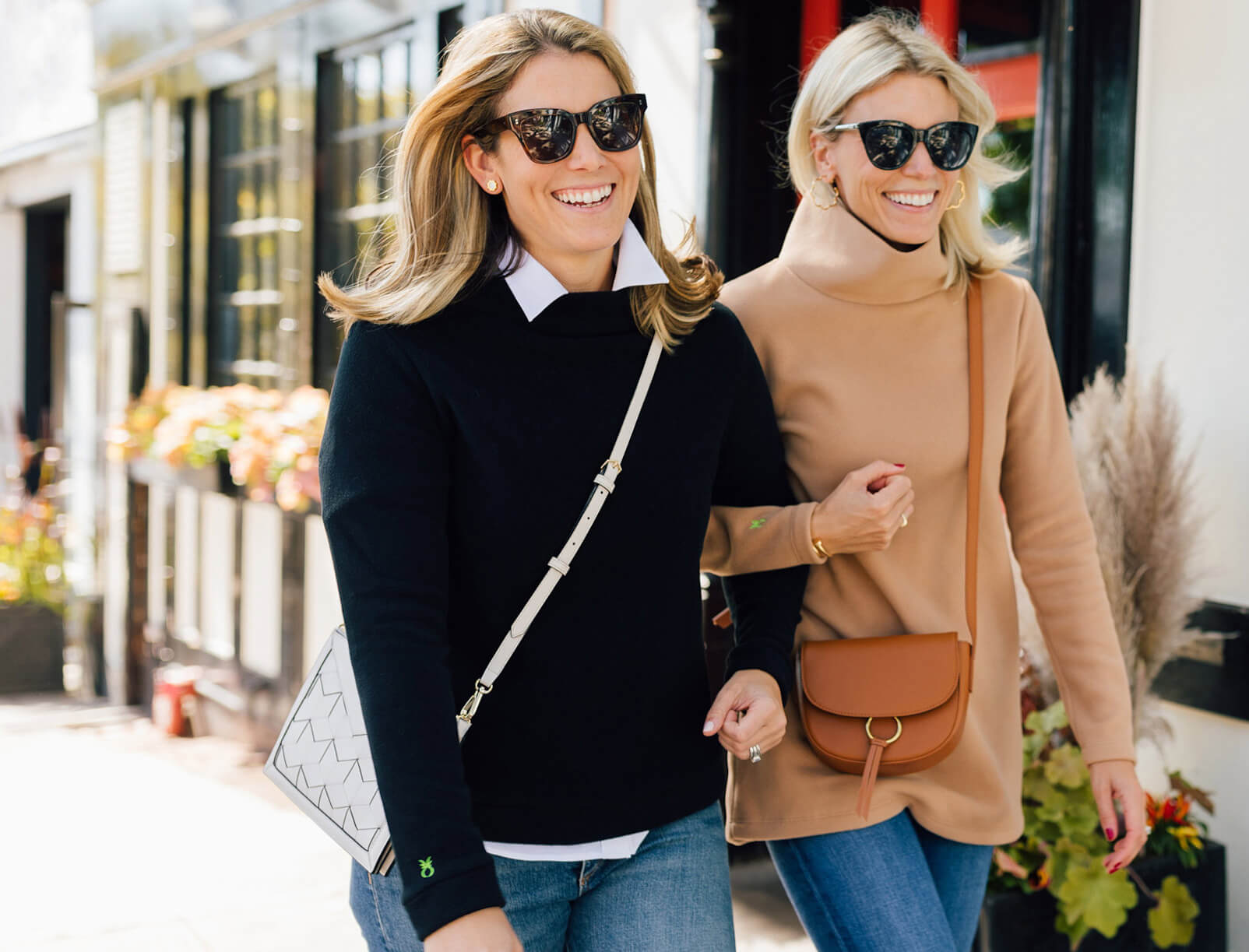 Photo courtesy of Julia Dags
How Two Sisters (and Cofounders, and Supermoms) Get It All Done in a Day
In partnership with our friends at Dudley Stephens
Getting to start a company with your closest confidantes is a dream scenario. Getting to do so while creating versatile, sustainably made, fleecy-soft clothing you also want to wear? That is the ne plus ultra. When Lauren Stephens walked away from the high-pressure world of fashion PR to start a family and do her own thing, she didn't just take a leap of faith—she stuck the landing. And her sister, Katherine "Kaki" McGrath, and mom, Bonnie Dudley, could not have been more on board.
"I was trying to get pregnant for a solid two years," says Lauren. "I realized, I'm deep in the corporate grind, and my life isn't going in the direction I wanted it to. And I felt like it was now or never." With Stephens's vision, McGrath's get-it-done mentality, and ample creative input from mom, the women grew Dudley Stephens into the resilient, female-led lifestyle brand that it is today. And like anyone running a business in March of this year, they, too, had to pivot.
"There's no brand playbook for dealing with a pandemic," says Stephens. "Our factory in Brooklyn had to close, our team went remote, and we had to shift gears." A silver lining in a sea of uncertainty: the community of steadfast shoppers who kept coming back for more. "Right now, people want to be home, they want to be cozy, and they still want to look good," she says. "And our stuff works really well for that."
Now that the three of them are working even more closely together, stress with a side of mom guilt—and trying to squeeze in the occasional shower—is par for the course. "As women, we tend to think we can do it all on our own without any help," says Stephens.
"It's so important to have a support system," agrees McGrath. "At the end of the day, we're family. And that always comes first. We couldn't imagine doing any of this without one another."
We caught up with Stephens and McGrath at their homes in Greenwich and Darien, Connecticut, to see how they get it all done in a day—and we took (very) detailed notes.
Waking Up with…
Katherine "Kaki" McGrath
Cofounder, COO, master multitasker, and toddler wrangler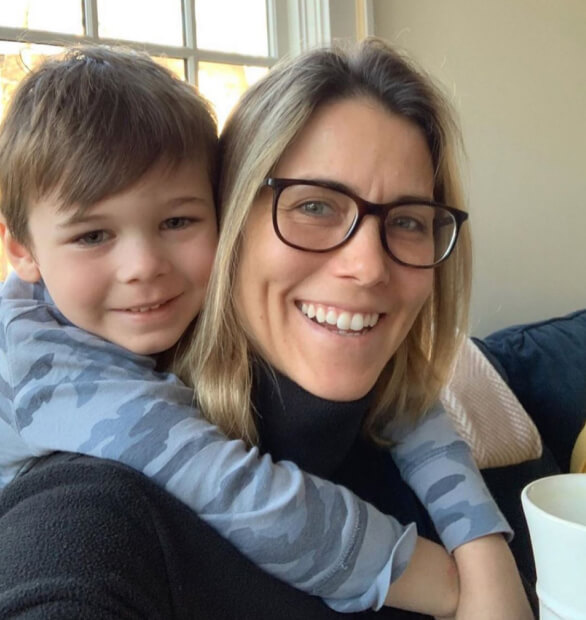 6:30AM
Wake up to a child at my bedside and roll out to change into leggings and a Dudley Stephens turtleneck or Prospect Pullover. I then head downstairs to make a cup of coffee and catch up on emails or any noteworthy news on my phone while the kids wake up with an episode or two of Paw Patrol.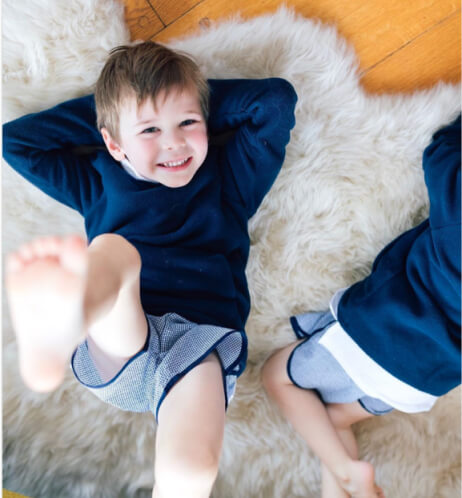 7:15AM
Get the boys fed, which usually involves cereal or toast with peanut butter. Make a second cup of coffee for the day. Pack lunches and snacks and make sure the kids' backpacks are ready to go.
8AM
Lauren and I start texting about work.
8:30AM
School drop-offs! If it's a remote-learning day, I usually work from home and help my first-grader with his lesson for the day.
9:15AM
If time allows, I'll try to squeeze in a thirty-minute workout after the kids leave. Since the latter half of my pregnancy, I've started incorporating more of the elliptical and body-weight exercises and stretches.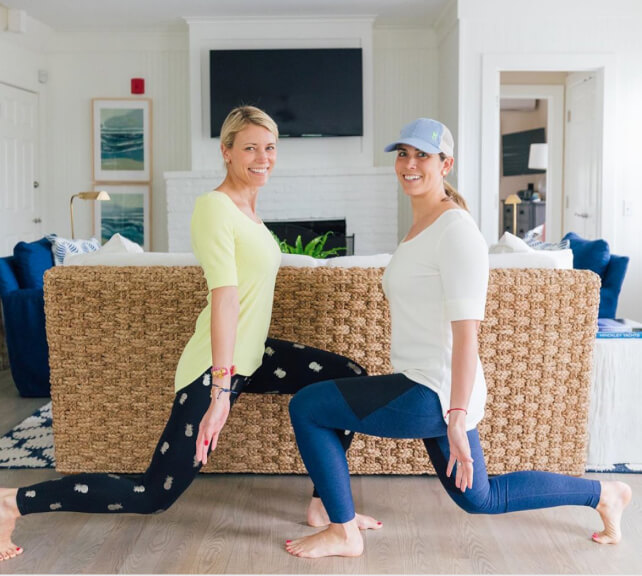 10AM
The Slacks begin. I sequester myself in my home office so I can answer any emails from the team before hopping in the shower and getting ready for the day.
You can always find me in Dudley Stephens. During pregnancy, I really gravitated to our Cobble Hill Turtlenecks in a size up and the Parsonage Poncho with leggings. And I pretty much lived in a maternity dress with our Spring Street scarf wrapped around my shoulders all summer.
10:30AM
Head to Greenwich! Lauren and I have been going to the office together when no one else is around. Otherwise, I'll head over to her house and work from her home office for the day so we can be together.
Lauren Stephens
Cofounder, CEO, creative visionary, and supermom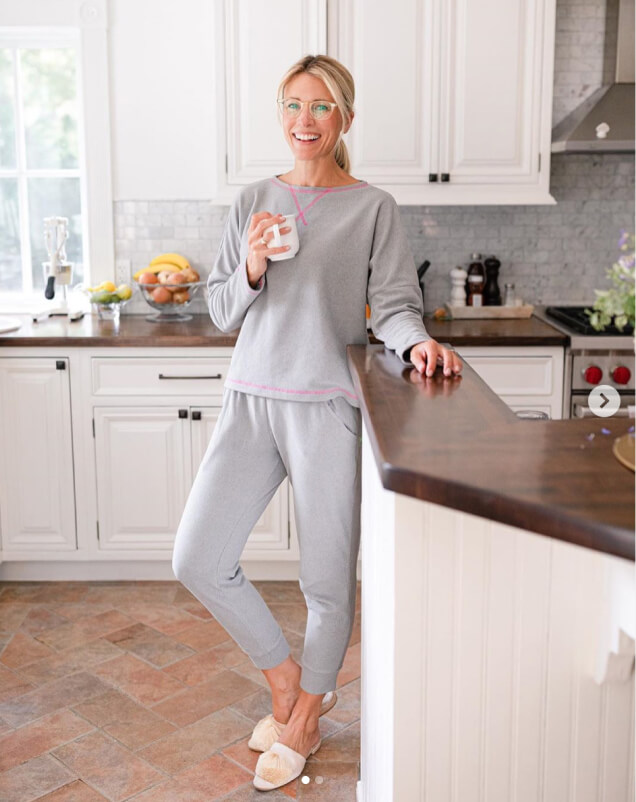 6AM
My alarm goes off, I throw on some workout clothes and a Dudley Stephens top (Cobble Hill if it's freezing, Park Slope over a tee if it's warmer, Somerset Sweatshirt in the summer). I try to skim WWD and Business of Fashion in the morning, always find time scroll through Instagram, and do it all over a cup of hot coffee with a splash of almond milk.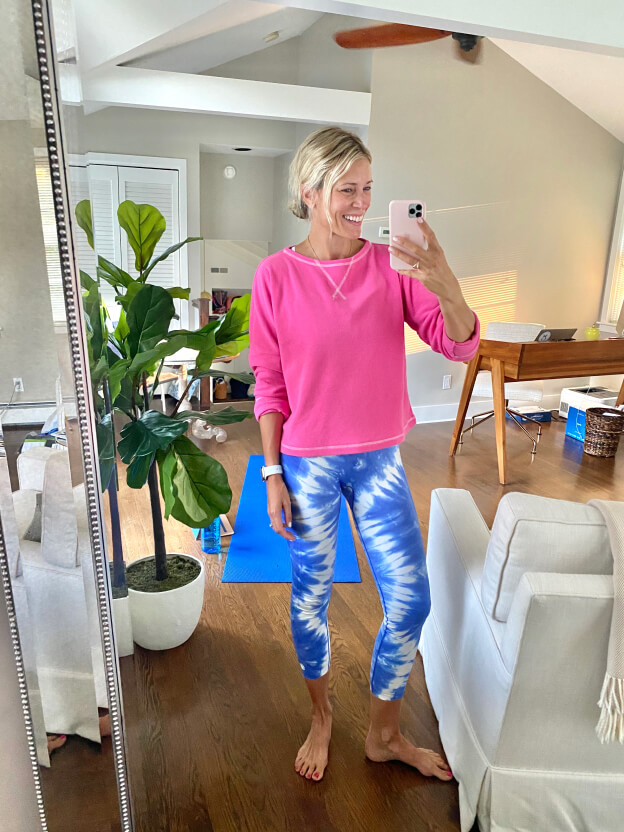 6:30AM
Sweat. Do an at-home home yoga flow or a Pilates mat workout, or go for a twenty-minute run.
7AM
On a good day, my two kids sleep till 7 a.m. Other days, they wake up and get to watch me finish my workout.
8:30AM
Preschool drop-off—a little chaotic, a whole lot fun. Their school is back only for about three and a half hours a day, but I'll take it.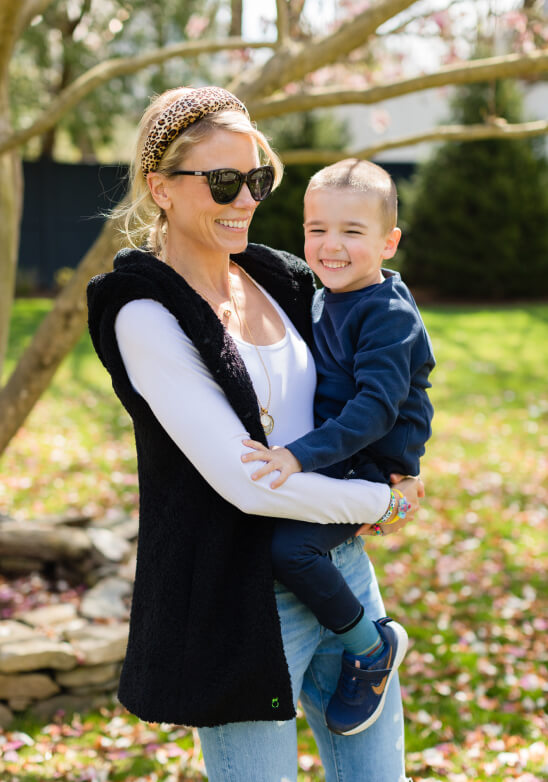 9:30AM
First, shower. Then: workday. I'm finding it even more important to "get dressed" for work when I'm just logging on from my living room.
10AM
My days shift between calls, photo shoots for social, cranking out content for our emails, and lots of meetings with our remote team—never a dull moment.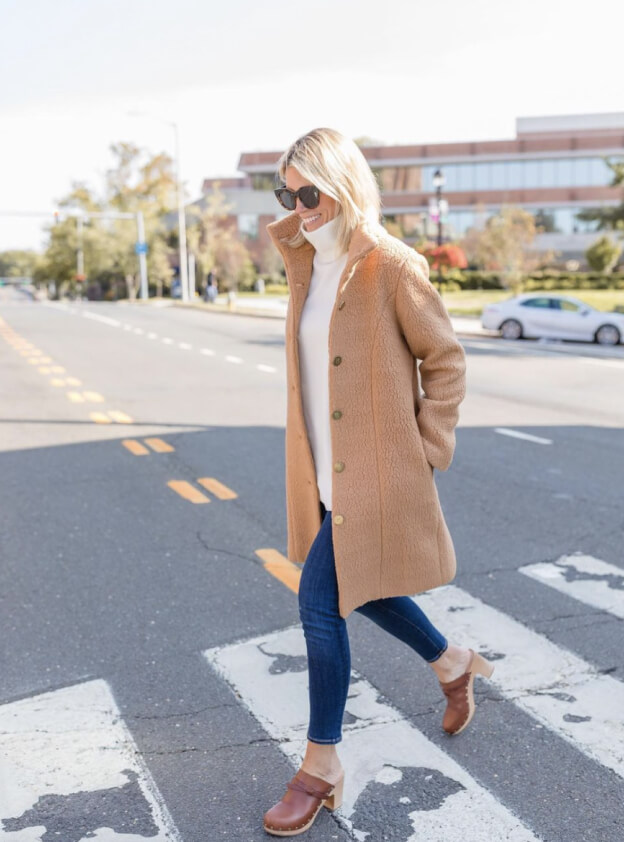 Working Lunch
Kaki
1PM
Always La Taqueria tacos for a working lunch with Lauren and my mom!
2PM
Our workdays look a little like this: Zoom and in-person meetings (masked up and socially distanced, of course). Our team has been going to the office, but we usually do so on a rotating schedule so there aren't too many people around at once.
I've found that our morale goes up when we're all together—we thrive on the camaraderie. Lauren and I have been so thankful that everyone has stepped up during this time.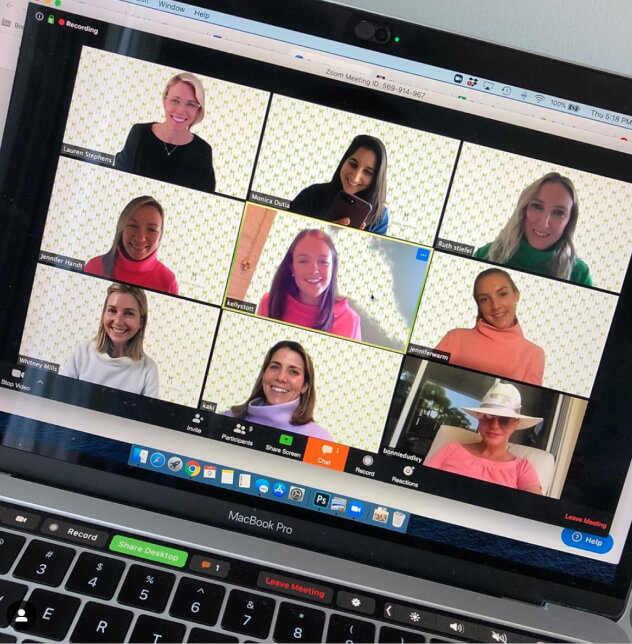 Lauren
1PM
Lunchtime! I like to order tacos from our favorite Mexican spot with Kaki and my mom and might step out for a few minutes to drop in on the kids.
2PM
Check in at our newly opened store, the Townhouse, on Greenwich Avenue.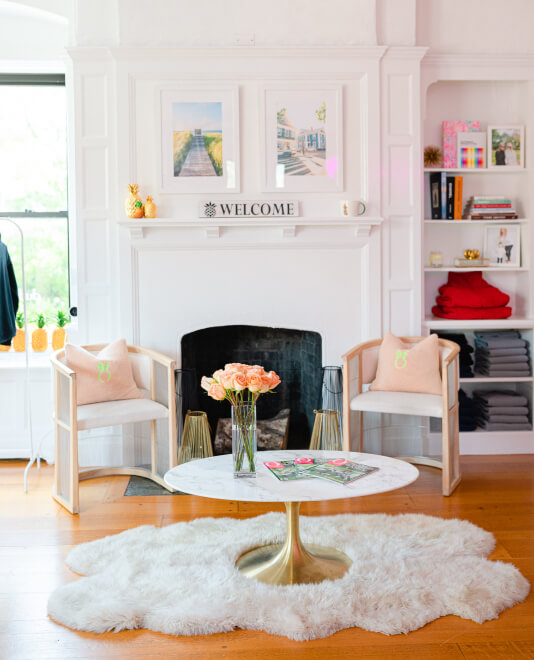 3PM
Back-to-back Zoom calls with the team all afternoon, making sure our Brooklyn-based factory is in good shape.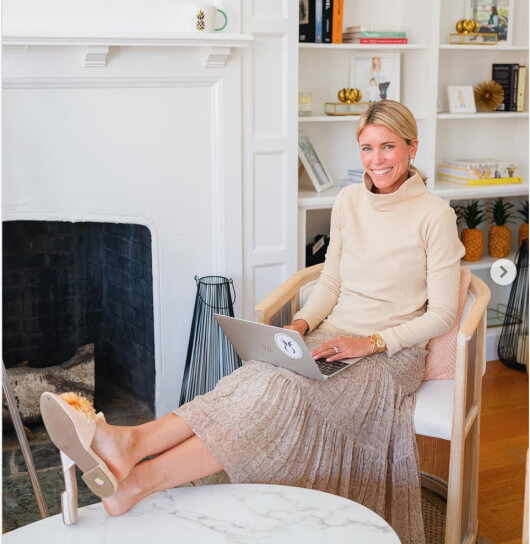 Winding Down the Day with…
Kaki
5PM
Workday is over and I head home to see my kids.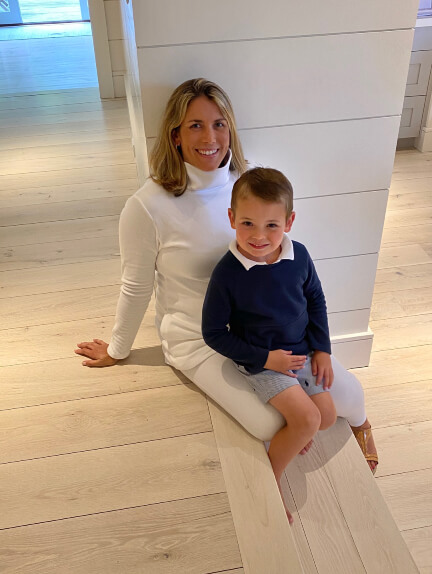 6PM
Cook dinner! I am not a chef by any means, so I usually make the kids some sort of protein-veggie-fruit medley for every meal. Since my time is so limited, I'm always asking friends for easy recipes for picky eaters. Some days, I feel like I've accomplished so much but then I'm making microwave mac 'n' cheese for dinner, and other days, I'm killing it on the parent side—so it helps to put things in perspective. That's what keeps you going.
My husband gets home from work around now (they're slowly going getting back to office life), so we try to eat dinner together and get some playtime in with the kids before winding down the day with something good on TV.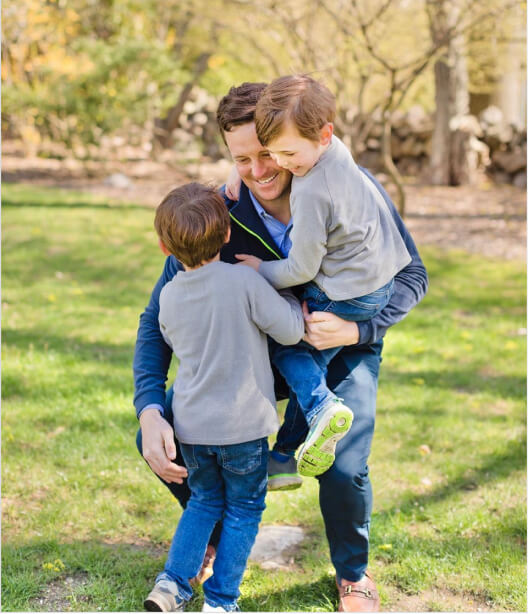 7:30PM
We all head upstairs, take a bath or shower, read our books, and talk about our favorite parts of the day.
9PM
I'm always exhausted by now, and it has felt even more intense in the later parts of my pregnancy. Lauren and I usually check in one last time to talk about how the day went before dozing off.
Lauren
5PM
Even if my mind is in a million places, I make sure to have a hard stop to switch into mom mode. Every day is different in terms of where I feel like I'm succeeding and where I feel like I'm failing. Sometimes I look back at my day and think, Oh, I felt present here, and I got so much done there, whether it's with the kids or with work—and it's never going to be a perfect balance. The key is not to get stressed about where you're not able to be.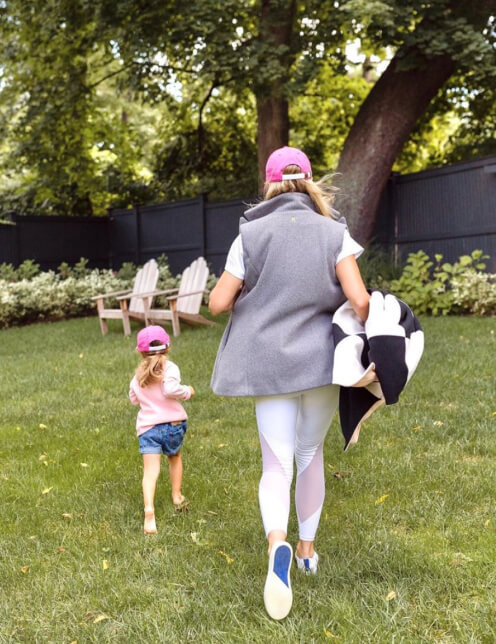 5:30PM
Dinner, dance parties, and playtime followed by a movie (for kids) and wine (for mom). My favorite thing to do at the end of the day is to hang in the kitchen—I love cooking, and it's the only time I can set aside to catch up with my husband. The hours sometimes fluctuate, but I'm learning to embrace the chaos and enjoy the moments we do get to spend together.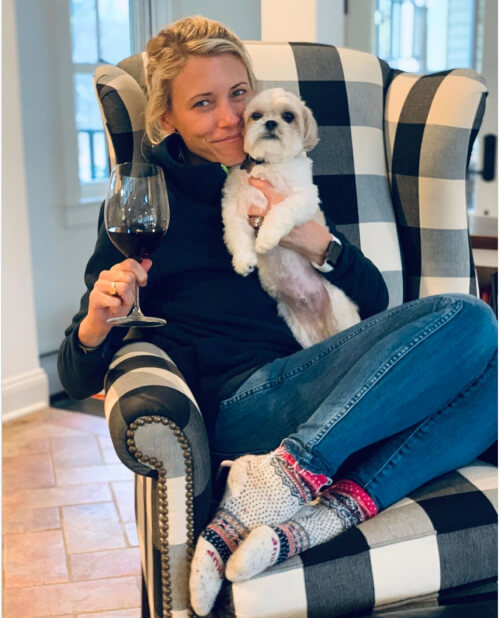 8PM
The kids are bathed and in bed, shortly followed by…
9PM
…mom in bed! Having a three- and a four-year-old has turned me into an early-to-bed early-riser. Goodnight.
The Dudley Stephens Uniform