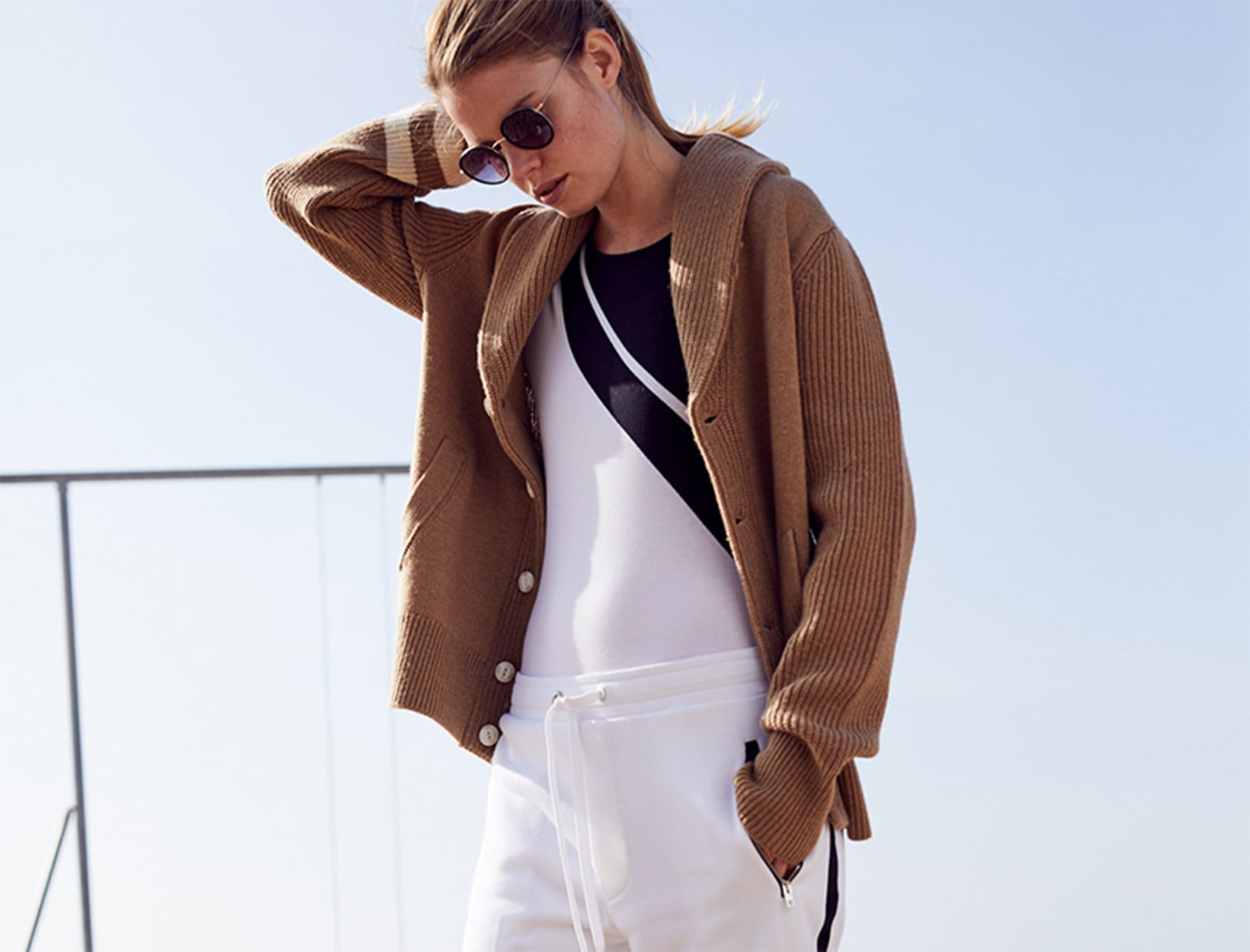 RAG & BONE Zachary Shawl Cardigan, Rag & Bone, $525; PEPPER & MAYNE Monochrome Body, Pepper & Mayne, $73.64; RAG & BONE Mika Pant, Rag & Bone, $250; SPEKTRE Morgan Sunglasses, goop, $199
5 Outfits You Can Wear Outside the Gym
Sometimes a workout is no sweat compared to getting yourself (and your gear) to the gym, particularly when there's little time for an outfit change after. To make it easier to incorporate a workout into your daytime repertoire—be it dropping the kids off at school, a coffee run, or even drinks—we've put together some inspiration that makes packing your gym bag a cinch.
The Sports Bra
A great sports bra is more comfortable than your average bra, and probably more supportive, which makes it the perfect base layer for layered ensembles.
The Golf Skirt
This golf skirt doesn't have to be strictly sportswear—a quick swap of sneakers for flats and you're ready to have lunch straight off the green.
The Sweat Pant
The secret to pulling off so-called athleisure pants—traditionally favored by those heading to and from the gym—are a few key additions: Pair these slim-fitting sweats with a classic trench and slip-on for a monochrome look.
The Bathing Suit
A bodysuit is your one-and-done base layer and works perfectly well underneath a flowy dress—it's ingenious if you plan to hit the pool at your gym during the day and make a pitstop at the beach/park/pool for some fresh air later.
The Legging
While the leggings-as-pants debate rages on, for us, it's all about simplicity. You want to look chic, not sloppy. With the right pair of leggings, there's no need to pack another pair of pants—a slouchy tee and a simple coat do the trick.