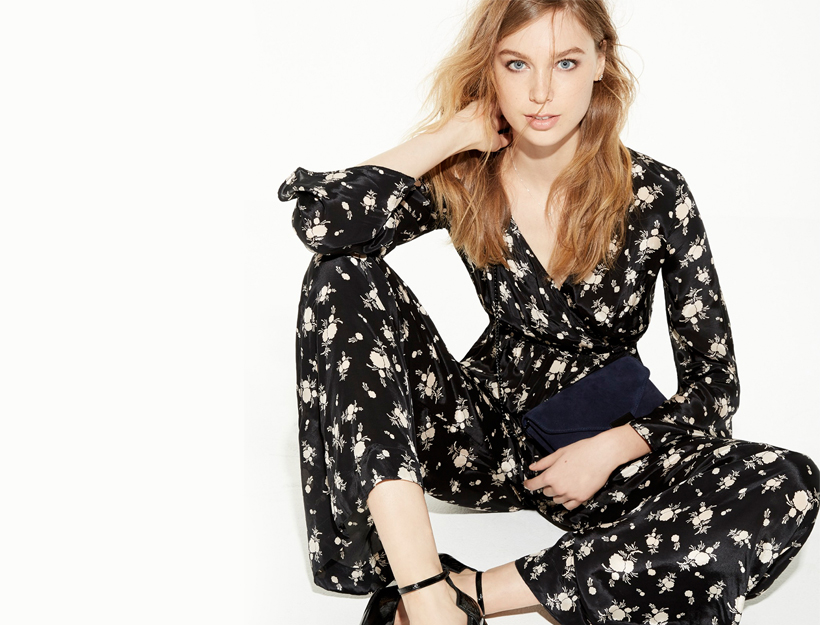 BY TIMO Printed Crepe Jumpsuit, goop, $280; PIERRE HARDY Belle Pumps, goop, $477; LOEFFLER RANDALL Jr Lock Clutch, Loeffler Randall, $250; ADINA REYTER Diamond Baguette Flower Posts, Adina Reyter, $935
4 Outfits for Entertaining at Home
Getting dressed up without having to actually go out is a luxury in its own right: Walking is minimal and weather is no obstacle, which makes picking an outfit a fashion free-for-all. Here, some inspiration for every hosting situation, whether you're staying in to share dinner with friends, family, or a significant other—plus, a comfort-food recipe to match each one, courtesy of our food editor.
Two-For-One
Apiece Apart's vibrant two-piece ensemble is the kind of matching set we can really get behind—it works just as hard in your living room as it does on mid-winter holiday on St. Barts.
Easy Does It
A single statement-maker like this metallic skirt makes even the most cuddly sweater-and-slippers combo look party-ready, zero effort required.
Hot Stuff
There may be a blustering blizzard outside, but nothing's stopping you from going full-on tropical for dinner (or brunch—hello, mimosas) indoors. Floral-printed silk and strappy sandals are a welcome indulgence this time of year.
No Loose Ends
For entertaining just your plus one, this incredibly chic jumpsuit is zero fuss and beautifully form-fitting (body-flattering, too), perfect for going from the dining table to the boudoir. The linen rope can come out after your first cocktail—we recommend our tried-and-true Whiskey Thyme recipe. Fun fact: Thyme is an aphrodisiac.