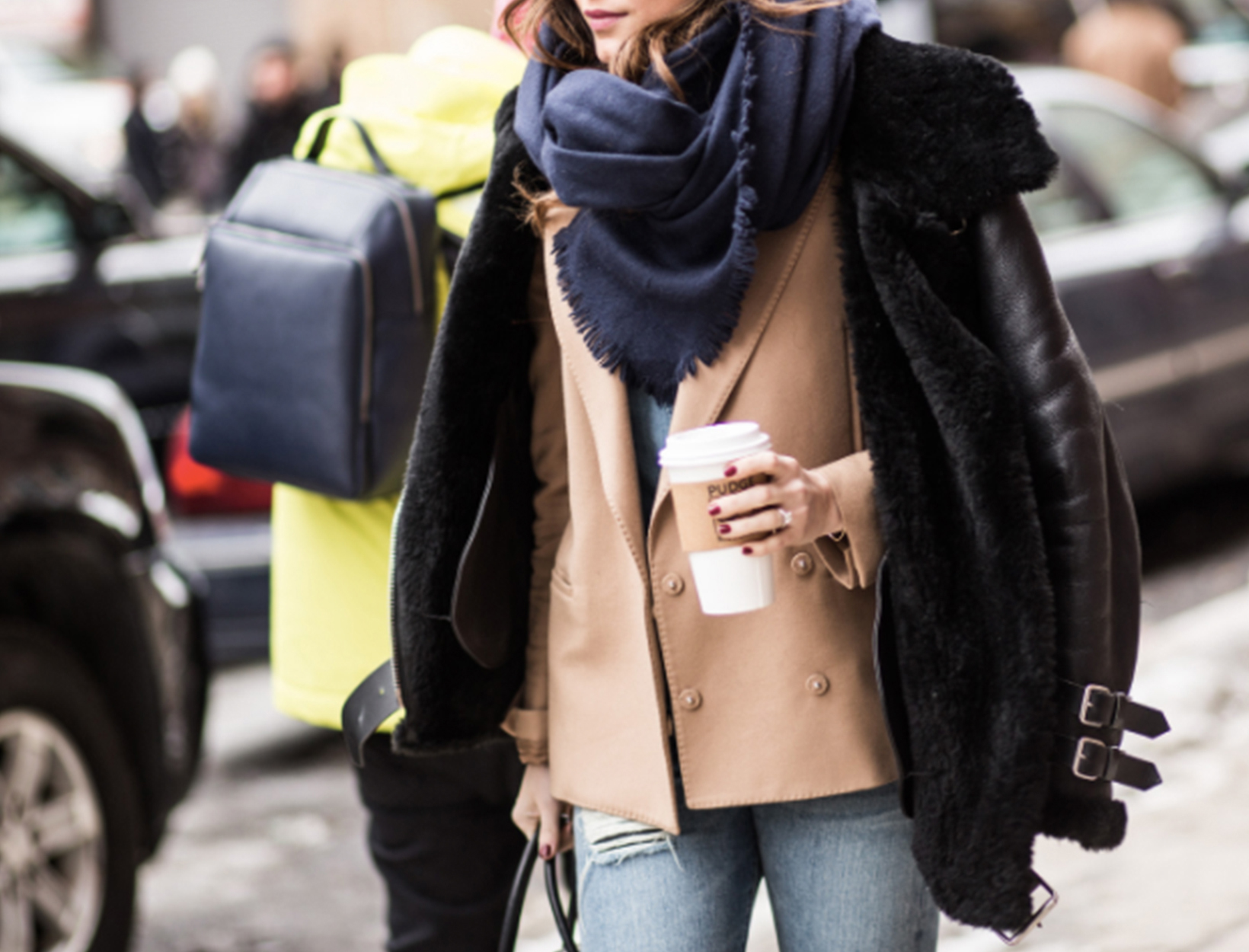 4 Foolproof Layering Combos
Next time you reach for a puffer coat when temperatures drop, think again. One of the smartest ways to shield yourself from winter's bite is to utilize a combination of layers. Meet, the mid-layer. We love this stealth pairing, be it, a slim puffer and a trench or a leather jacket underneath a camel cape. It offers a bit of unexpected texture while still giving you a flattering silhouette. (Truly a feat in and of itself in colder months.)
Mid-layer: The Leather Biker Jacket
Double up on classics with a leather biker jacket and a cape coat. Here, a leather jacket provides a dose of extra warmth, while the cape can be removed, should you get too warm. This look is also a brilliant sartorial strategy for a rainy day: Wool is water-repellant, so the cape helps protect your leather from inclement weather, too.
Mid-layer: The Down Jacket
A bodysuit under a strappy dress is practical, chic, and dead-on in terms of of-the-moment trends all at once. Layering a sporty puffer under your trench coat is a little unexpected, but you'll be thankful for the cozy women's sweaters in a cold snap.
Mid-Layer: The Oversized Denim Jacket
We love how this oversized, tomboyish denim jacket functions like a cardigan—an extra layer to keep on once your parka comes off. A slim women's sweater and canvas high-rise pants polish off the utilitarian look.
Mid-Layer: The Sporty Hoodie
You needn't wait for a special occasion to reach for this shearling Christoper Kane coat. In fact, when teamed with an oversized zip hoodie and tapered stone wash jeans, it takes on a far more easygoing look. Pile on extras like a chunky sneaker and chain shoulder bag for a playful dose of high-low.