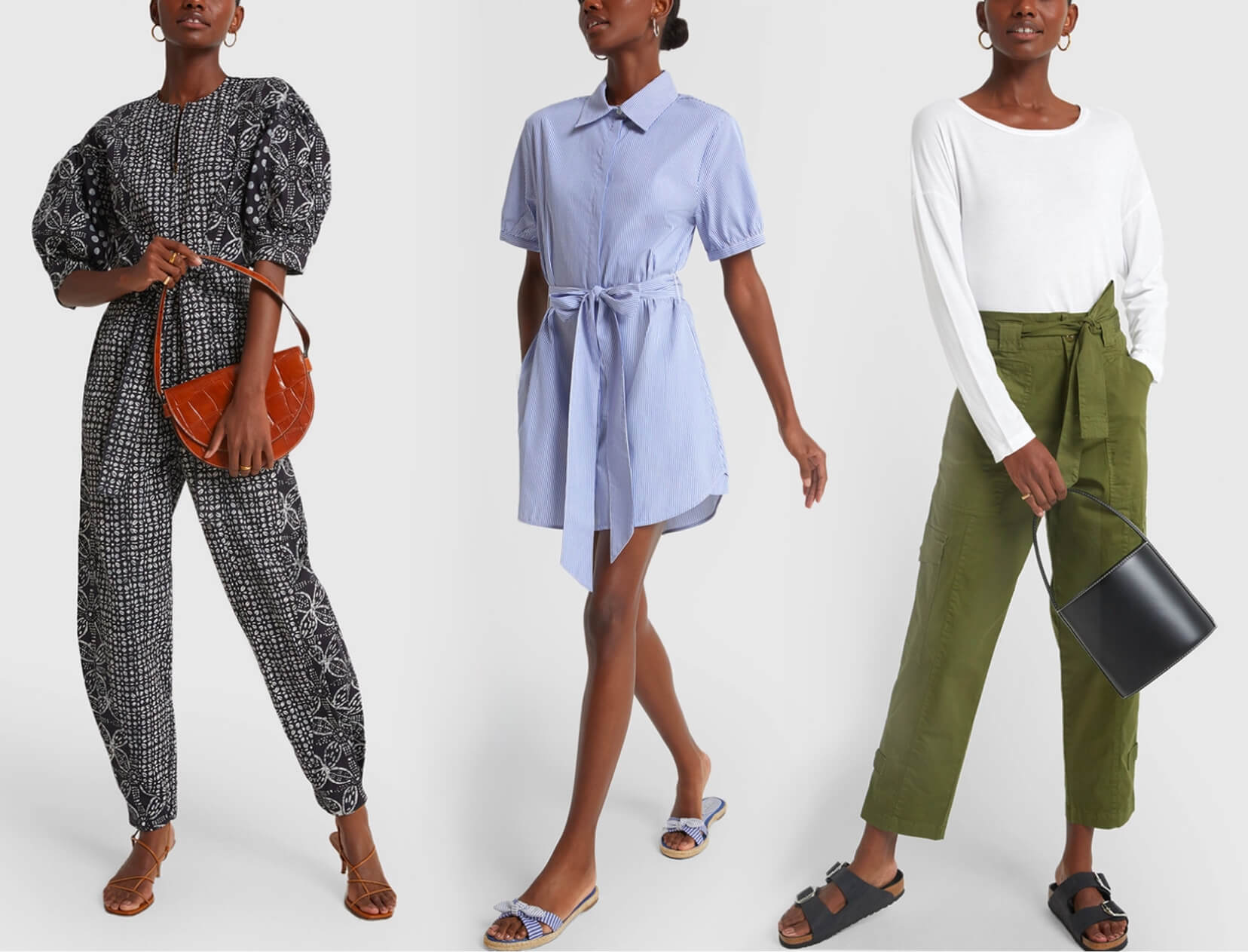 2 Weeks of Looks to Mix, Match, and Repeat
The dog days of summer 2020 are anything but average. Meeting up with friends looks a whole lot different, "resort" is more likely to be used as a verb than a noun, and the boundaries between workday and after-hours were last seen sometime in May. While a strappy sundress can't solve the big problems, it can boost confidence and kick-start the day—so we created a best-of list of go-to combos and classic pieces we're leaning on hard. Use it as a guide for getting dressed fast, so you can focus on the important stuff.
1

MONDAY

Minimize decision-making with a bright, belted jumpsuit that frees your legs and banishes any lingering Sunday scaries. Balance the workwear detailing with delicate jewelry—a teeny-tiny box chain layered with a personal pendant or something sweet and shiny on your ring finger.
2

TUESDAY

Prep yourself for meetings, market runs, and the general madness that follows Monday with a feminine top tucked into a denim skirt that's as soft as your favorite jeans, but more elevated. (Still wearing yesterday's necklaces? Go all in and add a bracelet.)
3

WEDNESDAY

If your wardrobe centers around neutrals, you're likely to burn out on tan eventually. Switch it up with olive-hued khakis—with a crisp white tee and black accessories, the earth tone punches up a clean palette without stepping too far outside of neutral territory.
4

THURSDAY

Sharp collar, prim puffs, pockets for stashing lip balm, crystals, your child-slash-workmate's pacifier—whatever. This striped shirtdress is peak-summer perfection, and the silhouette flatters nearly every figure (tie the belt in a neat bow, or if the weather is can't-have-anything-touching-me hot, wear it loose).
5

FRIDAY

Grab a spritz and cut out early in batik-print silk so light, so airy, you might forget you're wearing anything at all—if you could stop staring at the bold blue on blue. From the halter and silk tassels to the patterned hemline, it's a decidedly special way to wrap up the workweek.
6

SATURDAY

Statement swimsuits are fun, but a classic black bikini always clocks the most time in the sun. A top with slim ties is easy to adjust, and paired with bright-white cutoffs, it's a laid-back look that comes together instantly.
7

SUNDAY

Because hitting an onsen in Hakone is off the table this year, consider making this kimono-inspired lounge set part of your at-home spa routine. The best part? It's not just good for naps and Netflix—the stonewashed linen wrap and perfectly cropped wide-leg pants also hold their own outside the home.
8

MONDAY

High temps mean living in linen—we're partial to these bright-peach drawstring pants for comfort (and because they play well with tees, tanks, and slides), but the drop-crotch cut, twisted-rope tie, and striped waist also make them stealth chic.
9

TUESDAY

The new Bermuda shorts are a current favorite when it comes to easygoing, street-style-inspired outfitting. If you're dipping your toe into the trend, go for the full set: Monochrome makes the silhouette that much more approachable.
10

WEDNESDAY

May we suggest something bold, strappy, and all-out uplifting to battle the midweek blues? This poppy-red redux of Ciao Lucia's much-loved sundress works whether you're anatomically gifted or petite up top, and the scooped neckline leaves room for a little sparkle.
11

THURSDAY

The G. Label team nailed it with this patched-and-pocketed pair. With a white tank, Birkenstocks, and a streamlined take on the jean jacket, you'll also have this look working on the weekend.
12

FRIDAY

Not sneaking a second jumpsuit into this lineup would border on blasphemy. Luckily, this batik-print denim one-piece is as well tailored and considered as it is easy to pull off—a simple way to bring a resort vibe to the everyday.
13

SATURDAY

How to correctly sub a bikini top for a tank: Step 1) start with a double-strapped scoopneck that stays put. Step 2) add shorts with a sky-high waist—plus design-forward accessories—for a combo that looks put-together instead of pulled on at the last minute.
14

SUNDAY

Keeping the calendar clear on Sunday is an act of self-love—so is treating yourself to a quality set of linen pj's. This one breaks down nicely into a featherweight button-down and a pair of piped pants to wear with a bikini top while you're soaking up every last bit of the weekend.