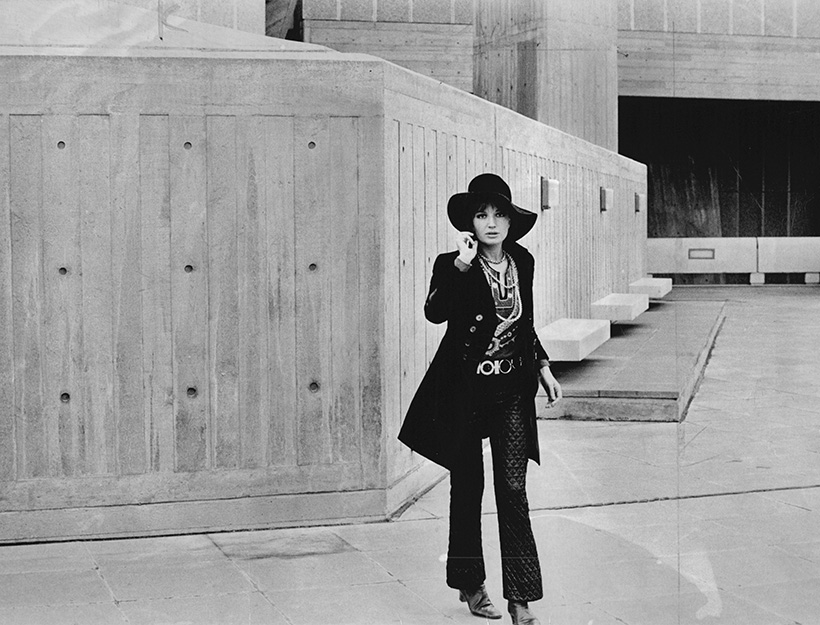 10 Italian Lines We Love
Bolstered by a tradition of flawless craftsmanship, "Made in Italy" is a distinction that carries a lot of weight. So it's really no wonder that the region is home to some of the most renowned modern and heritage brands in the world. The 10 standouts below are at the top of our list.
Valentino
Inarguably one of the biggest names in Italian fashion, Valentino, established by Valentino Garavani and Giancarlo Giammetti in 1960 in Rome and taken over by Creative Directors Maria Grazia Chiuri and Pierpaolo Piccioli after Garavani retired in 2007, is also one of the world's few remaining houses still producing seasonal couture collections. That same couture-like attention to detail is paid to the brand's prêt-à-porter, accessory, and limited edition lines—case in point: this year's Wonder Woman capsule collection, a collaboration between the house and GP.
Golden Goose Deluxe Brand
Alessandro Gallo and Francesca Rinaldo, the husband-and-wife team behind Venice-based Golden Goose, staked their claim to the luxury sneaker concept before it became a "thing." And while the masterfully beat-up slip-ons and high-tops are their bread and butter, the men's and women's clothing collections, which have a sort of refined street-wear vibe, are just as covetable (we're especially fond of their cashmere).
La Perla
Back in 1954, Ada Masotti revolutionized a historically utilitarian garment, the corset, by transforming it into a luxury item, tapping into Bologna's wealth of skilled silk artisans and packaging the finished product in what was essentially an oversized jewelry box (hence the name, La Perla). To this day, every La Perla piece, be it a simple panty or elaborate bodysuit, is treated as a work of art.
Superga
These days, Superga sneakers—the crisp 2750 lace-ups, specifically—are synonymous with a casual city-to-coast lifestyle. But close to 100 years ago, when Walter Martiny first began producing rubber-soled shoes in Northern Italy, the focus was on extra-durable work-wear for local farmers (hence the "People's Shoes of Italy" brand mantra). While tougher materials eventually made way for lighter canvas and leather, the vulcanized-rubber soles stuck around to become the brand's trademark.
Lodental
Our love for these Italian-by-way-of-Austria merino-wool coats is literally splashed all over the pages of GP's new cookbook, It's All Easy—the dusty-rose iteration she wears to a forest picnic was made exclusively for us. The beauty of these lightweight, surprisingly warm pieces is in the details, starting with the crisp, tailored fit and ending with the woven-leather buttons.
Gucci
Even after successfully breaking into the worlds of ready-to-wear, beauty, and even kid's clothing, Gucci is still the undisputed master of the handbag. It all started in 1921, when founder Guccio Gucci opened a fine luggage store in Florence, home to some of the most talented leather workers in the world, then recruited his three sons to help unveil the brand to the rest of the world. The company museum on the Piazza della Signoria in the center of Gucci's hometown does a beautiful job deep diving into the history and design milestones (telling the story of the now-iconic bamboo handle, for example).
Brunello Cucinelli
Brunello Cucinelli built his namesake luxury empire on a single garment: the cashmere sweater. Since its inception in the late '70s, the brand has grown to include everything from complete collections for both men and women, to candles, to plush cashmere blankets—which all gave Cucinelli the financial wiggle room for more altruistic pursuits. A generous percentage of sales is donated to charity and, most importantly, workers are paid a wage that far exceeds the industry standard.
BRUNELLO CUCINELLI Alpaca
Stripe Slit Crewneck Brunello Cucinelli, $1,695
Available in-store, 212.334.1010
BRUNELLO CUCINELLI
Alpaca/Wool Stripe Blanket Brunello Cucinelli, $820
Available in-store, 212.334.1010
Gianvito Rossi
Creating the kind of effortless, classic-with-a-twist shoes that women want to wear is second nature to Gianvito Rossi, which makes sense since footwear is literally in his blood (dad is shoe designer, Sergio Rossi). Like his father, Gianvito pays close attention to craftsmanship and materials—rich suede, buttery leather, and the occasional novelty like denim or glitter—but perhaps most important of all, it's the unmatched comfort level that has catapulted a relatively young brand to fame.
Prada
Decades after Miuccia Prada took the reins of her grandfather's century-old leather-goods company, Prada has become a bona fide household name, branching out to include wildly successful ready-to-wear and sister lines (GP has had many memorable red carpet moments wearing Prada). All that said, some of the brand's most groundbreaking moments still revolve around accessories—cue the game-changing nylon backpack.
Max Mara
Max Mara was founded back in the 1950s in the Italian province of Reggio Emilia, which is about halfway between Milan and Bologna in central Italy—today, the family-owned company is still operated by founder Achille Maramotti's three children. They're known for exquisite tailoring—particularly when it comes to outerwear—and a classic aesthetic that's reminiscent of their very first collections, all done in a pared-down, neutral-focused color palette.