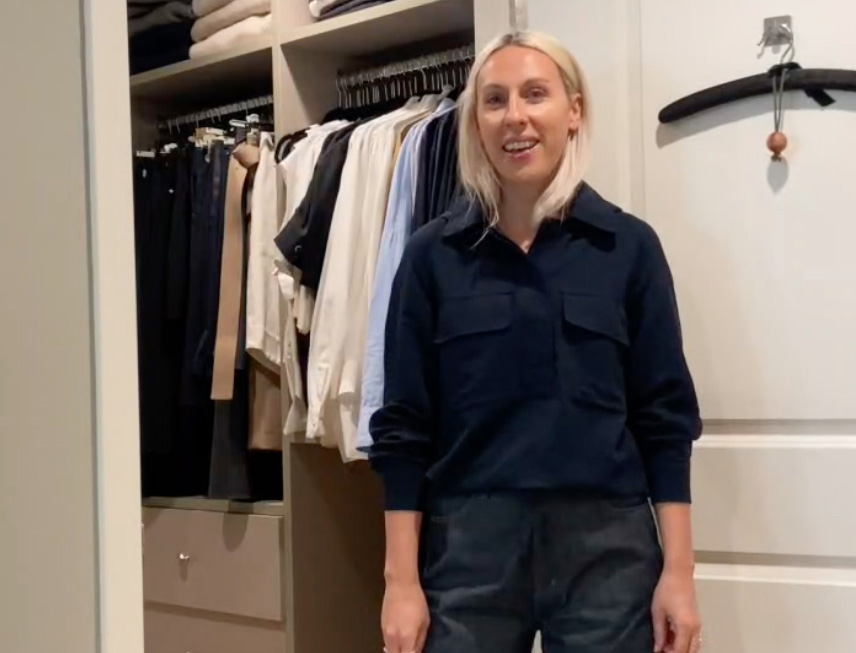 According to Ali
You Asked, Ali Answered: Closet Organizing Hacks and Styling
How-Tos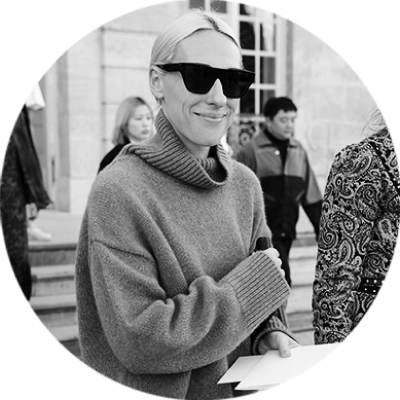 You can take the girl out of the fashion closet, but you can't take the fashion closet out of the girl. goop fashion director Ali Pew reports from her post at home—giving us all the inspiration and styling advice, as well as a peek inside her exceptionally well-maintained wardrobe.
It's funny, the more time I spend in sweats, the more I start gravitating toward all the other sitting-pretty pieces in my closet that haven't gotten action in weeks. Frankly, I've been using my downtime as a chance to take inventory. And what better time than now to get organized?
When sifting through my hangers, I think to myself: Am I excited to wear this? Does this make me feel like me? It's a great way to nix the items you don't need or love. For instance, I don't really wear jeans. I usually go for trousers or a jumpsuit instead. So I run through these questions: When was the last time I actually wore these? Would I even notice if these were gone? I ended up getting rid of a stack of jeans and reserving that precious real estate for pants I know I'll wear more often. Same goes for sweaters. In the process of hanging more-substantial knits and Kondo'ing the rest in drawers, I realized I don't own a basic black turtleneck—huh!? Uncovering the holes makes it easier to prioritize what's worth investing in, like this little black Nili Lotan sweater that I'm currently eyeing.
For me, streamlining my closet is cathartic. But figuring out what goes and what stays can still be a bit of a headscratcher. So we turned it over to you: What's holding you back from building a lean, clean, cohesive closet? Turns out you guys had some great questions—and a few WTF-do-I-wear-this-with follow-ups to go with.
GETTING ORGANIZED
Q
What's your personal criteria for letting something go?
A
I keep a really minimal closet. And I stand by a thirty- to forty-five-day rule: If I don't wear something in thirty to forty-five days, that's a sign to let it go.
Q
How do you organize your closet in a way that highlights the pieces you wear all the time?
A
I keep two or three garment bags filled with items that are more special occasion or out of season in a storage closet. You can also put them in the back of your closet, so everything is accessible.
styles with staying power
Q
What about your accessories?
A
I like to keep shoes that I'm wearing all the time on a rack and the ones that I'm not in shoeboxes, so they stay in good condition. Same with bags—there's a catchall space in my closet for bags I have in rotation and the rest go in their dust bags.
Q
Do you recommend keeping things that go out of style in case they come back into style?
A
I don't recommend keeping things that go out of style because it takes up space in your closet. Think about your purchases as investments: Go for the classics, like the perfect striped sweater or trench coat, a great white button-down—things you can keep around for longer.
FILL IN THE BLANKS

You've sifted, you've sorted—now see where the holes are and replenish with staples that'll bridge the gaps.
Styling How-Tos
Q
What are some good options for dressier flats that you could wear to a wedding?
A
I always keep a few basic evening-ready flats on standby, something with a tiny kitten heel that I feel comfortable in or ones with an evening detail in case the event in question calls for black tie. And I love wearing a flat strappy sandal with a dressy skirt or a longer gown—it's understated, modern, and really feminine.
ON-THE-LOW FANCY
KEEP IT CLASSIC
Q
Best nonskinny jeans options out there right now?
A
There are so many new shapes and styles in denim right now. I'm wearing a new jean from Goldsign that has a slightly curved leg that's really flattering—it feels like a trouser, but it's cool and casual like jeans should be. Totême has a milder version of what I'm wearing—it has a slightly curved leg but it's cropped and straighter. I'd style it with a cute summery, feminine top.
If you want something that's a bit more fashion-forward, try a culotte—it has a wider leg that hits below the knee and looks really good with a tall boot underneath. I love the idea of pairing it with a ruffled blouse now and then, for fall, layering a sweater over it. For summer, you could wear it with a simple white tank, maybe with a blazer over the shoulders, and then add a small bag and a strappy shoe.
GO WIDE
Q
How do you wear sneakers in a way that's polished and doesn't feel dorky?
A
Play with the dress-up, dress-down rule. You can wear them with a shirtdress or even a trouser paired with a blazer and button-down. And make sure your sneakers are in good, clean condition so they look and feel a little more sophisticated.
SUIT YOURSELF
Play Up the Pretty
Q
How would you style a sweater over a dress?
A
Think about the overall silhouette: You want your dress to be simple and your sweater to have an open hemline, so everything feels fluid. If you feel like you don't have the right sweater or dress, a jumpsuit also works really well here—especially one with a tailored waist.
BETTER TOGETHER