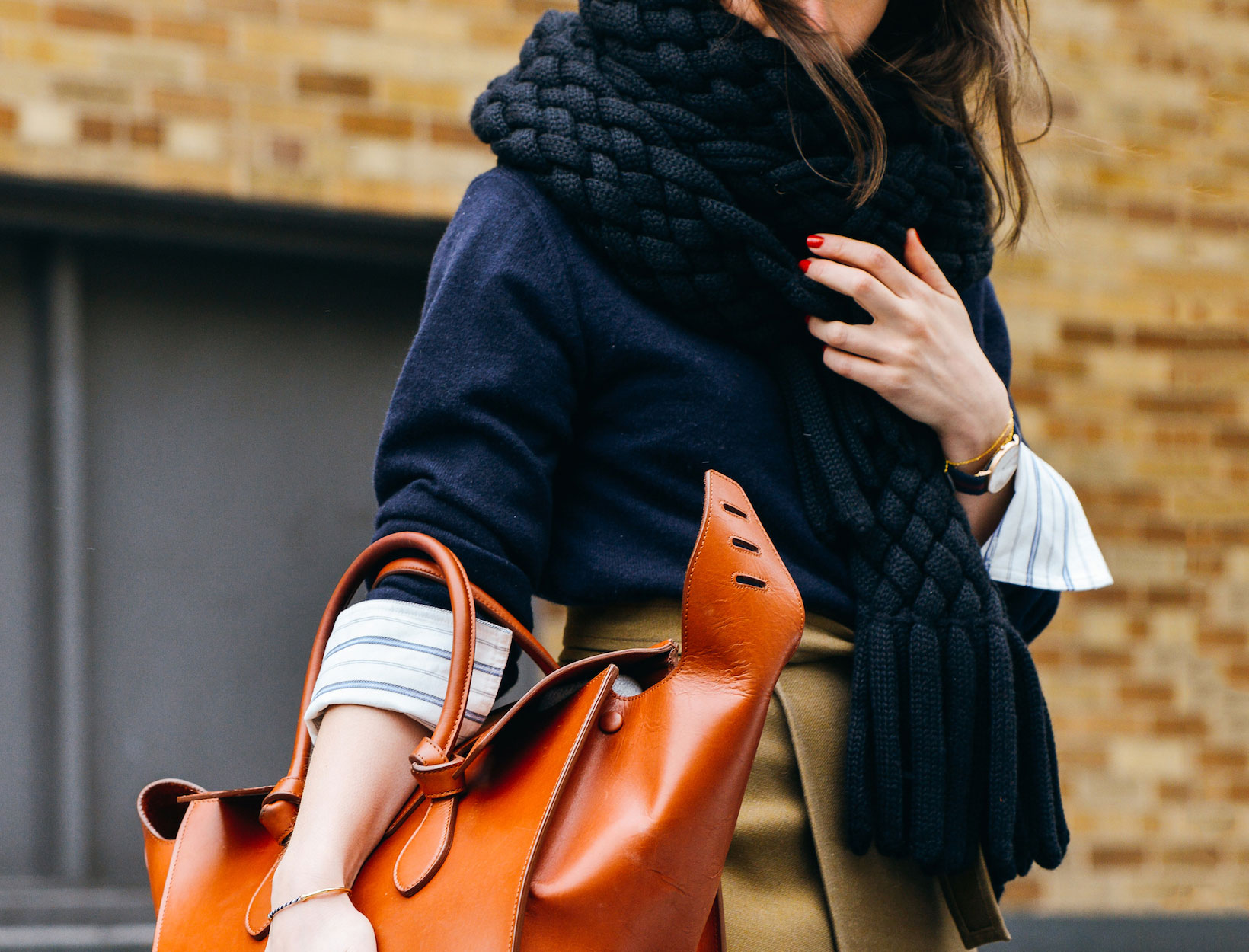 Photo Courtesy of Tommy Ton
How to Make Your Investment
Pieces Last Forever
In partnership with our friends at

Scuff marks on your new suede boots. Pilling on your prettiest cashmere sweater. Fading at the creases of your bag. While hardly the worst things in the world, these small annoyances may be the worst things in your closet—and are only made more annoying the more you spent. So how do you squeeze the most mileage out of the things you're throwing down for this fall? We asked the experts.
LSD (LITTLE SILK DRESS)
Ali Pew, Fashion Director, goop
For silk-dress upkeep, keeping them wrinkle-free—and saving yourself a few trips to the dry cleaner—is the name of the game. goop fashion director Ali Pew's advice: "Invest in a steamer. I'm really into Rowenta's Handheld Steamer, which revives my most delicate silk dresses in minutes and gets the hard-to-reach creases out." And the best part? "There are no chemicals, no leftover water marks, no ironing."
KEEP WATCH
Paul Altieri, Founder and CEO, Bob's Watches
Watches are the ultimate investment pieces. And with the proper care, they can last for generations. "The value of luxury watches, such as Rolexes, has risen substantially over the past several years, especially with preowned and vintage," says Bob's Watches founder Paul Altieri. When it comes to making one last, forget what you know: "Collectors like to see watches in their original condition," he says. "Avoid having it polished. Keep it clean by using a soft-bristled brush, lukewarm water, and ammonia-free soap."
EVERLASTING CASHMERE
John Mahdessian, President, Madame Paulette
Contrary to popular belief, unloading your cashmere at the cleaner and then stashing it in your closet, sandwiched in the plastic bag, isn't the gold standard in preservation. "Most cleaners excessively clean the soft fibers, which results in pilling," warns Madame Paulette president John Mahdessian. Instead, try hand-washing, a quick tumble, and laying it flat to dry. "Ideally, cashmere should be folded," he says. "The fabric is very prone to stretching." If you do use a garment bag, choose something breathable. "Plastic will trap gases, causing a condition called fume fading, which will affect dye pigments." 
Get 20 percent off at Madame Paulette using code GOOP20.
BOOT CAMP
David Mesquita, Co-Owner, Leather Spa
Suede boots are to fall what slides are to summer. Suede is, hands down, one of the most misunderstood materials, especially when it comes to temperamental weather…and puddles. A solid way to keep your suede looking spotless: "Brush it after each wear," advises David Mesquita of Leather Spa. "Dust and dirt adhere to the fibers, so brushing it at the end of the day will get those substances off." As for blotches that won't budge: "That's where the suede eraser comes in. It helps get out stubborn stains that the brush can't."
HOLD YOUR OWN
Levon Akopyan, Founder, and Natasha Root, Director of Operations, Purse Rehab
The key to maximizing the ROI on your favorite bag: storage. To help maintain shape, Levon Akopyan and Natasha Root of Purse Rehab recommend two things: "Purse organizers are great. They help hold up the interior walls of the bag." And when you're ready to shelf it, "use a purse pillow or stuff it with towels. If the purse has thick leather handles, it's also best to use a purse hanger to take the pressure off. Pressure on the bag will result in sagging."