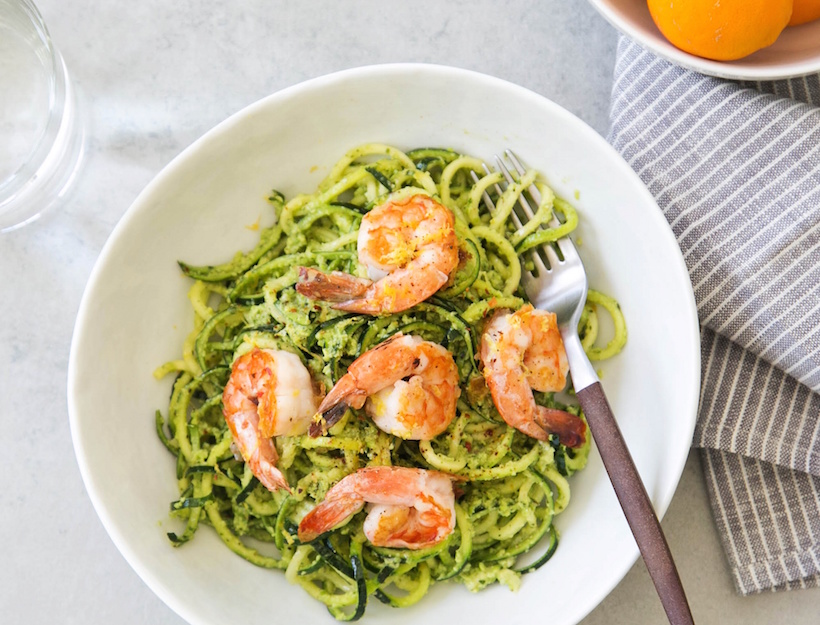 Zucchini Linguine with Fava Bean Pesto and Grilled Shrimp
Make this dish in early spring when fava beans are tender and abundant.
For the pesto:
1 pound fresh fava beans, shelled
1 large handful each mint and basil, roughly chopped
1 small clove garlic, sliced
zest and juice of 1 lemon
½ cup olive oil
salt and pepper
½ cup grated Pecorino
To serve:
10 shrimp, peeled and deveined
1 tablespoon olive oil
salt and pepper
1 pinch chili flakes
2 small zucchini, spiralized
1. First make the pesto: Put fava beans, mint, basil, garlic clove, lemon zest, lemon juice, and olive oil in the bowl of a food processor. Season with a generous pinch of salt and a few grinds of black pepper and blend for about 1 minute, adding more oil as necessary to keep the mixture moving. Stir in grated Pecorino and adjust seasoning if necessary.
2. Meanwhile, heat a grill pan over medium-high heat. Toss the shrimp with olive oil, salt, pepper, and chili flakes and grill until nicely browned and cooked through (2 to 3 minutes per side).
3. In a large bowl, toss the zucchini noodles with ½ cup fava bean pesto; divide the dressed noodles between 2 plates and top with grilled shrimp.
Originally featured in Screw Everything