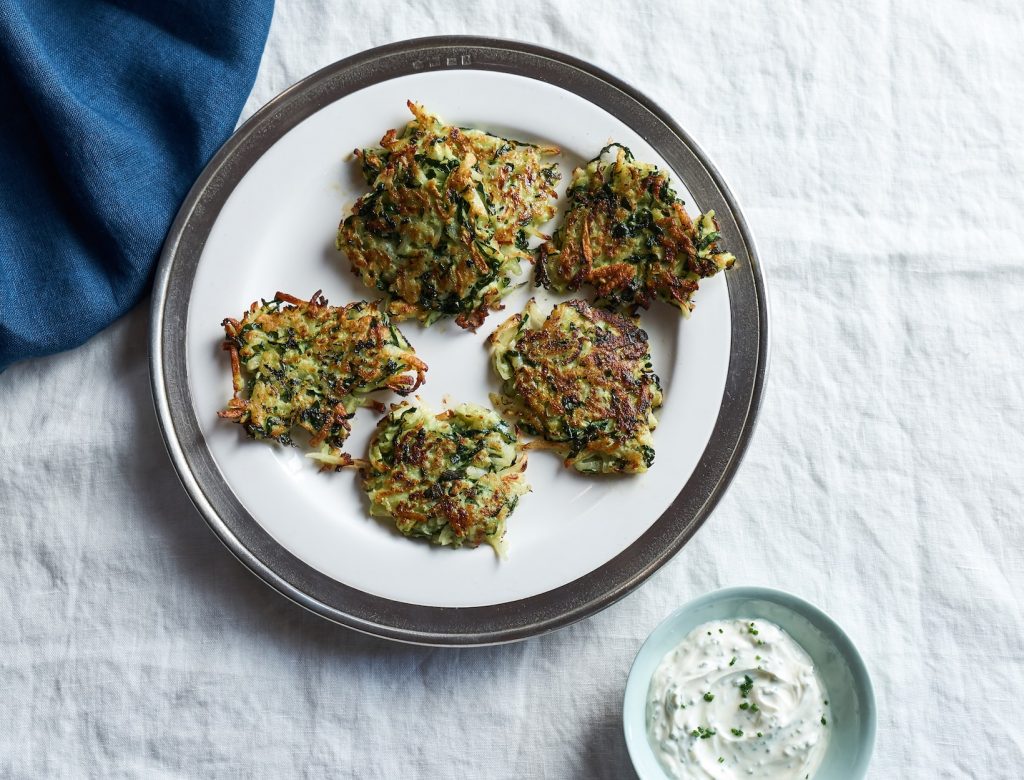 Zucchini Kale Latkes
This super savory veggie-filled version of classic latkes was a real hit at goop HQ. It has everything you love about latkes (potatoes), and the crisp kale edges are so good. Slather on some chive sour cream and enjoy!
1 cup grated russet potato
1 cup grated zucchini
½ cup very thinly sliced tuscan kale
½ medium white onion, grated
1 egg, beaten
¼ cup all-purpose flour or Cup4Cup flour
½ teaspoon kosher salt
neutral high-heat frying oil like sunflower, grape-seed, or avocado oil
flaky salt
Chive Sour Cream, for serving
1. Before combining the grated potato and zucchini, be sure to squeeze out all the extra liquid. Then add them to a bowl along with the rest of ingredients and mix well.
2. Heat a heavy-bottomed pan (we like a cast-iron here) and add a few tablespoons of neutral oil. When the oil is shiny and hot, add about ¼ cup batter to the pan (latkes should be about 2 inches in diameter). Flip after 1 or 2 minutes, when brown and crispy. Cook for another 1 to 2 minutes on the other side, then set on a paper-towel-lined plate and sprinkle with flaky salt. Serve with chive sour cream.
Originally featured in Souped-Up Latkes and Three Other Takes on Hanukkah Classics