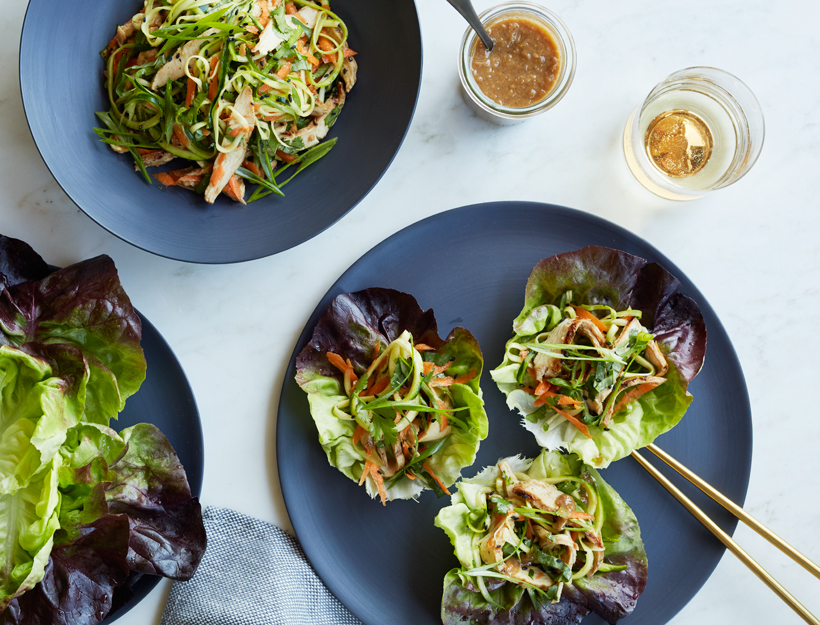 Zucchini and Chicken Lettuce Cup Salad
The spiralizer is back in this light yet filling, Chinese-inspired lettuce cup salad. Mostly veggies, a little protein, and a ton of flavor thanks to a hoisin-y sauce that's drizzled over everything—we could eat this one every single day for a week.
1 boneless, skinless chicken breast cut into 2 cutlets
1 clove garlic, minced or grated
¼ teaspoon Chinese five-spice powder
1 teaspoon grated ginger
1 tablespoon soy sauce
1 tablespoon olive oil
1 medium zucchini, spiralized
2 medium carrots, grated
1 or 2 scallions, thinly sliced
3 tablespoons chopped cilantro
2 tablespoons chopped basil
10 butter lettuce leaves
for the sauce:
1 tablespoon oil
1 tablespoon each grated garlic and ginger
¼ teaspoon Chinese five-spice powder
2 tablespoons white miso dissolved in ¼ cup hot water
1 tablespoon maple syrup
1 tablespoon soy sauce
1 teaspoon toasted sesame oil
1. Place chicken cutlets, garlic clove, Chinese five-spice powder, grated ginger, soy sauce, and olive oil in a medium bowl. Mix well and let marinate while you prepare the sauce.
2. To make the sauce, heat a small saucepan or sauté pan over medium-low heat. Add the oil, garlic, ginger, and five-spice powder and cook for 1 minute, or until the mixture is fragrant (don't let it brown too much). Add the remaining ingredients and cook, stirring constantly for about 3 minutes, or until the sauce is slightly thickened. Set aside to cool.
3. While the sauce cools, heat a grill pan over medium-high heat. Grill the marinated chicken for about 3 minutes on each side or until it has nice grill marks and is firm to the touch. Remove to a plate to rest, then thinly slice.
4. To assemble the salad, combine the zucchini noodles, grated carrot, sliced scallions and fresh herbs in a medium bowl. Add half the sauce and toss to combine. Place 5 butter lettuce leaves on each plate and divide the veggies between them. Top each lettuce cup with sliced chicken and serve with extra sauce on the side.
Originally featured in A Week of Salads