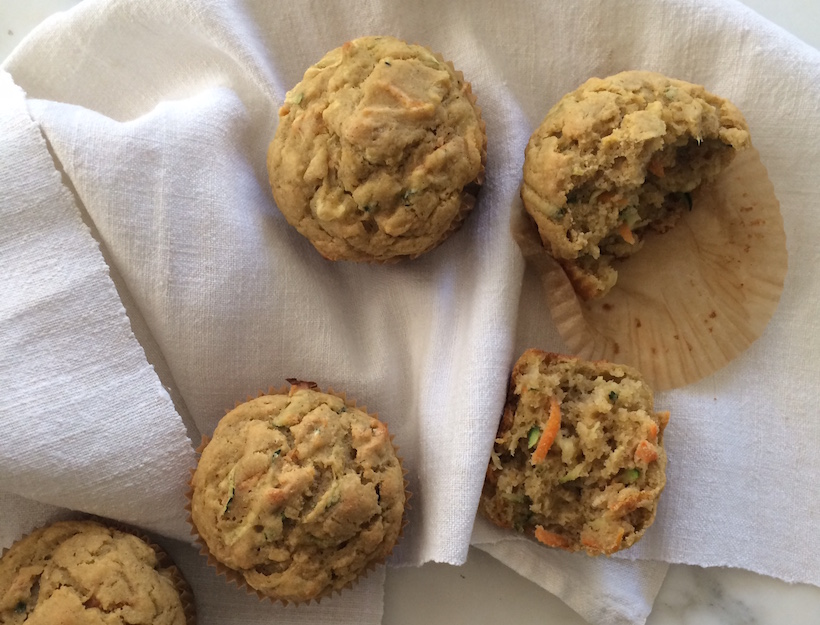 Zucchini and Carrot Muffins
These muffins are a perfect breakfast. They're moist, light and the fiber in apple sauce will be gentle on your system and help with regularity. The garam masala adds a little something extra too.
1/4 cup walnut or vegetable oil
3 tablespoons agave syrup (we prefer dark)
1 egg (shell rinsed)
3/4 cup unsweetened applesauce
1 cup grated carrots
1 cup grated zucchini (we did 1 1/2 cups instead)
1 cup Bob's Red Mill Gluten Free Biscuit and Baking Mix
3/4 cup sorghum or Bob's Red Mill Gluten Free Biscuit and Baking Mix
2 teaspoons baking powder
1 teaspoon cinnamon
we added 1/2 teaspoon garam masala
1/2 teaspoon iodized salt
we added 1/3 cup chopped, toasted walnuts
1. Preheat oven to 400°F.
2. In a large bowl, combine oil and agave. Beat in the egg, then add apple sauce and whisk to combine. Fold in carrots and zucchini.
3. Meanwhile, combine flours, baking powder, cinnamon, garam masla (if using), and salt in a medium bowl.
4. Add dry ingredients to wet and stir until just combined. Fold in toasted walnuts, if using.
5. Divide the batter evenly among 12 paper-lined muffin pan cups.
6. Bake 12-16 minutes, or until a toothpick stuck into the middle of 1 muffin comes out clean.
Originally featured in Cooking Through Cancer