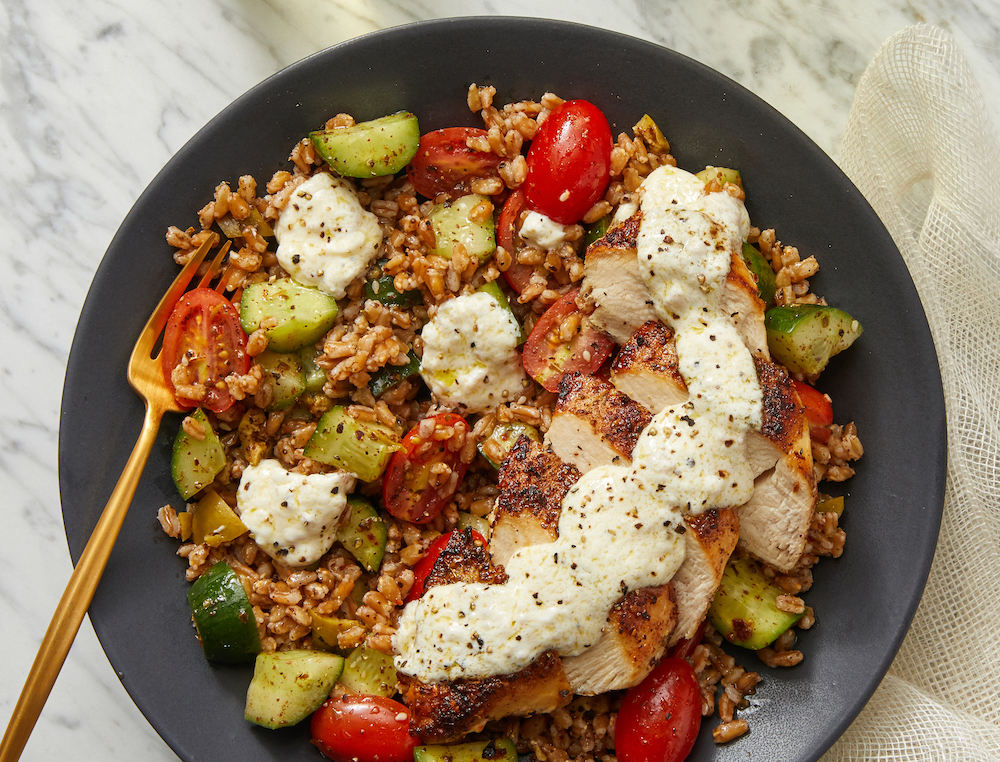 Za'atar-Spiced Chicken and Farro Salad with Lemon-Garlic Labneh
Super savory and satiating. Easy enough for a weeknight. But we think it'll wow dinner guests, too.
1. Cook the farro: Fill a medium pot ¾ of the way with salted water; cover and heat to boiling on high. Once boiling, add the farro. Cook, uncovered, 18 to 20 minutes, or until tender. Turn off the heat. Drain thoroughly and return to the pot.
2. Prepare the ingredients and marinate the vegetables: Wash and dry the fresh produce. Peel the clove of garlic; using a zester, finely grate it into a paste (or use the small side of a box grater). Halve the tomatoes. Medium dice the cucumbers. Using the flat side of your knife, smash the olives to release the pits; discard the pits, then roughly chop the olives. In a medium bowl, combine the halved tomatoes, diced cucumbers, and chopped olives. Add the vinegar and half the za'atar; season with salt and pepper. Stir to combine. Set aside to marinate, stirring occasionally, at least 10 minutes.
3. Cook the chicken: Pat the chicken dry with paper towels; season on both sides with salt, pepper, and the remaining za'atar. In a medium pan (nonstick, if you have one), heat 2 teaspoons of olive oil on medium-high until hot. Add the seasoned chicken. Cook 6 to 7 minutes per side, or until browned and cooked through. Transfer to a cutting board.
4. Make the lemon-garlic labneh: In a bowl, combine the labneh, lemon purée, 1 tablespoon olive oil, 2 teaspoons water, and as much of the garlic paste as you'd like. Taste, then season with salt and pepper if desired.
5. Finish the farro and serve: Add the marinated vegetables (including any liquid) and a drizzle of olive oil to the pot of cooked farro. Stir to combine. Taste, then season with salt and pepper if desired. Slice the cooked chicken crosswise. Serve the finished farro topped with the sliced chicken and lemon-garlic labneh.