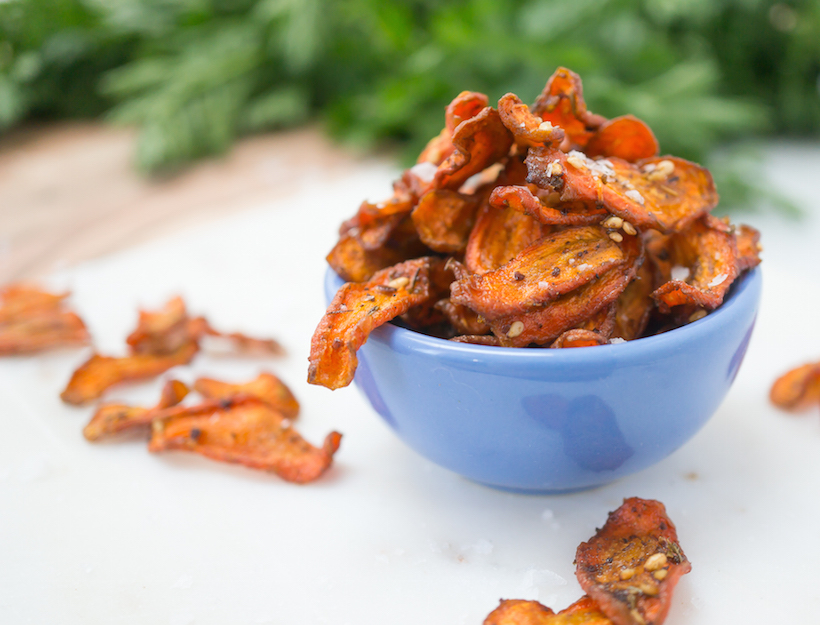 Za'atar-Spiced Baked Carrot Chips
Baked vegetable chips are one of my favorite snacks. This method, which was developed after years of being frustrated with soggy baked chips, ensures that they get perfectly crispy every single time. These are covered in za'atar, a Middle Eastern spice blend that mixes oregano, sumac, ground cumin, sesame seeds, salt, and pepper for an earthy, spicy, savory kick. You can buy za'atar pre-prepared or make it using the recipe below. These are the perfect nosh when you're just in the mood to snack on something—you can eat the entire bowl and feel wonderful after.
1. Preheat oven to 425 degrees. Using a mandoline or a knife, thinly slice the carrots, then toss with oil and za'atar until each slice is well coated.
2. Lay flat without letting them touch each other on a parchment-lined baking sheet, then bake for 8 minutes.
3. Remove from oven and reduce heat to 225 degrees, then return to oven and bake for an additional hour, or until crispy.
4. Let cool completely to maximize crispiness. Can be stored in an air-tight container for up to 3 days.
Originally featured in A Quick, Three-Day Summer Detox