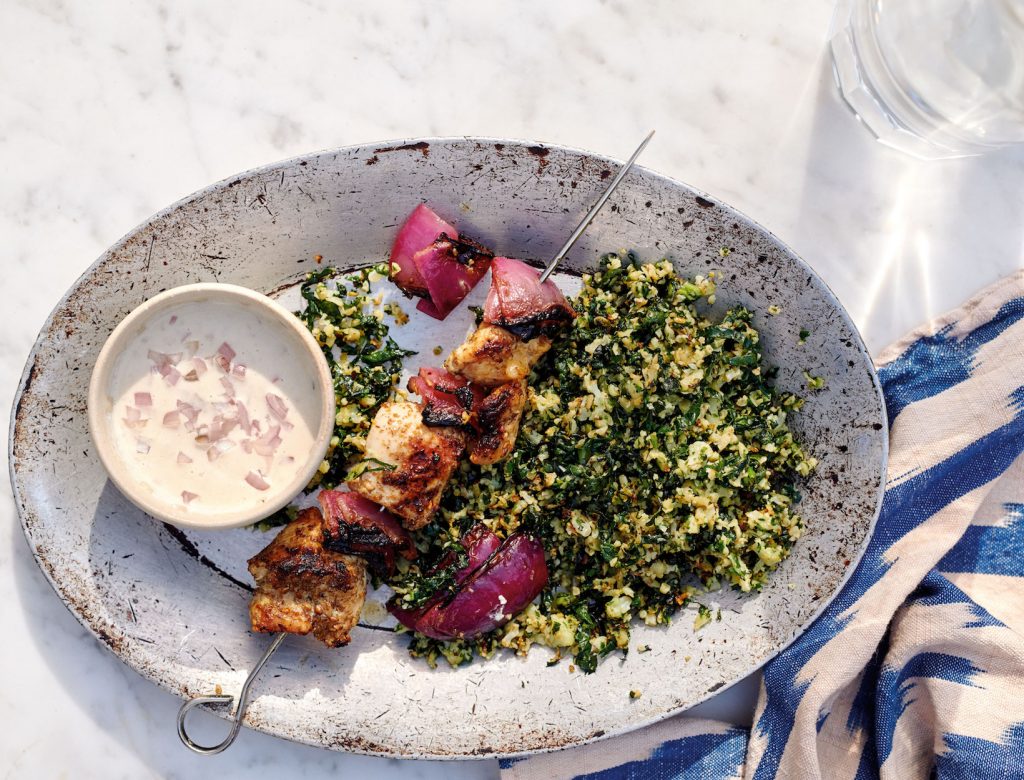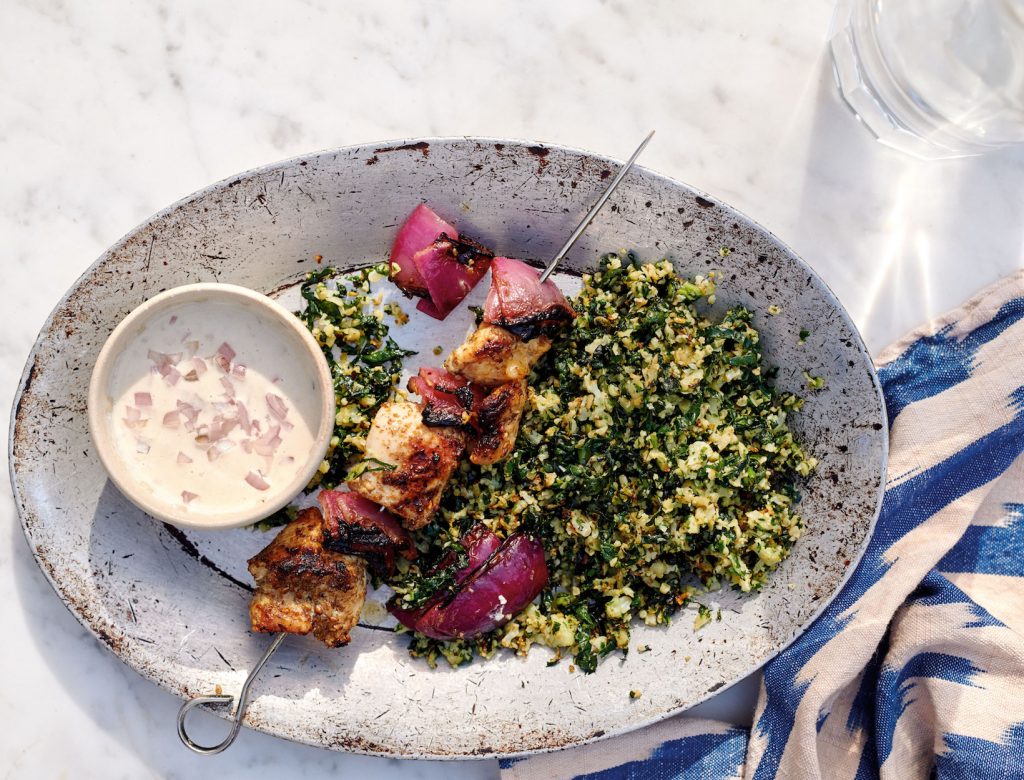 Za'atar Chicken Bowl
From GP's new cookbook, The Clean Plate: "This bowl combines some of my favorite things from Middle Eastern cuisine: grilled meat on a stick, tons of herbs and citrus, and a creamy, savory sauce to tie it all together. What more is there to say?"
For The Tahini Dressing:
¼ cup tahini
¼ cup water
2 cloves garlic, grated
juice of ½ lemon
1 tablespoon apple cider vinegar
2 small shallots, minced
¼ teaspoon kosher salt
For The Chicken:
1 boneless, skinless chicken breast, cut into 2-inch cubes
¼ red onion, cut into 2-inch cubes
1 tablespoon za'atar
1 teaspoon kosher salt
1 tablespoon olive oil
For The Cauliflower Rice Pilaf:
½ head cauliflower, grated or riced
1 tablespoon olive oil
½ cup finely chopped black kale leaves (about 4 large leaves)
¼ cup minced fresh parsley
¼ cup minced fresh cilantro
¼ cup minced fresh chives
zest of 1 lemon
olive oil
kosher salt
1. First, make the tahini dressing. In a small bowl, whisk the tahini briefly to loosen it. While whisking continuously, slowly stream in the water; the mixture might seize up and be quite thick, but keep whisking and adding the water until it smooths out (it'll take a minute). Once it has smoothed out and become bit looser, whisk in the garlic, lemon juice, vinegar, shallots, and salt until combined. Cover and store in the fridge for up to 1 week.
2. To make the chicken, in a medium bowl, combine the chicken, onion, za'atar, salt, and olive oil. Skewer the chicken and onion pieces, alternating them. Heat a grill pan over high heat. Brush the pan with a little olive oil, add the skewers, and cook for about 5 minutes on each side, or until the chicken is cooked through and the onion is browned.
3. Meanwhile, make the cauliflower rice pilaf. Heat the oil in a pan over medium-high heat, add riced cauliflower, and sauté for a few minutes, until just tender. Then add the kale and cook, stirring, for about 2 minutes, until slightly softened. Add the parsley, cilantro, chives, and lemon zest and cook for 1 minute more. Remove from the heat. Finish with a squeeze of lemon juice and some flaky salt. Serve the skewers with the cauliflower rice pilaf and the dressing.
For the best of GP's clean recipes, order The Clean Plate.