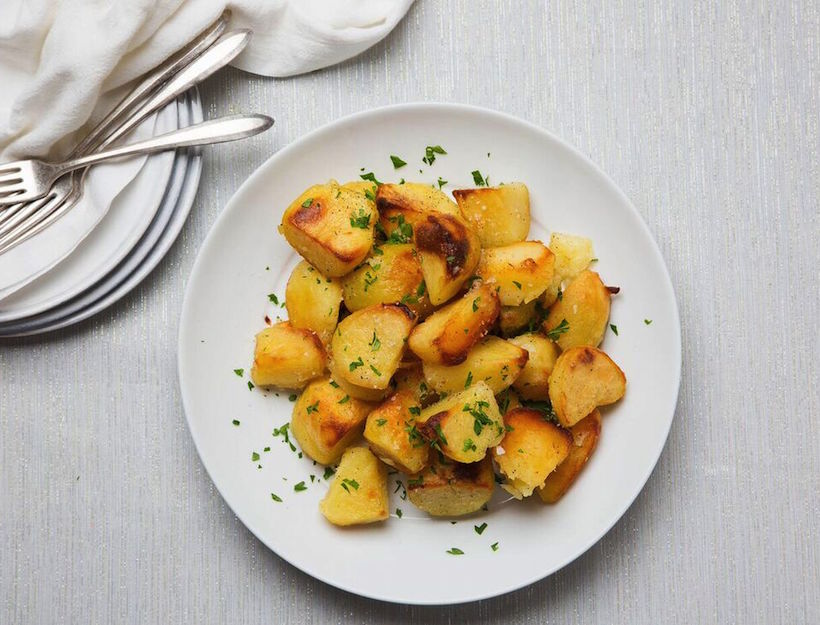 Yukon Gold Potatoes Roasted in Goose Fat
"Goose fat is known for its high smoking point, which means that the fat in the roasting tin can get blindingly hot before the parboiled potatoes are added. Alongside this technical benefit, using goose fat gives the potatoes a deliciously rich flavor. This can be done in advance of the big day. Simply melt the goose fat gently and coat the parboiled potatoes with the melted fat. Place on your roasting tray and cover with cellophane. Refrigerate until ready to roast, allowing for some time for them to come to room temperature before following the cooking times."
1. Preheat the oven to 400°F. Peel and halve the potatoes and put the roasting tray in the oven to heat up.
2. Place the peeled potatoes in a large pan. Just cover them with cold water, add a pinch of salt, and put the lid on. Bring to a boil and cook for 5 minutes.
3. Add the goose fat to the roasting tin and return to the oven for a couple of minutes, so that it has time to get smoking hot.
4. Meanwhile, drain the potatoes into a colander. Allow them to steam-dry, and then toss them about to give them fluffy, coarse edges. For a very crunchy finish, dust the potatoes with plain flour or semolina.
5. Tip the potatoes into the roasting tray and cook in the oven for 45 minutes, turning and basting every 15 minutes until golden and crispy. Season to taste with sea salt and freshly ground pepper.
Originally featured in The Ultimate Holiday Dinner Party Menu (and How to Pull It Off)