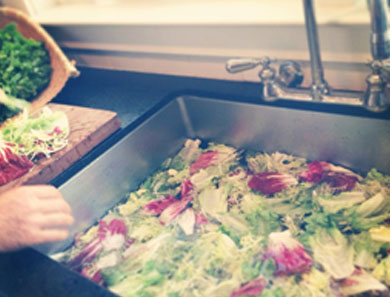 Young Chicory Salad with Roasted Figs
We use endive, escarole, frisée, trevisio and castelfranco for this early winter salad.
for the salad
8-10 handfuls of mixed young chicories, outer leaves removed
8-10 figs, stems trimmed and cut in half
for the dressing
2 shallots, finely chopped
5 figs, stemmed and cut in quarters
1/2 cup white wine vinegar
1/4 cup olive oil
sea salt
freshly ground pepper
1. Place the halved figs on a baking sheet at bake at 400°F for about 15 minutes until soft and caramelized.
2. Make the dressing: In a large mortar and pestle, pound the figs with the shallots until a paste is formed. Transfer to a small mixing bowl and add the vinegar. Slowly drizzle in the olive oil while whisking. Season with salt and pepper to taste.
3. Arrange salad leaves on plate. Divide up figs on each plate. Drizzle dressing over salad.
Originally featured in A Dinner for the Edible Schoolyard Project