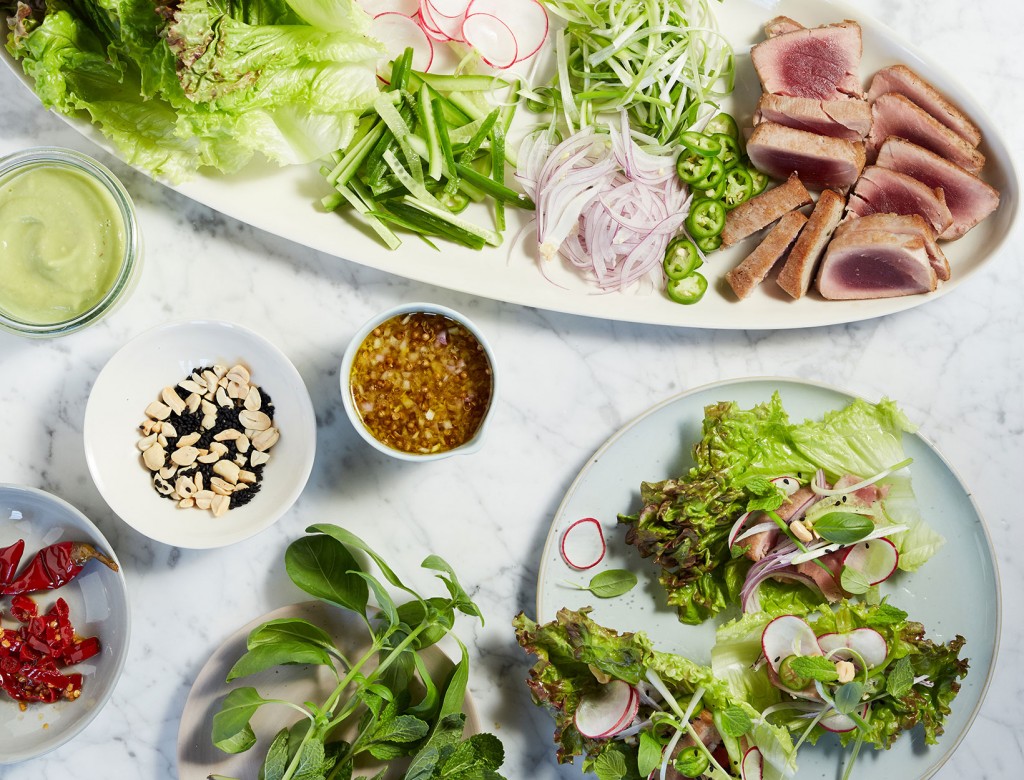 Yellowfin Red Romaine Wraps
These quick and easy lettuce wraps are a warm weather standby for chef Greg Baxtrom when he's entertaining on his days off. They're also delicious with grilled rib eye instead of the yellowfin. Using a mandoline to slice the veggies makes prep a cinch.
for the avocado lime sauce:
2 avocados
juice of 3 limes
for the thai mignonette:
juice of 1 lemon
juice of 1 lime
1 shallot, minced
1 tablespoon coriander seeds, coarsely ground
1 teaspoon fish sauce
1 tablespoon extra virgin olive oil
for the lettuce cups:
½ red onion, thinly sliced
1 small bunch red radishes, thinly sliced
1 Persian cucumber, thinly sliced
1 small bunch scallions, sliced on the bias
2 serrano chilies, thinly sliced
1 bunch basil, leaves picked
1 bunch mint, leaves picked
1 bunch cilantro, leaves picked
¼ pound mung bean sprouts
2 heads red leaf romaine lettuce
1 pound yellowfin tuna loin
1 cup salted toasted peanuts, roughly chopped
1 tablespoon black sesame seeds
1 lemon and 1 lime quartered, for serving
1. First, prepare the sauces. For the avocado lime sauce, combine the avocados and lime juice in a food processor and blend until smooth, adding a little water as needed. For the Thai mignonette, combine all the ingredients in a bowl. Set aside until ready to serve.
2. Wash and prep the veggies and herbs. Store the sturdy vegetables, like onion, radish, and cucumber, in a bowl of ice water to keep them crunchy until ready to serve.
3. Cut the yellowfin lengthwise into 2-inch strips (cut along the grain). Brush with a little oil and lightly season with a salt. Sear on all 4 sides over high heat for about 60 seconds per side.
4. Toss the peanuts with the black sesame seeds and place in a small bowl.
6. When ready to serve, drain the veggies from the ice water. Arrange the lettuce, mung beans, shaved veggies, herbs, and sliced tuna on a large platter and serve with peanut-sesame-seed mix and sauces on the side.
Originally featured in The Off-Duty Chef: Olmstead's Greg Baxtrom