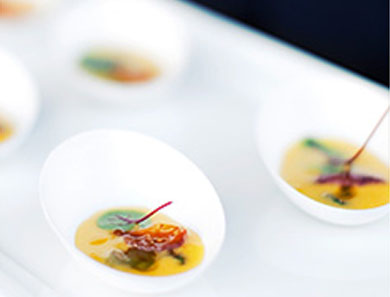 Perfect for the summertime, we served this light gazpacho at our party with Diane Von Furstenberg.
1. Combine yellow tomato, yellow watermelon, yellow pepper, English cucumber, red onion, and garlic in a bowl.
2. Mix thoroughly and rest overnight to allow the flavors to marry and the juices to release.
3. The next day, blend the mixture until very smooth in a blender, emulsifying Extra Virgin Olive Oil into every blender batch.
4. Add fresh Thai basil as a "highlighter color."
5. When fully blended and strained, finish the seasoning. Final taste should be acidic (sherry), spicy (mustard oil), and rich (Extra Virgin Olive Oil).
Originally featured in The goop x DVF Celebration